Back to Irving Martin Productions.

Top Pop Picks
Jeffrey Glenn
---
1. Tony Jackson - Don't Ever Leave Your Baby's Side (Acetate; released on CBS 202069 as "Never Leave Your Baby's Side": 1966)
This is a cover of the B-side of Martha & The Vandellas 1965 single "My Baby Loves Me," slowed down from the original and featuring a powerful brass arrangement as well as a fine doubled-tracked lead from the former Searcher. One of the finest U.K. Motown pop covers ever.
2. Guy Darrell - I've Been Hurt (CBS 202082: 1966)
An excellent cover of The Tams 1963 classic with a driving pop arrangement highlighted by a 12-string acoustic guitar and double-time drumming. This version anticipates the later 1969 U.S. hit version by Bill Deal & The Rhondels.
3. Johnny Devlin - Hung On You (CBS 202085: 1966)
The original version of this was recorded by The Righteous Brothers. It was intended to be the A-side, but DJ's flipped the single and "Unchained Melody" became the hit. This is one of the records that Australian singer Johnny Devlin made during his two-year stint in England, and while his vocal is hardly a match for The Righteous Brothers the arrangement and production are a good recreation of the Spector Wall Of Sound (even down to the echo - hard to do without that Goldstar echo chamber!).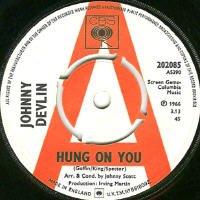 4. Dave Walton - Every Window In The City (CBS 202098: 1966)
Excellent Artie Resnick/Kenny Young song given a full (and very fitting) Wall Of Sound treatment. Again, the arrangment and production outshine the vocal. The original of this song had been done the previous year by Jerry Cole (and produced by arranger extraordinaire - and Spector associate - Jack Nitzsche).
5. Gary Bell - Is This What I Get (CBS 202234: 1966)
Good cover of The Ronettes' classic, effectively recreating Phil Spector's original Wall Of Sound production. This is sped up compared to the original, sacrificing a bit of the drama of the original. Also Bell isn't Ronnie Spector (but who is?), but this is still a fine track.
6. Tony Jackson - Follow Me (CBS 202297: 1966)
Great version of the Warren Zevon song (originally done by him and Violet Santangela as lyme & cybelle), featuring a rawer, more mod/garage sound than the original.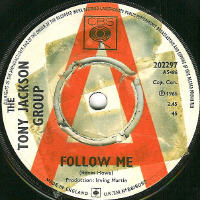 7. Paul Craig - Midnight Girl (CBS 202406: 1966)
Now this is a great record! Catchy song and excellent mid-60's U.K. arrangement and production, well performed. Nice use of bells and horns, and Craig's double-tracked voice is perfect for this type of song. How could this have been not a hit?
8. Tony Jackson - If There's Anything Else You Want (Acetate: 1966)
This was released as CBS 202408 under the title "Anything Else You Want," and it's a fine midtempo soul-tinged pop song with a strong beat. The arrangement goes for the Motown sound; the overall sound is not dissimilar to other Motown-influenced pop discs like Len Barry's "1-2-3."
9. Johnny Devlin - Tender Loving Care (CBS 202452: 1966)
A slower country-influenced pop song, with a piano/string-dominated arrangement to match. Although it's well sung by Devlin (again cut during his short time in the U.K.), the track is fairly nondescript and was probably easily lost in the shuffle at the time.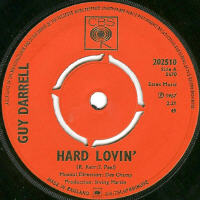 10. Steps Beyond - Meanwhile Back In My Heart (CBS 202490: 1967)
This is another outstanding pop record! Everything falls into place perfectly here: excellent song, well-arranged and produced (nice combination of 12-string acoustic guitar and glockenspiel and a great bass line), and perfectly sung. This is another one that should've been a hit.
11. Guy Darrell - Hard Lovin' (CBS 202510: 1966)
Everything about this is ultra catchy, from the slightly ominous-sounding intro to the syncopated beat (and that's not even mentioning the song itself, which is fine, or the strong pop arrangement, or the excellent lead vocal, or the...., well, you get the picture). Another shoulda....
12. Marc Reid - The Magic Book (CBS 202581: 1967)
Well, there's never been a bad version of this song, has there? Done at about the same time as Australians-transplanted-to-England The Gibsons' faster, more urgent version, this has a slightly more folk/pop feel than that one, with a wonderful arrangement featuring a nice blend of 12-string electric guitar and harpsichord. Another fine version of this was released by U.S. band Peter's Pipers in 1969.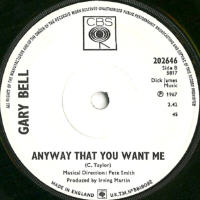 13. Gary Bell - Any Way That You Want Me (CBS 202646: 1967)
Another much-recorded songs, this is one of the best versions. It starts out with a sparse arrangement of acoustic guitar and castanets, building to a full production with orchestration and sleighbells. It never really reaches the explosive climax it should, but nevertheless it's an excellent record.
14. The Californians - Golden Apples (CBS 2663: 1967)
Great orchestrated popsike track with a wonderful arrangement full of eastern touches. What sounds like a banjo playing a single-note line is used to great effect in the intro and between verses, and the exotic string arrangement grabs your attention. This is the B-side of The Californians' first 45 "Little Ship With A Red Sail."
15. The Californians - Little Ship With A Red Sail (CBS 2663: 1967)
Fun ultra-commercial uptempo pop track with a catchy chorus (including a simple but effective string hook) and great "baa-baa-baa" background vocals. Late 60s U.K. soft pop at its finest. Coupled with its hip popsike B-side "Golden Apples," this is one of the great lost U.K. 45s of the decade!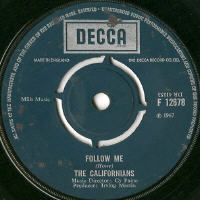 16. Guy Darrell - My Way Of Thinking (CBS 202296: 1966)
Terrific pop track, with a slightly ominous intro featuring Gregorian chant-like vocals giving way to a great pop song. The arrangement here is similar to Crispian St. Peter's version of "The Pied Piper." Another one that should've been big.
17. The Californians - Follow Me (Decca F 12678: 1967)
Mr. Martin must have had great faith in this song, for here's another excellent version of it. This is a driving uptempo version dominated by harpsichord and great background harmonies. How did this miss?
18. Finders Keepers - Friday Kind Of Monday (Fontana TF 892: 1967)
At the risk of sounding sacriligious I think this is the definitive version of this song, originally done the same year by its composer Ellie Greenwich under the "group" name The Meantime. Another great ominous harpsichord/organ intro leading into a perfect pop song. The harmonies, influenced by The Mamas & The Papas, are wonderful. This is one of the few Martin productions that got a U.S. release (in 1968, also on Fontana), but alas that 45 leaves off the production credit!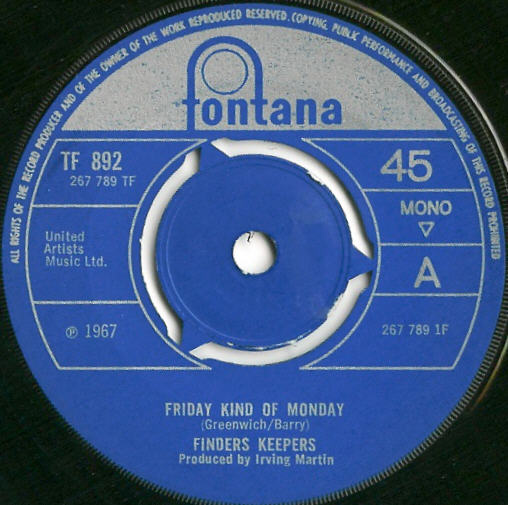 19. The Californians - Sunday Will Never Be The Same (Decca F 12712: 1967)
After hearing the Spanky & Our Gang original of this for so many years it's hard to imagine any version coming close to that one. But this version, which is basically a note-for-note copy of the original sped up just a bit, is terrific, and holds its own. Further proof that the Californians/Irving Martin combination could do no wrong.
20. The Californians - Can't Get You Out Of My Mind (Decca F 12712: 1967)
This was the B-side of their version of "Sunday Will Never Be The Same," and it's another prime example of orchestrated U.K. pop perfection. Great use of electric guitar vibrato (and a nod to the James Bond Theme in the process), and of course the trademark harmonies of The Californians. This could easily have been an A-side in its own right.
21. The Californians - What Is Happy Baby (Decca F 12758: 1967)
Wonderful West Coast-influenced soft pop with walls of harmonies laid on a terrifically catchy pop confection of a song. Subtle orchestration adds to the song without getting in the way. It all adds up to a song that Curt Boettcher would be proud of (and all this for a B-side!).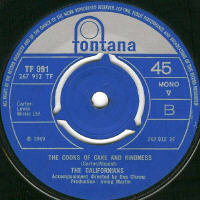 22. The Californians - The Cooks Of Cake And Kindness (Fontana TF 991)
So The Californians moved on to their third label and continued to crank out great records. While this slab of popsike boasts a heavier sound than its predecessors, it loses none of the group's trademark sound. The orchestration is still there (and resembles the arrangement of the earlier "Golden Apples"), but it's mixed under a cool distorted guitar figure and a heavy double-time beat.
23. The Californians - Mandy (Fontana TF 991)
The B-side of "The Cooks Of Cakes And Kindness," this uptempo number could have been an A-side in itself. It anticipates the Edison Lighthouse/White Plains style of Britpop that would be prominent in the next few years. As on all Californian's records this features terrific harmonies, and the brass arrangement moves the song along nicely.
24. The Californians - Weep No More (Acetate, released as Fontana TF 1052: 1969)
This was the B-side of their final 45, and it's another nod to the Edison Lighthouse/White Plains school of pop. This midtempo track again features all of the things that made previous Californians offerings so good - catchy song supported by great arrangement and vocals.
25. The Californians - You've Got Your Troubles (Acetate)
A slowed down version of the Fortunes' classic, this harkens back a bit to Irving Martin's earlier records with its mildly Spectoresque arrangment/production (as filtered through a 1969 pop sensibility). The marimbas are a nice touch! This doesn't really sound like a hit as most would already be familiar with the more uptempo Fortunes version, but it would have made a terrific B-side.
26. Royalty - That Kind Of Girl (CBS 4181: 1969)
The first 45 by this group is described thusly on the Fuzz, Acid & Flowers web site: "A forgotten 45." Be that as it may, it's not a bad track at all. It may not be one of the best records that Irving Martin had a hand in, but it's a good example of turn-of-the-decade U.K. pop well arranged, produced, and performed. It's only real fault is that it's not particularly distinctive; it could be almost anybody.
27. Royalty - Will You Be Staying After Sunday (CBS 4181: 1969)
The flip side of "That Kind Of Girl," this is a faithful cover of the Peppermint Rainbows U.S. original. The original has a bit more punch and therefore gets the nod over this one. Still, it's a fine track, and makes a good B-side.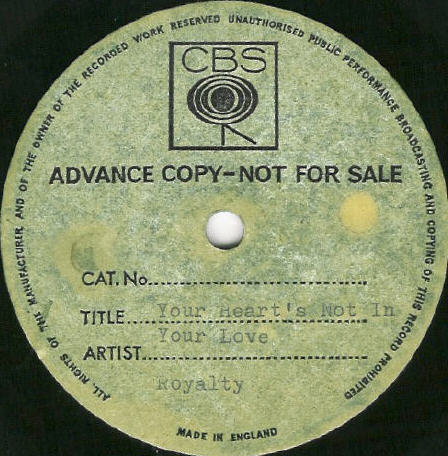 28. Royalty - Let's Ride (CBS 4498: 1969)
A great song written by Roger Nichols and Paul Williams and originally released by Nichols' Small Circle Of Friends on a 1968 45. The arrangement, featuring an excellent bass line and subtle orchestration, adheres closely to the original though the key has been raised and it's sped up a bit. The result is first rate West Coast soft pop which deserved better.
29. Royalty - Your Heart's Not In Your Love (Acetate)
I don't know if this was ever released, but if not it should have been. A strong pop song with a nice orchestral arrangement - all done in the then-prevalent Edison Lighthouse/White Plains mould - it's hard to see how this would have missed. Certainly a track to make Tony Burrows proud!
---
Top 10:
1. Midnight Girl - Paul Craig
2. My Way Of Thinking - Guy Darrell
3. The Cooks Of Cakes And Kindness - The Californians
4. What Is Happy Baby - The Californians
5. The Magic Book - Marc Reid
6. Little Ship With A Red Sail - The Californians
7. Friday Kind Of Monday - Finders Keepers
8. Golden Apples - The Californians
9. Meanwhile Back In My Heart - Steps Beyond
10. Every Window In The City - Dave Walton
---
Jeff has written on many aspects of popular music with the emphasis being on vocal harmony recordings from the 60s/70s. His large and extensive record collection formed the basis for an extensive compilation of CD-R's, "Lost Jukebox" put out in the 90's. Writer, arranger and producer credits were included and they introduced many folk to obscure artists and recordings.
He doesn't just listen and collect but with his band The Retros plays live and releases records in a similar vein.
Jeffrey Glenn R.I.P.
I was very sad to read a message from Ron Weekes on the Gary Usher web site that Jeffrey Glenn has passed away. His writing and love of music was always full of fun and enthusiasm. His fully annotated "Lost Jukebox" series of CD-R's from the 90's are the reason for many obscure vocal recordings floating around in cyber space today. I'd lost touch with him some years ago but his review "Top Pop Picks" for the Irving Martin site, displays his knowledge of and joy in music.
Rest In Peace, Jeff,
Martin
---