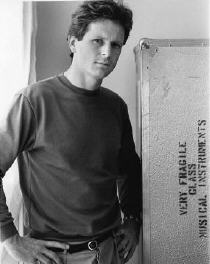 Cutting it with Jack Nitzsche
by Eric Harry
It was 1980 and I was in search of a living making music. I always wanted to write for films so I did a demo for an Imax film using glass instruments I had collected. Well, the demo was terrific but I was never hired. So I sent cassettes to any composer I could find in L.A.
In April 1980 I got a 2 page handwritten letter from Jack Nitzsche. Boy was I excited! I kept it and it went like this: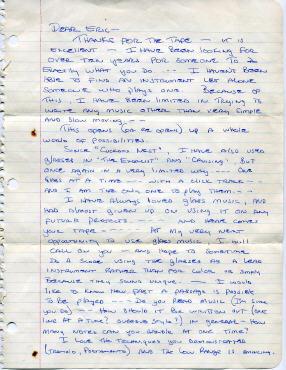 Jack Nitzsche's original letter (Page 1)
Dear Eric,
Thanks for the tape, it is excellent. I have been looking for over ten years for someone to do exactly what you do. I haven't been able to find an instrument let alone someone who plays one. Because of this, I have been very limited in trying to write any music other than very simple and slow moving...this opens up a whole world of possibilities.
Since "Cuckoo's Nest", I have also used glasses in "The Exorcist" and "Cruising", but once again in a very limited way...one glass at a time...with a click track...and I am the only one to play them.
I have always loved glass music and had almost given up on using it on any future projects...and here comes your tape. At my very next opportunity to use glass music, I will call on you and hope to sometime do a score using the glasses as a lead instrument rather than for color or simply because they sound unique. I would like to know how fast a passage is possible to be played...do you read music (I'm sure you do). How should it be written out (one line at a time - overdub style?). In general - How many notes can you handle at one time?
I love the techniques you demonstrated (tremolo, portamento) and the low range is amazing.
I don't know when or what the project will be, but now a "definitive" glass piece for film can be accomplished.
Thanks again and I hope it's soon.
Jack Nitzsche
Soon after his assistant Leslie Morris called about the film "Cutter and Bone" which was the original title before United Artists changed it to "Cutter's Way". Jack and Leslie and his manager Bob Brown came to Toronto to meet me. They stayed at the Four Seasons and we had dinner. Jack loved rollmops. He asked me if I knew of any Austrian zither players, any musical saw players and also any electric string players. I came up with some terrific players like the Armin String Quartet and a zither player named Walter Repple. The musical saw player was awesome. She came directly from Germany and her name for some reason is not on the film's credits. Her name was Ann Marie. Her husband was a conductor and she played in symphonies with her saw. She had the strongest hands you could imagine and could play in tune at quite a fast pace.
Cutter's Way session
There was a strike on at the time by SAG and the AF of M musicians' union was in sympathy strike also. So the question was posed to me if I would travel to Japan to record it. I said yes. A week later they got cold feet about Japan and decided on England. I said yes. They decided no. Next location would be Germany and of course I said yes again. But then they heard some union caught Henry Mancini somehow and they again changed their mind. So they asked if there was a secret location in Canada that I knew. I suggested Daniel Lanois' studio in Hamilton Ontario. Now you have to realize, Hamilton is a steel town with very little culture and quite boring. So we ended up going there in January of 1981. What a letdown, I've never been to Japan, Germany or England. Oh well, I got to work with the greatest film composers around.
Paul Gurian the film's producer picked me up in a limo at my house in Toronto. We drank Evian water (unheard of at the time) and drove to Hamilton. For two weeks we worked on the film. Jack's engineer David Hassinger was there also. The studio sessions were usually 5 to 6 hours until the coke came out then Jack would tell his stories. The stories that came out were quite amazing, from meeting Charles Manson in prison to his ex-girlfriend Carrie Snodgress. At night after dinner, I would be in Jack's room listening to him call Paris in the middle of the night to talk to Buffy St-Marie whom I gathered he was in love with. I'm not sure if this was before he married her.
The music was superb and extremely interesting and unexpected and being a composer myself, I was in awe. Oh yeah, I played flamenco guitar on the film at the last minute.
The studio moved to Toronto to record full orchestra for the ending. That's when I realized that Jack was uncomfortable around lots of people especially classically trained types. He withdrew to the corner and said very little. That's what made him different.
That's the last time I saw him. An experience of a lifetime for me, and the springboard and inspiration of my own career. I love you Jack.
Eric Harry
---
You may care to checkout Michael Kemp's review of the music from "Cutter's Way" on Jack Nitzsche's Movie Reviews.