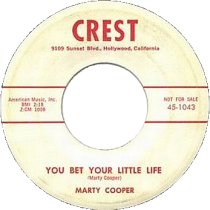 In my early record hunting days the name Marty Cooper was synonymous with my love of the music of Jack Nitzsche and the girl-group sound particularly the Victorians/Vik E. Lee/Gloria Melbourne. A cursory search of the web (and my growing record collection) reveals just how many other forms of music in which Marty Cooper has worked. As a writer, publisher, producer and/or vocalist he has worked in most musical styles. With different sets of music fans knowing his name via his work in country and folk, doo-wop and r'n'b, psychedelia and instrumental, novelty and straight pop. Throughout the piece many artists he is associated with, in a variety of roles, are mentioned. Here are just a few who aren't, Tommy Roe, Royal Guardsmen, The Kingston Trio, Bobby Bare, The Hondells, Donna Fargo, Don Ho, Andy Williams, Chubby Checker, Donny And Marie, Burl Ives, Ed Ames, Pat Boone, Ian Matthews and The Nashville Brass. His songs have been covered in Australia, Germany, Italy, Scandinavia and Japan in fact almost everywhere. Hell, he even had one of his 45s distributed by Tamla Motown! Although far from complete I hope this page, with it's emphasis's on his sixties recordings, will stand as an introduction to his musical legacy. (Quotes on this feature, unless noted, are by Marty Cooper via email or phone.)
Born in Denver, Colorado Marty Cooper made the move to LA in his teens. It wasn't long before he was dabbling in music.
"I think I made a few demos for Crest, I literally picked them out of the phone book when I was in college, and they released one single."
Released as (Crest 1043) in early '58, with high hopes, the 45 met with almost total indifference. "Can't Walk 'em Off" / "You Bet Your Little Life" is now a highly valued piece of vinyl. On completion of his studies, he;
"attended the University of Southern California and UCLA and left a few credits short of a degree in business administration (of all majors), I went immediately to Hollywood. Where I met people like, Joe Saraceno, Russ Regan, Sonny Bono, HB Barnum, Lee Hazlewood, Jack Nitzsche etc."
Setting up a publishing company and an office on El Centro, in Hollywood he was ready for business. Vocal recordings continued, he was one half of Don & Marty "Mandolin Rock" / "Fidel And Raul" (Candix 309) and uncredited vocalist on Ernie Freeman's "Rockin' Red Wing" (Imperial 5656), both from 1960. I'm sure there were others. The same year he approached HB Barnum;
"I brought the idea for "Peanut Butter" to HB whom I had met because he had a little label at the time but we ended up with Arvee. My first hit. We were sometimes business partners".
'The Marathons' "Peanut Butter", still played today, was just the first of many novelty records to carry Marty's name. Later releases that shared the Marty and H.B. credit, with Marty taking the lead vocal credited as 'El Clod', included a humorous take on Claude King's hit "Wolverton Mountain", titled "Tijuana Border (Wolverton Mountain)" on Chancellor Records and a parody of The Crystals "He's A Rebel" as "He's Not A Rebel" on Mercury.
My Top Ten
(Jack Nitzsche-less hits)
Victorians - On What A Night For Love - Liberty
Vik E Lee - A, Your Adorable - Liberty
Ineligibles - Just The Things That You Do - Capella
Charity Shayne - Ain't It?, Babe - Autumn
Marty Cooper Clan - Little Play Soldiers - Holiday
Joey Paige - Just A Boy In Love - Philips
Brian Hyland - Run, Run, Look And See - Philips
Shacklefords - A Stranger In Your Town - Mercury
Marathons - Peanut Butter - Arvee
Marty Cooper Clan - Raunchy - RCA
Jennifer Warnes - I Am Waiting - Parrot

Marty was involved with a few recordings and artists signed to Rendezvous Records. Bobby Day of course, much more on him in part three, Jan Davis and another important contact Lou Josie aka Jim King, later he was to write the Grass Roots hit "Midnight Mary".
"I met Lou Josie when I saw him through the window of Rendezvous Records walking with his guitar on Selma Avenue. I went out and asked him to come in and we started working together. I published several Lou Josie songs. Biggest record with me, other than 'Little' Stevie Wonder's "Hey, Harmonica Man" was "Fugitive" by the Ventures."
Lou Josie's released one 45 for Rendezvous "Talk To The Angels", a very cool doo-wop track backed with "Jeannie". "Fugitive" was written by Lou and Jan Davis, who cut the original release on A&M. Thanks to the Ventures cover version on Dolton and many greatest hits compilations since, the recording has proved financial fortuitous and is deservedly well known. Jan's follow-up to "Fugitive" was the Lou and Marty penned "Guitar Star". The same year, '64, Duane Eddy also released the track as a 45 for RCA, Marty produced while David Gates arranged and conducted. Much of Marty's instrumental work was with Jack Nitzsche but his name is found in the small print on many records. The Vanguard Voyagers for Warner Brothers, with arranging and writing assistance with either David Gates or Perry Botkin were another of his groups but the most bizarre was his 'Wild Voices' LP. Can you imagine, Marty gets the best musicians in the biz and then gets some of the best vocalists to 'sing' the lead guitar riff (etc.) over the top of 'em?! Opinions are divided, some love it others hate it. Me? I think it's great fun.
Marty cut many of his releases for RCA but one label was not big enough to hold all his ideas and dreams. 1963 was a very busy year. As co-writer and publisher Jack Nitzsche's "Lonely Surfer" was released on Reprise. As co-founder of The Shacklefords, with Lee Hazlewood, he was vocalist, co-producer and writer. The first 45, "A Stranger In Your Town" hit the racks on Mercury Records. The series of genre defining girl-group records, created by Marty and featuring Gloria Jean Hargis' gorgeous lead vocal, was ushered in by Vik E. Lee's "A You're Adorable" on the Liberty label.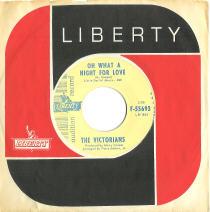 I can still remember the first time I heard The Victorians "Oh What A Night For Love" (Liberty) sent to me on a C90 by a pal, Ian Chapman. I was just blown away, a majestic, cavernous, Spectorian sound of emotion with a warm rich lead and caressing backing vocals. "Camptown Races" has never sounded so magnificent or beautiful. It took awhile but I had to get all the 45s. None disappointed. A variety of styles, Bob B Soxx, girly soul, dance, whatever, and all were fantastic. On that same cassette from Ian was another, superb two-sider, by Vik E. Lee "A-You're Adorable" / "The Hollywood Stroll", little did I know at the time that.
"The Victorians, Vik E. Lee, and Gloria Melbourne recordings are the same lady singing with The Blossoms. The lead singer on all these records is Gloria Hargis (Gloria Jones as she was later to be known), who was singing in church when I met her through a mutual friend. Extraordinarily talented but shy. Jack Nitzsche, Perry Botkin, The Blossoms, David Gates and Bobby Day were all involved in these sessions. Gloria is still a friend and still singing in church. During the seventies she performed on radio and TV commercials which I produced but did not pursue a show business career. Her range, feeling and talent universally impressed the singers and players who worked on these sessions. "You're Invited To A Party" & "What Makes Little Girls Cry" were written by Lou Josie. As for the other songs.. David Gates wrote "Don't Let Him". "Gee Whiz" is the original Bob And Earl song. I assume guilt for the other songs. Clearly, Rodgers and Hammerstein were very grateful to have been included."
The four 45s by The Victorians and the two by Vik E. Lee were released on Liberty, with Gloria Melbourne's sole release being on A&M. A few sides have slipped out on CD but criminal really that you can't pop down to your local music emporium and buy them all on one CD.
In the 1960's Capitol Records pressed promotional albums for radio station play called The Silver Platter Service. In 1966 The Shacklefords Sing! was promoted with one track from the LP, "One" and an interview by Jack Wagner with Lee Hazelwood & Marty Cooper. Thanks to Mike Edwards for sending this.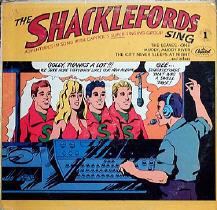 The Shacklefords were the brainchild of Marty and Lee Hazlewood, named after Hazlewood's wife Naomi Shackleford. Billed as a 'sound' rather than a group, their second LP, which featured a drawing of three guys and a gal, (predating The Archies by six years,) offered no clues as to the line-up.
"The Shacklefords first album was on Mercury: "Until You've Heard The Shacklefords". Capitol was next with "Sing". There are some really nice things there (and a few clinkers too). A couple of really good songs which were singles. "The Biplane, Evermore" and my personal favorite Hazlewood song. "First Street Blues". Gracia and Jack's artist Albert Stone were the singers with us on most of these early releases. Gracia had a lovely, simple voice and was an instinctive vocal arranger in her own right. She could read music really well. Jack always tried to get her to be 'soulful' but Lee and I just liked the sound of her voice and her willingness to work out things with us in the studio. Al Casey came in from Phoenix to work with Lee Hazlewood and I when we first started with the Shacklefords and moved to Hollywood soon after. The players on the first Shacklefords were, Hal Blaine, Lyle Rits or Jimmy Bond, Billy Strange, James Burton on (while he was still with Ricky Nelson) slide guitar, and Al. What a group. Later we recorded for Lee's label, LHI, with Glen Campbell and Susie Hokum as the other Shacks. "California Sunshine Girl" and "It's My Time" are really good."
An inventive concept and mouth-watering display of talent, but ultimately not quite achieving the sales many of the records deserved. Nevertheless over the five years they recorded together there are many, as I'm sure Lee Hazlewood addicts would attest, musical delights.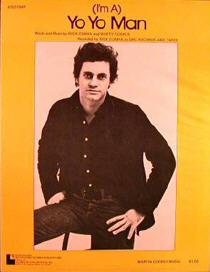 Marty's sense of humour, first heard on "Peanut Butter", was still evident. During the mid to late sixties Marty continued to indulge his love for novelty recordings. Once heard who can possibly forget Dudley Dogg, Jr. "The Christmas Puppy" on Marty's, Holiday label, written with Russ Regan? How about The United Fruit Co.'s "Yes We Have No Bananas" (York)? Or even a release Marty put his name to, "Mister Kazoo Man" (Capitol)? "(I'm A) Yo Yo Man", written with Rick Cunha made the biggest impact though. First released by (Rick) Cunha And (Jim) Dawson in '69 on Pete records Rick's solo release from '74 on GRC is still played today.
There's a lot of fun in Marty's work, even some of his instrumentals with Jack Nitzsche make me smile, there is also social commentary. How about this selection of lyrics from "Little Play Soldiers"? "Tell them not to lie but never tell them the truth... We love them and kiss them and send them to die... Soon they will lay on some battlefield dead, instead of tucked away safe in their bed." Released by The Marty Cooper Clan, Holiday 1212 (two releases before Dudley Dogg) in '64, (perhaps in hindsight) just as the US's involvement in Vietnam was moving inexplicitly towards war. His lyrics hardly had the approval of the mass of the populace at the time. The sentiments expressed in this song are a recurring feature of much of his work.
Another good release on Marty's short-lived but entertaining Holiday Records label was, Denny Diante's version of "What Makes Little Girls Cry" (Holiday 1211). Marty again produced but unlike the The Victorians original, in which Perry Botkin did the arranging honours, David Gates handles this one. A pretty, girly backed, soft doo-wop styled ballad, file under, 'aah, ain't that sweet'. Denny Diante went on to carve out a successful career as a music biz bigwig and producer with acts like Sheena Easton, Maxine Nightingale and Paul Anka amongst them.
One of Marty's earliest co-writing credits (with HB Barnum and Fred Smith among others) had been a tune, later given the title, "I Like Marijuana". The thought of traveling up the coast to San Francisco with its growing reputation for free love and drugs (as well as a burgeoning music scene) must have held no fears. It may have even been of interest. He had been invited by Tom Donahue and Bobby Mitchell, owners of a new record label, Autumn, hoping Marty's experience would help them to capitalise on some good early sales. Traveling up with a pal, a fairly well known guitar picker, four of Marty's productions were released.
"The Vejitables were on Autumn Records and I was asked to record them. I took Al Casey to fill out their sound and contribute musicianship because I thought they may need a little help. I was wrong: They needed a lot of help, much more than we could provide, anyway. I tried my best but they were really difficult. Hated us. Meanwhile, the song I picked for them was "The Last Thing On My Mind". Which immediately became a big hit with someone else. My song, "Mansion Of Tears" was on the other side."
"The Last Thing...", a Tom Paxton song is a goodie, a shame that the Vejitables 45 had to compete with other versions. Perhaps the record should have been flipped. Marty's "Mansion Of Tears", was later recorded by The Shacklefords and in a review of "The Shacklefords Sing" LP, critic Quint Kik, for All Music Guide has this to say; "the Marty Cooper-penned lyric to the desperate "Mansion of Tears" ("With a doorway made of heartache/And a pain in every room/With teardrops in the hallway as you wander in your room") is more than an equal to Hazlewood's own "Muddy Muddy River." Marty's production for Charity Shayne, "Ain't It Babe" / "Then You Try" apparently was a smoother session. A pretty girl with a pleasant voice, a good song, Marty was to produce a few versions, and a strong folk-rock production. Under her real name, Catherine Share, she was later to appear in a few films but is better known as the infamous 'Gypsy', one of The Manson Family.
For a spell Marty collaborated with Ray Whitley, best known for his compositions (and productions) for The Tams. They wrote some good songs together with Marty often producing and Ray sometimes on vocals; Ray released "Just A Boy In Love" for Columbia. LA scenester Joey Paige (Philips) and the earlier mentioned Denny Diante (20th Century) also recorded versions of the song. Other co-compositions recorded include The Visitors "Is It Them Or Me" (Tower), Randy Michaels "I Love You (Just Because You're You)" (Columbia), Billy Joe Royal "Heartaches And Teardrops" (Columbia) and a fair size hit for Brian Hyland "Run, Run, Look And See" (Philips).
"Ray Whitley is the greatest raw talent I ever knew. A great entertainer as well. Personal difficulties interrupted a promising career."
Marty was around at the formation of the group Hearts And Flowers. There first meeting is recalled by Rick Cunha.
"I first met Marty in 1965 at my singing partner Larry Murray's place. Larry, myself, and Dave Dawson were working on forming a singing trio and had played around L.A. in the "folk" clubs. Larry had known Marty for a while and thought he might make a good producer. We played a few songs and Marty put his ears right where a microphone would be, which was right in our faces. He smiled, and with eyes closed imagined (at least I imagine!) what it would sound like on tape. Although Marty never produced us, we did some of his songs on our first album, "Now is the Time for Hearts and Flowers" for Capitol Records. Marty was kind enough to let me play guitar on many of his recording sessions and introduce me to many great L.A. musicians. We have remained great friends over the years and have written many songs together."
First released in '67 the critically acclaimed, "Now Is The Time For Hearts And Flowers" LP has since been re-released four times. The album includes one of Jack Nitzsche's favourite Marty Cooper compositions, the partly autobiographical, "The View From Ward 3". Marty wasn't there for the recordings but he did know the producer who was.
I didn't work with Nick Venet on the sessions though. What a wild character he was!"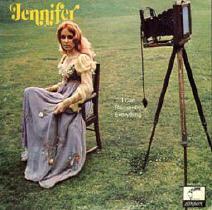 Of his later 60s releases Marty was involved in Jennifer (Warnes) career at it's earliest stages. He recorded her first two LP's, an eclectic selection of songs that tested but did not find her vocal lacking. The first album "I Can Remember Everything" was laid down at Gold Star, mixed by Stan Ross and boasted Marty's pal and long time collaborator, Perry Botkin as arranger on a number of the tracks. Al Capps, under Marty's supervision, produced most of the songs on her second album "See Me, Feel Me, Touch Me, Heal Me". Both have been reissued, for more info check out a review on the rather cool Chaz Music Room site.
It was Ms. Warnes duet with Joe Cocker, "Up Where We Belong", from the movie "An Officer And A Gentlemen", that finally confirmed her chart potential. A #1 across the world, this Academy Award winning song spent three weeks atop the US charts in February '82, the music was written (with Buffy St. Marie) by Jack Nitzsche.
As the sixties ended and with a move to Malibu his time has been spent on his song-writing, a #1 with "You Can't Be A Beacon (If Your Light Don't Shine)" for Donna Fargo, working on his solo recordings, "The Indiana Girl" was a fair sized hit and recently, along with Rick Cunha, a few tracks on a LP of American Rail Road recordings (sounds great!), recording for the lucrative TV and radio market, concentrating on his publishing business, Little Darlin Music and preparing for his web site. One thing you can be sure of, with his energy, his dual role in Santa Fe, New Mexico as a part-time cowboy with his horse Twister, will remain just that, part-time.
PS There's me feeling fairly pleased with myself, thinking I'd given a fair resume of Marty's career and included most of my favourites, when, what do you know, I've not even mentioned The Inconceivables "Hamburger Patti"! A (The?) classic Spector/Surfin'/Comedy record it's an absolute hoot and bears constant listens. I know it from "California U.S.A." a summer/surfin' double LP from Columbia with sleeve notes by Alan Betrock. The 45 (Columbia 43894'66) carries the info that Marty Cooper wrote and produced with Al Casey arranging. If I nearly missed mentioning this stormer I can bet there will be others. If while spinning your discs you come across another 'Cooper Treasure' not mentioned, please get in touch, I'd be delighted to hear it/be reminded of it, as I'm sure would Marty.
Our Marty Cooper is NOT the same named East Coaster who sang with Paul Simon in Tico & The Triumphs etc.
Another Lou Josie side worth checking is on Uptown from '67. Released as L.T. Josie, "T.O.N.I" is a good pop-rock song but the flip, is a very cool 'Cowboy' song, "'Young' Billy Bonney". If you like that kinda thing, I do, it's a lot of fun.