In the early 60s, Ron Barrett and Jack Nitzsche, together and separately, were producing, arranging and writing for a variety of artists. A check of their recorded collaborations found on Part Four, the discography page, shows just the six 45s. But these few records belie the importance and, I suspect, number of their recordings together. Trying to understand the criss-crossing of artists and the associated labels involved, on both coasts, is no easy task. It is certainly beyond my capabilities! Using the label information from 45s, my interviews with Ron Barrett and plenty of conjecture, I hope to get near to the story!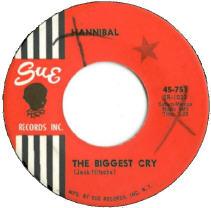 Johnny Gamboa's "Why Lover"/"She's Never There" (Star Revue 1003) was not a big seller nor was it re-issued. It's very hard to find but at least the disc's history is clear (-ish)! The flip was also recorded as "He's Never There" by Orphelia McFall on Saturn 403 in '63. No arranger or producer credits are given. The success of The Duals "Stick Shift", Sue 745, which Juggy Murray had licensed from Star Revue, sparked a flurry of Ron Barrett and/or Jack Nitzsche releases on the Sue label. Hannibal's "The Biggest Cry"/"I Need A Woman ('Cause I'm A Man), on Sue 751, was the first. The A-side was written by Jack, and he arranged both sides. Frustratingly, as with all Sue 45s, no producer or arranger credits are given. In the sleeve notes to the Mighty Hannibal's CD compilation on Norton Records, "Hannibalism!", Hannibal recalls working with Nitzsche:"Jack Nitzsche, Phil Spector's arranger, we worked together on a thing called "The Biggest Cry". Juggy Murray hooked us up. I remember Jack, Jimmy Holiday and Will Hutchins, the star of the TV show Sugarfoot; they'd come to the black clubs and hang out." The next release, Sue 752, is hard enough to find but is actually a re-release. Interviewed by Ken Barnes for BOMP!, Jack Nitzsche had this to say about Judy Hart's "That's Enough" (Staccatto S-1001-A): " That's obscure. Judy Hart is Judy Henske. H.B.Barnum and I went into business and both started labels." This 45 was released in January '61 - a few months before Ron Barrett started his Star Revue label - and went nowhere. Jack hadn't given up on Staccato though, and later in '61 he recorded another female artist, again under a pseudonym, called Sammi Lynn (Staccatto S-101-A). This was actually Jack and Ron Barrett's debut 45, complete with a rarely seen 'Produced by Ron Barrett' credit. Two Nitzsche credits are on the disc; Jack as arranger, and song-writer on the flip, "Blue Butterfly". Ron has confirmed the long-held rumour that Sammi Lynn is indeed, Jack's wife, Gracia Nitzsche. This Staccato 45, with its label numbering almost the same as the earlier release, was perhaps not intended for general release. Jack gave the only copy I know of as a gift to Al Hazan.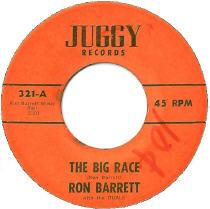 The Duals follow-up to "Stick Shift" was "Travelin' Guitar"/"Cha Cha Guitar" on Sue 758, released at the same time as their debut LP "Stick Shift". The Duals next 45 featured them in a back-up role to Ron Barrett, who, as producer, songwriter and vocalist on "The Big Race", rocks along on this hot-rod number at a fair rate of knots. Ron wrote the flip, "Oozy Groove" with the Duals' Henry Bellinger. Apparently, this was first released, one of only a handful, on Mr. Murray's Sue-affiliated label, Juggy (321), eventually to be reissued, with the Duals' name featuring more prominently, on John Marascalco's label, Infinity (032). Prior to this, Jack had arranged Billy Storm's "I Can't Help It" (Infinity 023), but surely this is another story!
I'd only read one mention of Dorothy Berry's "The Girl Who Stopped The Duke of Earl" being released on BNH 1. This was by Ken Barnes in his BOMP!, discography and interview. No reason to question Ken but I was beginning to wonder if the label credit may have been a typo or something. Finding the 45 on Little Star 232 had been proved difficult but at least I'd previously seen the 45 listed in various record lists and price guides. I had begun to doubt the existence, of what I assumed to be the earlier BNH release but then eBay came to the rescue. I lost out in the auction but the seller had scanned the 45 with the 'Arranged Jack Nitzsche - Produced by Ron Barrett' clearly shown. (S'pop friend Hans Huss won the records and has kindly scanned the labels for the site to use.) I asked Ron about the release; "It was true in the early sixties that I recorded this record first on Little Star. Then Barrett, Nitzsche and Hazlewood, a joint venture, was completed. A lot of things started to happen due to the immediate success of the record. I pulled it and turned my back on records for a long period of time." One is left to speculate on the reasons for the 45s withdrawal. Ron may have become disillusioned with the biz side of the record business but the lure of making great records couldn't be erased.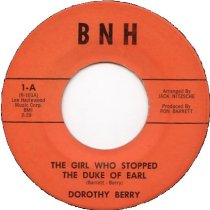 I'd like to think that Jack at least, may have been involved in other records released on HB Barnum's, Little Star label. The most likely candidates are Sherrell Townsend's, "Summer Days Are Here"/"I Love You Alone", (released first on Lute Records), The Viceroys "Uncle Sam Needs You"/"I'm So Sorry" (later on Smash records) and Ophelia McCall's "Every Every Night"/"One Heart One Love".
Ron and Jack had two more cool records to be made. Merry Clayton's first release, under the name Marry (sic) Clayton, "The Doorbell Rings", written by Joe Saraceno and Russ Regan, came out on a small label called Teledisc (501). Arranged by Jack, co-produced with Saraceno, the 45 made no impression, but, thanks to the Northern Soul crowd's it's now highly collectable. £400's is the latest value put on the disc by Mick Patrick who also noted that the flip "I've Got My Eyes On You" was written by Richard Berry and produced by Ron Barrett. Knowing a superb voice when he heard it Ron signed Merry to his Star Revue company but when Capitol wanted to record her, he willingly released Merry from her contract. I originally assumed Ron Barrett & The Buckskins "Louie, Louie"/"Lilli" (Magnum 715) to be an early session. Perhaps it was, but it was their last known release together, coming out in '64. What a fine, good-time record to end with.