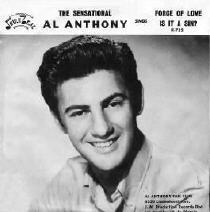 It was around 1961 and for the first time I decided to use myself as the artist on a record where I was also the producer. The two songs I had written and chosen to record were "The Force Of Love" and "Is It A Sin". I also decided to use the name Al Anthony for this recording instead of my real name.
I found myself needing an arranger to finish the background tracks since I had already completed the rhythm track myself. Someone recommended me to an arranger named H.B. Barnum. However, H.B. was too busy at the time so he recommended a young man by the name of Jack Nitzsche, his music copyist. I used Jack and was very happy with the results. At the time I thought that this was his first job as a professional arranger but have since learned he had done one or two others before mine. I think one of his first arrangements was for his wife, Gracia, who used a different name for her recording.
"The Force Of Love" and "Is It A Sin" were recorded at Gold Star Studios with Stan Ross at the controls and were financed by the publisher of "Dance of Love", the first song I ever had recorded. His name was John Miller and he had quit the music business about five years before and become successful as the owner of a electrical parts factory. Since he still loved the music business and was happy with my songs he agreed to put up the money. After that first session, Jack did most of the arrangements for my productions that I didn't arrange myself. He, Steve Douglas and Sonny Bono became my best friends in the music business. Unfortunately they are all gone now.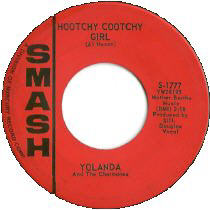 As far as my song "Hootchy Cootchy Girl" by Yolanda and the Charmanes is concerned, Jack did the arrangement, Steve Douglas produced it and played the sax break and, obviously, Yolanda and the Charmanes did the vocal. This was one of the few recording sessions of the songs I've written which I did not attend. I think I was in Europe at the time. It's one of my favourite recordings. Steve's sax ride is really great and the girls sang the heck out of it.
In the 1960s probably a million guys were in love with Doris Day. I was one of them. I met her son Terry through a girlfriend of mine. In the beginning, I would really feel shy when I was in his mom's presence. Each time I went over to their house I would walk past her quickly and go into their den, where Terry and I would practice my songs. Eventually, however, I got over my shyness with his mother and felt very comfortable being with her when the occasion arose.
One day I asked Terry if he wanted to do a record together. He liked the idea, so without telling his parents we hired Jack Nitzsche and some of my favorite musicans and booked a few hours over at Gold Star. It was just that easy. Terry and I had selected a song of mine "That's All I Want". It was an upbeat rock tune that had a powerful built-in arrangement for a back-up group. It especially appealed to Terry. Jack also liked the song and he did a great horn arrangement that added immensely to the whole result. It started out with a strong combination of horns and voices and then settled into a driving drumbeat. Terry would sing and the voices would answer and, in a wonderful way, it all came together in the studio. As I recall, Jack's wife Gracia was one of the female background singers as well as Darlene Love and a couple of other friends. There just seemed to be so much talent around in those days.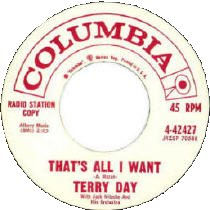 Once we finished the background music and after the musicians left, I began rehearsing Terry on getting the vocal just right while Stan Ross managed the engineering. Stan and I were not totally happy with the way Terry's voice was recording. We kept trying different equalizing, reverb and echo combinations but nothing worked. Then, by some stroke of good fortune, Lee Hazlewood happened to come into the booth. Lee was a very talented producer who I had known since the very beginning of my career. He suggested we switch the microphone to what was called a 44 Mike and that did the trick.
Terry's voice sounded great after that, reminding me of Ricky Nelson a little, but more powerful. It was soulful and commercial at the same time. We were all excited about the results and Terry went home while I waited anxiously to hear from him, knowing he would play it for his folks. Terry's father was a powerful entertainment businessman by the name of Marty Melcher. He produced some of Doris Day's films as well as managing her career. He was the one who finally called me.
The following day he drove over to my house and said he wanted to go to the record companies and sell Terry's new record. I told him we needed to make an appointment to do that. "Just get in the car", was his reply, and off we went. Fifteen minutes later, we were inside Capitol Records. Before I knew it we were on the top floor and Mr. Melcher was talking to the head of the company. I waited in the outer office. He came out not saying a word and looking a little flustered, so I quietly just followed him into the elevator. Apparently, he decided on another way to sell it because the next time I heard from Terry he informed me that he had signed to Columbia Records as an artist. I had a feeling it was not coincidental that his mother was probably their biggest selling performer at the time.
A few weeks later Columbia scheduled a session at United Recorders for Terry to record the other side of the record, which happened to be another song of mine entitled "I Waited". The session took place at night and, besides the engineer and myself, a couple of executives from Columbia records sat in the booth apparently to oversee everything. A few days before the session, Jack told me that he had a few new ideas that he wanted to try out. I trusted his talent so implicitly that I simply replied "Go for it". Now I was looking forward to hearing the results of my confidence in him. His arrangement featured an unusual drumbeat at the beginning combining the snare with the tympani. He then added sustained voices when Terry began to sing. The horns began to come in going into the second verse and then just kept building up to a climax at the end. Terry's vocal once again displayed his versatility as he added his own touches to my melody. I couldn't have been more pleased.
Jack always liked to dress well when doing what he felt were important sessions. That night he wore a tie and jacket and looked very sharp. He knew that a Columbia record session could be a good break for him so he really took extra care in his manner.
Terry was dressed casually as usual, wearing a pull over sweater with a pair of denim slacks and some loafer shoes as he paced nervously just outside the recording studio in the hallway. I knew he could overhear almost everything that was going on from there and I guess he just felt more comfortable being by himself. When I finally went out to get him, he was munching on part of a pizza he had ordered so I told him to put it away until after his vocal was over. Once the musicians left and he started singing, he settled down and once again displayed his versatility as he added his own touches to my melody. Afterward, I helped Terry finish the pizza outside in my car. He really seemed to feel confident about everything and I also couldn't have been more pleased about the entire recording.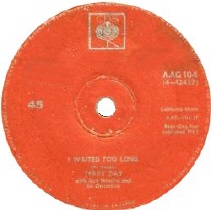 I really don't remember hearing anything much about that recording after it was finished. I'm pretty sure it sold somewhat but I think I was victimized once again by having it on a major label. I'm sure it would have had a better chance on a label like Rendezvous or Challenge or Smash or some other smaller label which was set up for promoting Top Forty material. Anyway, I never spent much time dwelling on the finished record. I was always writing and thinking what I could do to try to promote the next production. After all, this was my part of the business. Producing the product, which is what songs and recordings are. I made the product and then turned it over to the people in charge of marketing it. So I just went back to work wondering where the next project would come from. It so happens that next opportunity came to me as usual by telephone.
It was just a few weeks after our session with "I Waited" that Terry called me. He told me he was sitting in his office at Columbia and that they had given him a position as a producer and that I should feel free to bring him a project if I came up with anything good. I was glad to hear about Terry's new job because I saw it as good thing for both of us. Since I was never one to miss an opportunity, I called this singer I had thought about managing who lived in San Francisco and, knowing he was almost always broke, wired him some gas money to drive on down. I really had a good feeling that something worthwhile was coming together. I also called Terry back and told him I'd be coming in later in the week with Emil O'Connor my new singer. Emil O'Connor's record turned out to be the first that Terry Melcher produced for Columbia and he recorded him on my song "I Wanna Be There".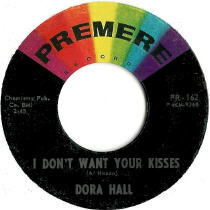 One day toward the end of 1963 I received a phone call from a nice sounding elderly gentleman who identified himself as Leo Hulseman. He told me that H.B. Barnum had referred him to me, claiming I would be a competent record producer for his wife, Dora. I felt a little suspicious at first because I wondered why H.B. would refer a client to me since he was a fine record producer himself. However, I was perfectly willing to listen to the man's proposition, so I agreed to meet the gentleman and his wife at their home in Brentwood. As I drove up the following night I noticed that the place was closer to a mansion than a home. I was feeling somewhat anxious as I stepped up to the door and heard the chimes play "Mary had a Little Lamb". As it turned out, the elderly gentleman I had spoken to was the owner of the Solo Cup Company, which produced paper cups. I had never heard of the company before but it was apparently quite well known in the Middle West as the number one competitor to Dixie Cups.
Mr Hulseman explained that his wife loved to sing and had the ambition to become a rock star. I thought that this was a bit strange since the woman looked in her sixties, however, I was always looking forward to working in the studio and recording my music. Besides, it also meant more work for Jack, Steve, Sonny and the musicians, which was always a good thing. We couldn't afford to turn down work at the time. Besides that, in the sixties, you never could tell what might turn out to be a hit. I figured that the least I would come out with would be some good background tracks that I could find other uses for if the records did not succeed. Anyhow, I agreed to produce the lady and that's how my relationship with Dora Hall began.
"The Gold Cup", "I Don't Want Your Kisses", "Little Hootchy Cootchy Girl" and "I Wanna Be There" were the songs I chose to record her on and she agreed. I hired Jack Nitszche to do the arrangements and some of the usual gang of my favorite musicians to play the accompaniment. I can't remember why I chose not to use Gold Star for that particular session but we ended up doing it at United Recorders. Perhaps Gold Star was not available on the same night that everyone else could make it. Also sometimes, when Phil Spector came to town, he would book studio A at Gold Star for two or three weeks at a time and that always took priority. I remember this session particularly since I was able to get me favorite musicians including Leon Russell on piano, Glenn Campbell and Tommy Tedesco on guitar, Carol Kaye on Fender Bass, and Hal Blaine on drums.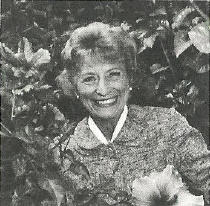 In any event, the music background really turned out well and all the musicians were anxious to discover who the singer would be. I could see the disappointment on their faces when Ms. Hall walked into the studio and took her place behind the vocal mike. Jack Nitzsche looked especially disappointed. We had really come up with a terrific background recording and now, everyone felt it would probably be for nothing. Since I knew from the beginning who was going to sing the songs, I simply continued my work as the producer of the session. After the musicians left, I spent a couple of hours getting the best I could from the lady. In a way I admired Ms. Hall for having the courage to follow her dream no matter what and, as far as I was concerned, her husband had hired me to do a job and I was doing it. That's why it's called the music business.
Mr. Hulseman released the records on his own label called Premere Records and packaged them free with his solo cup products. However, other than that, nothing ever sold very much, at least not that I know about, and eventually we quit the relationship. Actually, what happened was that I had taken the song "Gold Cup" over to Ken Nelson at Capitol Records and he recorded it with a new Country singer named Buddy Cagle. When Mr. Hulseman read in Cash Box that the song was picked to hit with a different singer other than his wife, he felt betrayed and that's when I got the call that it was over between us. The truth is, Ms. Hall's record had already been released and failed and I felt that "Gold Cup" was too good a song not to give it another chance with a real professional singer. As you might imagine, I wasn't especially sad that our relationship had ended. The Buddy Cagle recording went to number 20 on the Country Music charts that year.
Jack, myself and Sonny Bono got along easily. There were some phony people that we didn't care for but had to work with in the beginning. I won't mention any names. Once, I remember, Jack just walked out of a session because a particular producer wouldn't let a friend of his come into the studio. That really upset Jack. He never worked for that producer again and neither did Sonny or I.
As far as "Beyond The Surf" is concerned, it was one of the songs he chose to do on his first album. Jack had asked me to come up with a strong bass line for an instrumental for the album but I never did. The bass line was all Jack's. He should have the credit for that. I don't know if it's true but Jack told me that Phil Spector had called him from New York to congratulate him on the album and during the conversation he asked him who wrote "Beyond The Surf". I felt complimented that Phil might have liked it.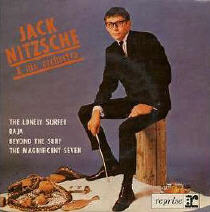 I was just an observer in the booth during Jack's recording of his album, much the same as I was during many of Spector's sessions. Since I was not a producer on the session, I always felt it would be best just to keep quiet and listen. I remember that David Gates was on the session. Jack did not seem nervous before or during the session. However, he seemed especially elated afterwards. I had the feeling he was pleased with his work. All the musicians came up to him and congratulated him and he seemed to enjoy that as well. I believe that Jack was essentially kind of shy when I knew him but I also know that a part of him wanted to be well-known to the general public. This dream was climaxed when he won an Academy Award for "An Officer and a Gentleman".
Nitzsche never liked to write his arrangements until he felt the pressure of the upcoming session. Then he would force himself to do it. I remember when he was arranging "Elusive Butterfly" for a movie and it was the night before the session. Obviously he was all tensed up and getting the juices going and that's when he told me that's the way he liked to work. He needed the pressure. The song was a big hit as you might remember.
When I knew Jack he was not the person you may have read about in the papers. His wife Gracia was a friend of mine and they also had a wonderful son Jack Jr. I spent many hours at their house because they were very friendly and hospitable. Jack gave me the impression of being rather shy as well as being a little "hyper". He was charming and very likeable as far as I was concerned.
Jack never seemed to be what you would think of as a "ladies' man". Maybe after he became successful he kind of went off the deep end with his "womanizing and drugs". It's a part of his life I'm not that familiar with. I prefer to remember him as a good father and a faithful family man.
There is so much misinformation around in regard to the history of the music business in the 50s and 60s. I hope I can clear up some of it by being in touch with people like yourself. Your discography regarding Jack Nitzsche is incredible. I had no idea how much work Jack had done after we stopped hanging out together.
Al Hazan