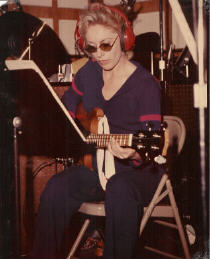 Gold Star Studio Session - (Un-Released) - 1963 "A Tribute to the West Coast Studio Musicians of the 1960s."
"For a change this week I'm featuring a background track that Jack and I did at Gold Star Studios in 1963. It displays the talents of most of the great musicians that I liked during the sixties, especially the piano playing of Leon Russell. I also had Hal Blaine on drums, Tommy Tedesco, Glen Campbell and Carol Kaye on guitar, Ray Pohlman on Fender bass, and Steve Douglas doing the sax break. We never put a vocal on this but I think it shows how good the musicians were and Jack's fine arrangement which was done while still early in his career. If you listen until the very end, - the fade out - you'll hear Leon Russell play a little thing that I think is one of the best piano licks I've ever heard on a rock and roll background.
During a fade out, sometimes a musician would feel free to do things off the top of his or her head that was not usually heard on the final master. Hal Blaine once asked me for a copy of a song we just recorded because he wanted to study what he had played during the fade out so he could practice it. He consequently used it on many future hit records he played on.
Until recently, Carol Kaye had never heard this background track which I produced over forty years ago. The following was her response after hearing it:"
Al Hazan
"Man that's great! I hear Jim Horn on bari sax right? Or might be Bill Green, as he sounded like that too, but probably is Jim...whatta player! Has to be Steve Douglas on that sax solo....he was so ahead of his time for his rock sax sounds, really is nice to hear him again. And the horns! They were the best weren't they? Has to be Ollie Mitchell and Roy Caton on the trumpets, not sure about the rest, you sure had a complete big horn section sound there Al. And Tommy Tedesco, hahahaha...I really got a kick out of the serious look on his face when he played his guitar solos. I was a terrible rock soloist on guitar but I'm pretty sure I'm doing the electric guitar rhythm, the "dot-dot-dada". Hal Blaine really sounds good on those drums. Who's playing bass Ray Pohlman? And Leon Russell, yes wasn't he something on that piano, that's how he sounded back then -- he took charge with his great inventive gospel piano playing styles - I especially like the bass lines he'd come up with and his fills were something else. Who are the singers? They're terrific - probably our usual group Clydie King, Gracia Nitzsche, Jackie Ward and Suzy Tallman and that was the Gold Star clean sounds, excellent.
Those were wonderful times when I was newly divorced from someone I was struggling to make something work in a marriage (especially with my 3 kids) and was devastated for awhile but..... I knew then, working - being around you all, and playing music, that I could take care of myself and my family myself - it meant a lot to me to be around good people and you were one of the best Al....and the guys were funny, made you laugh all the time. It was a great time.
I do have to say something that you were one of the best I have ever worked for at Gold Star, a popular studio where we all worked a lot for awhile - I always looked forward to playing on your dates (you and Perry Botkin were probably my favorites back in those early days of 1960s) - and the happiness of that music reflects our spirit of that time. The studio musicians were very happy (and we considered ourselves "lucky" too) to get paid well for working for good people like you, and the music was pretty good once we got the groove going too. It was a happy time, a great time for us all raising our kids at the same time and not having to go out on the road (leaving our families) to make a decent good living.
The 1960s was a great time, even tho' the assassinations and the riots, war, and marches were crisis times, it was a time of growing up for the baby-boomer generation who actually were responsible for a whole new style of music: rock and roll and this is a reflection on that time, thanks for sending this, I really enjoy listening to our work again and hearing the guys and the singers....
About Jack, he was an exciting arranger....you never knew what he was going to come up with and being a sort of person-shy guy, that made him doubly mysterious but he was a straight shooter I always thought....I do remember when I cut something on guitar and he had me playing a 4th in it and I complained to him 'Jack this is not part of the chord, it just won't 'make it' and he sort of smiled, looked at me with a lot of paternal patience and said, 'Just play the part Carol, it'll work' and by God, he was right."
Carol Kaye
What a treat Al Hazan has given us with this track, a storming rocker performed by some of the cream of the West Coast session musicians. As the time goes it's good to be reminded that these musicians were not spending their entire time recording for music legends such as Phil Spector or Brian Wilson. Most of there sessions were for less well known names but the music that was being produced, as Al reminds us, 40 years later has still got the power to excite.
Carol has proved a good friend to Jack Nitzsche's pages and Spectropop and it's super to have her enthusiastic comments on the session. Carol Kaye's own site and willingness to freely answer all questions on her forum page make this a very popular place to visit on the web.
Other members of Al's backing musicians to have their own web site are Leon Russell, Hal Blaine and Glen Campbell. Tommy Tedesco has a tribute page and of course we can't forget Gold Star Recording Studio.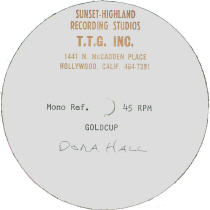 Dora Hall - The Gold Cup / I Wanna Be There - Premere (Un-Released) - 1963
A pity that Dora's recording of "The Gold Cup" was not released, a good song with a strong melody and excellent lyric. Three versions of the song not arranged by Jack, were released and are also available to download from Al's, Complete Discography page. The Top Twenty Country hit version by Buddy Cagle, a beautiful recording by Nita Garfield and Al's own rocking vocal (but credited as Dudley Duncan!) released on Smash. Sadly Dora's vocal of "I Wanna Be There" is lost, unless YOU know of a copy somewhere!
"Although Ms. Hall was not the typical Top 40 type singer, she had a great ambition to succeed in the music business. Because of this, although she has passed on, there has developed a cult following concerning the career of this fascinating woman. I produced four songs for her using Jack Nitzsche as my arranger as well as the finest musicians available. "The Gold Cup" is the last one I have a copy of listed on my website. In my opinion, it is her best vocal performance of the songs she did for me." Al Hazan
Dora was lucky that her financial status matched her ambition but she was far from alone in an unrealistic craving for fame and success. Al and Jack as well as other producers such as, Jimmie Haskell, H.B. Barnum and numerous musicians' income was supplemented by Dora's recordings. Her money was willingly spent, however not all hopefuls spent there money as knowingly.
For Jack, along with Sonny Bono, this was not the first time they'd been involved in so called 'vanity recordings'. Phil Milstein, curator of the American Song-Poem Music Archives tells this story as well as those of some of the later recordings of Al Hazan's vocalists and friends, Charlotte O'Hara and Nita Garfield.
The site is quite a wonderful stroll around the murky underbelly of American recorded music. (I'd suggest using the 'Search' button to find your way around, there are many pages and it's easy to be sidetracked.) Despite usually dishonourable intentions, some wonderful music was produced but considering some of the talents involved this shouldn't be too much of a surprise.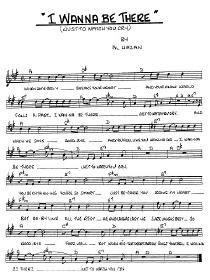 Emil O'Connor - I Wanna Be There - Release Unknown - 1962
"I first met Emil O'Connor in 1962 at a rock concert in San Francisco. Even though I was there as a performer that night, I was always on the lookout for talented singers that I could produce. Emil was a huge guy; about 6 foot 3 inches and weighing maybe 250 pounds. Therefore, his nickname was "Little E".
When I heard Emil sing, I was completely blown away. He sang very much in the style of Ray Charles, who he idolized. We quickly became friends and hung out together that night after the concert. I decided to produce him on a record and asked if he would be willing to come down to L.A. and do a session. He seemed excited about the idea and told me to let him know when.
Around this time, Terry Melcher and I were good friends and he was starting to work at Columbia Records as a producer. I decided to be the writer, publisher, and manager of Emil and have Terry produce him instead of myself. I invited Emil to come down to L.A. and go with me to see Terry and sing for him. Terry was very impressed with Emil and liked the song I had rehearsed him on, a song of mine titled "I Wanna Be There". A few months earlier, I had hired Jack Nitzsche as the arranger when I produced Terry singing my song "That's All I Want", so we both agreed Jack should do the arrangements for Little E.
This was Terry's first session as a producer and he wanted it to be special. I think he always felt pressured to succeed since he was Doris Day's son. He had Jack hire the best musicians in town and the Columbia recording studio was filled with them that afternoon. There was a sense of excitement and anticipation in the air as Jack started rehearsing the players while Emil and I sat impatiently in the booth.
I specifically remember H.B. Barnum sitting at the piano because it was the first time we spoke since I covered his recording of "Nut Rocker". Fortunately, there were no hard feelings between us. Tommy Tedesco, Carol Kaye, Ray Pohlman and Hal Blaine were just a few of the other musicians in attendance, along with a horn section and a back up vocal group. Emil's eyes were shining with the excitement of the situation. A few months before, he could only have dreamed of this happening for him.
After the session was over, all the musicians were congratulating Jack and Emil saying they believed the recording was a hit. Musicians will often say that just to give the artist encouragement, however, this time I felt they really meant it. Unfortunately, Terry and I had a disagreement a few weeks later about Little E's management and I bowed out of the whole situation. I don't even know if the record ever got released since I went on to other projects. In spite of that, it remains one of my favorites."
Al Hazan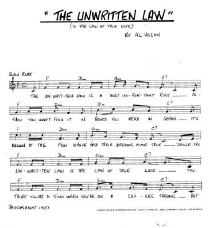 Tony Caro - The Unwritten Law -
Crystalette (Release Unknown) - 1962
"I don't know if this recording of "The Unwritten Law" was ever released but I think it's a good example of the typical type of Top 40 music that was popular in the early 1960s. I should mention that Sherry Lee, who I produced for Rendezvous Records, as well as a group called the Romeos, also recorded "The Unwritten Law". All three recordings are surprisingly different. It might be fun, if someone were interested, to compare these three versions of the song. They can all be heard on my website.
One day around this same time, while Jack, Steve Douglas and I were sitting around the office, I noticed Jack had his nose in some book reading intensely. I had never seen him bring a book to the office before so I asked him what the heck he was reading. He explained he was trying to learn the technique of writing music to film, which he complained was quite complicated. He tried to give me some idea about film frames and the timing of notes but he didn't go into too much detail.
Anyway, that was the first time Jack ever expressed his desire to me about becoming a film composer. I was surprised since it had never occurred to me that he might be looking forward to composing background music for the movies someday. I don't remember when he did his first film but it must have been a long while after that day in 1962. I guess he must have figured out all those instructions, however, since he eventually went on to earn an Oscar for "An Officer And A Gentleman" as most of you already know." Al Hazan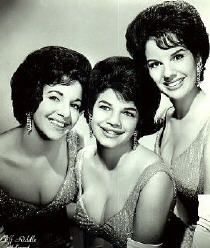 Starr Sisters - Every Beat Of My Heart - United Artists (Release Unknown) - 1963
A super track and one that seems to be unreleased, although a version of the song by Cindy Malone (one of her best) was released on Capitol 5036, in 1964. Written and produced by Al Hazan with the arrangement by Jack Nitzsche.
"In the early days, whenever Jack and I did a session together we would always try to get Sonny Bono on the session so that we could each make a little money. Since Sonny didn't play any regular instrument, we would usually have him play a percussion of some kind such as tambourine or wood block.
For the Gold Star session "Every Beat Of My Heart" by the Starr Sisters, Jack wrote a part for Sonny to play the triangle. Before we did the first run through however, I noticed that Sonny had brought a bottle of Coca Cola into the studio and had just finished drinking it. I told Sonny to forget about the triangle and to hold the empty Coke bottle loosely at the neck with his thumb and forefinger and strike it with any key he had in his pocket. Then I told Stan Ross, the engineer, to smother his mike with reverb (mechanical echo). The resulting sound is the "ping" you hear in the background of the recording." Al Hazan
Thanks to Al Hazan for the use of his picture of The Starr Sisters. The girls are, (L-R) Arleen, Denise and Juni. Check his site for more interesting group and artist shots plus sheet music etc.
Hello Al,
What a wonderful surprise & delight to find your website!!! I am one of the Starr Sisters who recorded some of your songs in the very early 60's, and hadn't heard these songs for 40 years!!! I've been living in Australia since 1963, after marrying an "Aussie" after our tour here in 1960. Thank you, thank you for this amazing trip into my history. My sisters (all still in the USA) were jumping out of their skins with delight when I told them of your great website. My friends have been tuning in too, playing all of your wonderful music.
I have two daughters, both musical, one is a professional singer/songwriter. They were thrilled to hear their mother as I sounded at the age of 18...I think?! It's been so much fun, as I don't have any recordings of us at all. But now I do! I'll be exploring your discography a lot more,
Thanks again Al,
Juni
Starr Sisters - U.A. 569 - Our Love U.A. (Unreleased) 1963
I'm pleased to attach the text of a letter to Al from 'Starr Sister', Juni, that they would like to share with the site. Al is delighted that she made contact, and Juni's pleasure at rediscovering her musical past and to hear some of her songs again is evident.
Juni has followed up this first letter with her memories of the session:
"I remember being very nervous and also extremely excited, being in a real recording studio for the first time. Our head phones on, hearing lovely harmonies being played back to us. I know that I really loved the songs...so melodic & sweet. I sang the melody on the songs with harmony, and I remember worrying about hitting the high notes, a concern I frequently had throughout our career. I'd always thought of myself as more of a Julie London type singer...deep & sultry! It was so much fun to learn through your website & Spectropop that Sonny Bono played "the coke bottle" on one track!
At the age of 21, I broke up the trio after falling in love & marrying an Aussie that I met while performing in Australia in 1960. To this day, I don't know how I had the courage to do this and then move 12,000 miles away from my family! Our Dad, especially, was so disappointed. We had a very successful time while in Australia, touring with Sammy Davis Jr, and doing many TV shows. We got married in 1963 in Las Vegas, and then returned to Australia, where I'm still here, after so many years. I've just recently become a citizen of Australia, but still hold my US citizenship.
After I left the group my sister Denise also quit singing professionally and became a hair stylist but my other sister Arleen who was so excited by the whole process of singing and recording went on to be part of another girl group trio, "The Loved Ones"."
The Starr Sisters had released records prior to recording for Al on Lute 6003, "Boy In The Study Hall" and Lute 6012, "Deedle Dum Dum". I have not heard Lute 6012 but "Boy In The Study Hall", although sweetly sung, with a beautiful sigh to finish, does not have the richness of sound or the rhythm so evident on Al's discs.
The fact that "All Because Of You" never reached the Top 40 and "Our Love" was not even released is no reflection on the quality of the tracks. Along with "Ready For A Change" and "Every Beat Of My Heart" (reviewed earlier) the songs and production have HIT written all over them! Was it bad timing, lack of promotion (Juni must have settled in Australia about the same time the 45 was released) or just plain bad luck? We'll never know. Either way, I'm pleased to be able, some 40 years later, to urge you to visit Al Hazan's Discography page and listen to the hits that should have been!
Thanks to Phil Chapman for restoring the damaged portions of "All Because Of You".