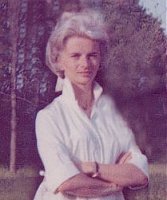 Gracia Nitzsche
(1936-2008)
Remembered
Music buffs may recognise her name as the wife of producer, arranger, writer, instrumentalist and recording artist Jack Nitzsche, but anyone who has listened to music from the 60s will have heard Gracia Nitzsche sing. Despite the credit Gracia Nitzsche not appearing on any original recordings, she sang as lead, but usually as backing vocalist, on hundreds of records from the late 50s to the tail-end of the 60s. I guess we'll never know all the tracks she performed on (I've listed a partial discography at the end of this article) but the records that have been confirmed to feature Gracia include chart hits, The Crystals "He's A Rebel" Duane Eddy/Rebelettes "(Dance With The) Guitar Man", surf classics The Westwoods "I Miss My Surfer Boy Too" & The Rip Chords "Gone", Girl-Group delights The Satisfactions "Daddy You Just Gotta Let Him In" & Sammi Lynn "You Should Know I'm Still Your Baby" and many other great cuts from soul to folk. Not only that, but rare in the music biz, I've not heard anyone have a bad word to say about her!
Jack, Jack Jr. and Gracia Nitzsche
When the Jack Nitzsche site developed beyond just a discography and I started chatting with people who knew Jack, Gracia's name would often come up. Ron Barrett "Jack had a very sweet and nice wife, Gracia." Marty Cooper "All I can say about Gracia is that she was a genuinely nice person one of the nicest I knew." Al Hazan "His wife Gracia was a friend of mine and they also had a wonderful son Jack Jr. I spent many hours at their house because they were very friendly and hospitable." Bob Lind "?when Gracia came back (and a more wonderful woman no one has ever met) with the baby (young Jack who must have been about 2 at the time), he never kicked me out. And Gracia treated me like a son - even though there wasn't much difference in our ages." Leslie Knauer "His wife Gracia hung out in the studio most days and held my tiny 4 day infant while I sang! Gracia really was a sweetie." Gloria Packard "I remember she was a petite, slender blonde with her hair sort of in a beehive, she wore black eyeliner. She was very friendly and very pretty."
Not much is known and even less written about the woman of whom Jimmy McDonough wrote "Gracia was the woman Nitzsche would credit most for guiding his life and career." I did make requests for an interview to document her career but all attempts failed. Gracia would no doubt be uncomfortable with the recognition of this tribute but it has been a long time coming and is richly deserved.
Gracia Nitzsche died of heart failure on October 4th 2008; Jack Nitzsche Jr. relates how amazing it is she lived so long and her inspirational upbringing in Centerville, Indiana: "My Mom contracted rheumatic fever when she was 9 years old and was not expected to see the age of 10. Then she was never to see the age of 17. Of course she was told that neither she, nor her child would survive childbirth, I'm proof that they were wrong, again. She had trouble finding a surgeon who would perform a needed operation for fear that she would die on the table as one doctor bluntly told her. She lived on after that surgery. All of this because of damage to her heart valves due to the childhood illness that took so many others. When word of a new operation, valve replacement surgery, became a reality, her best friend and guardian angel, Bobby Darin, a fellow survivor of childhood rheumatic fever, jumped at the chance. His death put any idea of having the surgery out of the question for my Mom. She struggled her whole life with the complications of damaged heart valves, she outlived many more friends and family then she or anyone else thought she would. She lived long enough to meet her Grandson, A moment my Dad never got to have. For someone who was never supposed to see 10, she lived a very full 72 years. Every birthday she would whisper to me, "I fooled 'em again."
My Mom was born Feb 26 1936 in Centerville, Indiana, the fourth of six kids. A farm girl who lived through the great depression, but never knew what that meant. There was always food on the table and as far as any of them was concerned never wanted for nothing. Her father was a traveling salesman who owned the local pool hall, to the chagrin of his church. When the local pastor asked him to close the place, he responded by pulling his family out of the congregation and quitting religion for good. When the same pastor tried to keep black people out of town, her father made it known that any man passing through town, Black, White, Green, Brown or any other color was welcome at his farm for a meal and a place to rest. This was no small offer to the hobos who roamed the country back in those days. Not to mention offering any kind of hand to the "Negro" as they were called in Southern Indiana Klan country."
Denny Bruce told me that coming from Indiana Gracia Ann Maye was an official 'Hoosier', the same US State that Jack Nitzsche's film idol, James Dean, came from. That James also came from a small Indiana town and played high school basketball and his team played against the school that Gracia attended, perhaps even with Gracia watching the game...Well, add to this a beautiful brunette who read music and sang like an angel...no wonder Jack was smitten!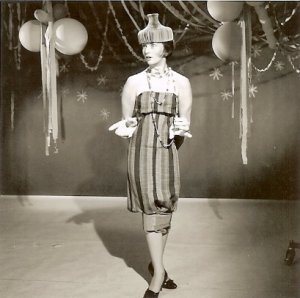 Gracia Ann Maye photo test at Capitol Records
In a 1965 interview for Songwriter's Review magazine, one of Jack Nitzsche's first, it's noted that; "he got a job at Capitol Records as an IBM operator and met his wife there who was a secretary (as well as a hopeful singer). She did the demos on the songs he wrote." Jack Jr. tells me this isn't quite accurate, "She did not move to California to become a singer rather she came to work on a movie animal ranch. Singing started after she and my Dad got together." The new Mrs. Nitzsche soon found she could earn more money as a full time singer than secretary and with her commitment to her husband the money was needed! In Jimmy McDonough's obituary of Jack Nitzsche in MOJO he quotes Jack. "Gracia encouraged me to forget about getting a job and really go for the music. To just do what I wanted to do, and she would bring in the income".
Before The Blossoms came to dominate the Los Angeles recording studios it wasn't just the Johnny Mann Singers who were on call for backing vocal duties. Writing for the Jack Nitzsche site Carol Kaye recalls that the usual vocal group that the younger guns would use in the studio, pre Phil Spector, was Clydie King, Gracia Nitzsche, Jackie Ward and Suzy Talman. Gracia was a particular favourite of H.B. Barnum. Late 50s early 60s Jack Nitzsche was copyist/secretary/gofer for producer/arranger HB but despite the family connection you can be sure that HB was hiring Gracia for her vocal talents. Not one H.B. Barnum session is listed in her discography and considering the number of sessions that Jack arranged I've only been able to confirm a relative few that Gracia sang on. Marty Cooper was another producer who had a very high regard for Gracia's abilities: "Gracia had a lovely, simple voice and was an instinctive vocal arranger in her own right. She could read music really well. Jack always tried to get her to be 'soulful', but Lee and I just liked the sound of her voice and her willingness to work out things with us in the studio. A professional singer's singer her versatility enabled her to go easily from folk with The Shacklefords to soul with the Blossoms." Gracia worked hard caring for and supporting her young family, Jack Nitzsche Jr. was born in 1960, while her husband (and herself) established their reputation in the biz.
Gracia Nitzsche and The Blossoms
Sales of popular music exploded in the early 60s and, from being a bit of a musical backwater, California and Los Angeles in particular began to rival New York as the creative hub. Phil Spector was the catalyst. One of his first signings was Jack Nitzsche as arranger, followed soon after by The Blossoms. The artistic and financial success Spector created with his early Philles 45s "He's A Rebel", "Zip-A-Dee-Doo-Dah" and "He's Sure The Boy I Love" insured not only his future but that of Nitzsche and The Blossoms. It may have been a creative, rather than monetary, decision on Nitzsche's part to pin his flag to Spector's mast but, as with The Blossoms, he was now hot. Their talents were obvious and now every producer in L.A. it seemed wanted to hire them, there was the hope that some of the chart magic they'd had with Spector would rub-off on their own productions.
The Blossoms began life as The Dreamers in 1954. By the early 60s they featured a settled line-up of Darlene Wright, their most distinctive voice (renamed Darlene Love by Phil Spector in 63), founder of the group Fanita James (nee Barrett) and Gloria Jones. Their recording career under their Blossoms name had been steady but unspectacular. However the success of their studio sessions, live backing vocals and now lead & backing vocals on most of Spector's cuts meant they often had to work as a collective, three members were just not enough. Vocalists would come in to augment their sound or replace an absent Blossom. Gracia Nitzsche often worked as a part time member and in mid-late 63 she was officially invited to join the trio replacing Gloria Jones who'd quit. Hard to pin down the tracks Gracia was on during this time, Barney Kessel's "TV Commercials" for Reprise is the only one confirmed. She was most likely one of the 'Wildcats' on Reprise, Al Casey's K-C-ettes on Casey, Hal Blaine's Young Cougars on RCA, possibly the Willies on Blue River, plus other cuts on which the girls sang lead and countless recordings where they 'simply' supplied the backing vocals.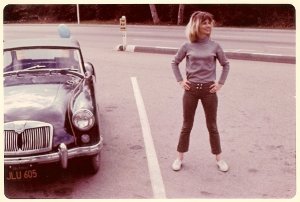 Gracia Nitzsche and her new MG
TV producer Jack Good had been impressed after seeing the Blossoms perform live months before his idea for a US pop series had reached fruition. When the plans were agreed he invited the girls to appear on the show as regulars. Darlene and Fanita were delighted, national exposure, Phil Spector (still) promising to produce the group, this could be their big chance for stardom under the groups own name. But there was a problem, Jack Good figured he could sell three black girls sharing the stage with white performers to most of middle-America but it was judged that a mixed race group would be a step too far for prime-time TV. Gracia Nitzsche was asked to leave The Blossoms and Jean King replaced her. Gracia understood the reasons for the request and accepted it stoically; fame had not been on her agenda anyway. Still, I can't believe it didn't hurt.
A little postscript to the story: The Blossoms did achieve a high public profile appearing on Shindig! but Phil Spector welched on his promise to record the group, exasperated they had stopped working for him. Gracia Nitzsche on the other hand continued working on Phil Spector's sessions with Jack Nitzsche. In fact it was Gracia, acting on Spector's behalf, who asked Dalene Love to come back to Gold Star for a new recording "River Deep, Mountain High". He implied that Darlene would be the lead vocalist...
For Gracia and Jack it must have seemed their dream was coming true. Gracia had her disapointments but her hard work had kept the family going until the belief she had in her husband's talent had been vindicated. By now he was an extremely successful arranger, producer and recording artist. Now was the time when they could think about enjoying the fruits of their labour. The problem was not only that Jack's work was changing but so was his lifestyle. Working with and being a buddy to Spector and the madness that surrounded him was enough of a distraction to a young father, add The Rolling Stones to the mix and it was bound to change the dynamic of his relationship with Gracia. He was mixed up in, and begining to relish, the 'rock n' roll bullshit'.
Gracia Nitzsche and a New Orleans streetcar called Special Desire
In his highly enjoyable book "2 Stoned" Andrew Loog Oldham judges Jack Nitzsche, (with a touch of 'the pot, kettle, black'), severely but with a lot of affection and respect.
"Back in 64 when we first met him, Jack was robust. If he took drugs he didn't take them in front me. He was sweet, shy, polite, cooperative and fucking talented. What else do you want, you know? Then he went home. He was boring on other people's time. I remember him fondly as a married man who should have stayed happily married. We don't know what goes on once somebody closes his own oak door, but where he was at the time was in a place that was very warm and attractive. I know Charlie and Shirley Watts were very attracted to that side of him ? they spent a lot of time with him and Gracia Nitzsche while everybody else was out chasing pussy and buying clothes. You can only wish that kind of thing would go on forever for people like Jack, but, for whatever reasons, he wanted to change his life, and unfortunately, he was one of those people who could only do that with dire consequences to themselves."
Jack's friend Marty Cooper also remembers those early days fondly and mourns the change in their relationship: "I spent quite a bit of time at Jack and Gracia's house in Nichols Canyon before I was married in '63; Used to tell Little Jackie bed time stories and play with 'Rommel'. Rommel was a big German Shepherd that Jack wanted around for protection in the Hollywood Hills. That was a joke because he turned out to be a pussycat, he would curl up in your lap. As I recall, it was also where I met (Lee) Hazelwood.
All I can say about Gracia is that she was a genuinely nice person, one of the nicest I knew. She was never involved in any of the wild, crazy 60s stuff which swirled around her. Just wasn't interested and stayed above it. She believed sincerely in ghosts and life after so I hope she's reading this.
She was fun to be with and I considered her a friend. The saddest thing for me in her breakup with Jack was her dropout and disappearance.
I'm sorry I was never able to talk to her again."
The marriage may have been in trouble but it wasn't over. According to HitWeek (and Denny Bruce), 1965 saw the family (and Steve Douglas) move to Spain to start a new life. They soon returned home, although this was due more to Franco's fascist Spain than anything else. Jimmy Mcdonough's "Shakey" recounts two separate spells of them living together at Neil Young's circus, sorry, ranch up to '71. And, throughout the main Jack Nitzsche site, mentions are made of Jack living apart and then reuniting with Gracia right up to the 80s. Gracia's discography shows, despite her absence from the recording studios with other producers/arrangers, she continued to work with Jack at least until Neil Young's first solo album in '68. Of course, their son Jack Jr. was another reason for them keeping together but I suspect there was more to their relationship than the music or even their son.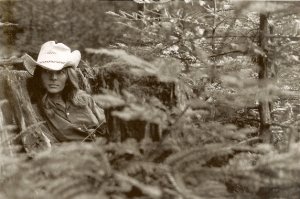 Portrait by Jack Nitzsche
I wrote to Bob Lind suggesting that Gracia was a constant in Jack's life. Drugs, booze, women, women but Gracia was a port in any of his mental storms. This is Bob's reply.
"You are absolutely dead on the money with that one. She was his rock. The only stable, honest woman in his life. Jack craved abuse and the whole cuckold drama. He didn't know a woman was there unless she was putting his nuts in the vice.
Gracia never would play that game. She gave him truth, and fidelity and as much peace as he would let in. She's the only one he trusted. But she wasn't exciting enough to hold him nonstop. He needed that wild drama -- the risk of crushing pain was what excited him. Gracia was way too classy to give it to him."
Gracia and Jack Nitzsche were divorced in '74. In '82 Jack married Buffy St. Marie but the union was brief one. There was a later unfortunate and much publicised dalliance with Neil Young's ex-partner Carrie Snodgress, neither arrangement could be described as harmonious. I suspect Bob Lind has it right; Jack had the right woman, Gracia, but he failed to recognize it.
Gracia is survived by son Jack, grandson Ellsworth, sisters Jean, Pat and Carolyn and brothers Jim and Bob.
Gracia Nitzsche - A Partial Discography

| | | | | | | |
| --- | --- | --- | --- | --- | --- | --- |
| | | | | | | |
These Tracks Feature Gracia Nitzsche As Lead Vocalist
Sammi Lynn
You Should Know I'm Still Your Baby
Blue Butterfly
Staccato 101
(Sue 752)
61
Sammi Lynn
I Could Have Loved You
Down On Your Knees
Sue 762
62
Sammi Lynn is actually Gracia Nitzsche
Westwoods
I Miss My Surfer Boy Too
Will You Love Me (Like You Did Last Summer)
A & M 763
64
With Marilyn Wilson
Satisfactions
Daddy You Just Gotta Let Him In
Bring It All Down
Imperial 66170
66
Satisfactions
Baby I'm So Glad It Rained
Hard Workin' Man CD
Ace Records CD 1130
66
Satisfactions
Yes Sir That's My Baby
Phil's Spectre Vol.3
Ace Records CD 1149
66
Satisfactions
I Didn't Have Any Summer Romance
A Goffin & King Song Collection
Ace Records CD 1170
66
Satisfactions
Woman In Love (With You)
Where The Girls Are Vol. 7 CD
Ace Records CD 1218
66
None of the ACE CD tracks listed were released at the time
Backing Vocal Tracks by Gracia Nitzsche Without The Blossoms
Williams, Larry
Some Tracks
Bad Boy LP -
Specialty LP 7002
58
With Trudy Handcock, Irene Diaz & Darlene Paul
Duane Eddy
Deep In The Heart Of Texas
Saints And Sinners
RCA 7999
62
Duane Eddy
Twistin' Off A Cliff
Twistin' 'n' Twangin' LP
RCA LSP 2525
62
With Carol Lombard & Darlene Paul
Shacklefords
Big River
Stranger In Your Town
Mercury 72112
63
Shacklefords
Our Little Boy Blue
Golden Bells
Mercury 72153
63
Shacklefords
My Name Is Jimmy Brown
Big Boss Man (There Goes)
Mercury 72199
63
Shacklefords
Until You've Heard The... LP
Mercury 60806
63
These early Shacklefords records primarliy consisted of Lee Hazelwood, Marty Cooper, Albert Stone and Gracia Nitzsche on vocals.
Rip Chords
Gone
Columbia 42812
63
A wonderfully evocative and provocative spoken intro by Gracia Nitzsche
Moments
Walk Right In (vocal)
Era 3099
63
Moments
The Big Round Wheel
Homework
Era 3104
63
With Albert Stone
Buffalo Springfield
Expecting To Fly
Again LP
Atco 33226
67
With Sherlie Matthews, Merry Clayton, Brenda Holloway, Patrice Holloway, and Gloria Jones
Neil Young
I've Loved Her So Long + The Old Laughing Lady
Neil Young LP
Reprise 6317
69
With Sherlie Matthews, Merry Clayton, Brenda Holloway, Patrice Holloway, and Gloria Jones
Backing Vocal Tracks by Gracia Nitzsche With/As The Blossoms
Williams, Larry
Steal A Little Kiss
Specialty 665
59
Day, Terry
That's All I Want
I Waited Too Long
Columbia 42427
62
Duane Eddy / Rebelettes
(Dance With The) Guitar Man
RCA 8087
62
Duane Eddy / Rebelettes
Boss Guitar
RCA 8131
63
Duane Eddy / Rebelettes
Lonely Boy, Lonely Guitar
RCA 8180
63
The Blossoms, Darlene Wright (Love), Fanita James & Gracia Nitzsche provided the vocals as The Rebelettes
Crystals
He's A Rebel
Philles 106
62
Day, Bobby
Another Country, Another World
l Know It All
RCA 8133
63
Laine, Frankie
Don't Make My Baby Blue
Columbia 42767
63
Barney Kessell
TV Commercials
Reprise 20152
63
Hale & Hushabyes
Yes Sir That's My Baby
Apogee 104
64
Other artists and producers for whom Gracia Nitzsche sang backing vocals but the tracks have not been confirmed include: Bobby Darin, Al Hazan, Ann Margaret and Phil Spector.
Known lead and backing vocal tracks featuring Gracia Nitzsche that are unreleased
Duane Eddy
Deep In The Heart Of Texas
In The Mood
RCA
62
With Dorothy Berry & Darlene Paul
Satisfactions
Until It's Time For You To Go
66
Gracia Ann Maye
So Sorry
Darkness
?
Jack Nitzsche produced session
With thanks to:
Jack Nitzsche Jr. for his support with this article.
Friends from the Jack Nitzsche at Spectropop web site whose quotes I've used from earlier interviews and Denny Bruce, Marty Cooper and Bob Lind for additional comments.
Discograpy assistence Jim Grant, Bob Jones and Mick Patrick
Refrence Sources:
Darlene Love with Rob Hoerburger, "My Name Is Love - The Darlene Love Story". Published William Morrow ISBN 0-688-15657-6
Jimmy McDonough "Shakey - Neil Young's Biography". Published Jonathan Cape ISBN 0-224-06914-4
Andrew Loog Oldham "2Stoned". Published Secker & Warburg ISBN 0-436-28015-9
Stephen J. McParland "Bikinis, Black Denim & Bitchen Sounds". Published CMusic Books ISBN 1-876788-22-4
"So Much Love - A Darlene Love Anthology 1958-1998" Sleeve notes and interviews by Mick Patrick Ace Records CDCHD 1169
Illustrations:
Photos - Jack Nitzsche Jr. and Peter Trautmann
Record Labels and Covers - Al Hazan, Phil X. Milstein, Mick Patrick, Martin Roberts and David A. Young
Web Sites:
To find out more about the people who were there, check out their official web sites:
Ron Barrett, Al Hazan, Fanita James, Carol Kaye, Leslie Knauer, Bob Lind, Darlene Love, Andrew Loog Oldham, Phil Spector and Neil Young
Contact details:
I hope you've enjoyed this tribute. If you have anything to add, a comment or correction to make why not
© Martin Roberts 2002-2009: Photos © Jack Nitzsche Jr.: All rights reserved.