In Loving Memory... Jack and Gracia Nitzsche Remembered
My grateful thanks to former 'American Bandstand' regular Harvey R. Kubernik.
Mr. Kubernik (who I am told can still dance with the best of them) kindly supplied this copy of his much respected obituary, first published September 2000, in Goldmine (Vol. 26, No.17, Issue 524). He had been friends with Jack Nitzsche for over 25 years and interviewed him often.
Two of his extended interviews with Jack, including an expanded version of a piece originally printed in Mojo, will be published in his new book, 'This Is Rebel Music: The Harvey Kubernik InnerViews', to be published shortly by the University Of New Mexico Press.
A music journalist/writer and interviewer since 1972, Harvey has been a promoter of the world of pop & rock, visual images and the spoken word all his adult life, through his writings and interviews for magazines such as Goldmine, Melody Maker, Crawdaddy, Mojo, Hits, L.A. Weekly, New Times, Musician and The Los Angeles Times. Not forgetting his promotion through radio, TV, Video and the recording media.
The number of industry figures he has been involved with and the high regard in which he is held are testament to his love of music and the arts and his respect for the artists.
This is another book that is eagerly awaited!
LEGENDARY MUSIC ARRANGER AND COMPOSER
JACK NITZSCHE DIES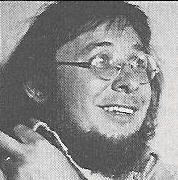 Jack Nitzsche (1937 - 2000)
Legendary arranger and award-winning composer Jack Nitzsche died at Queen Of Angels hospital in Los Angeles, California on August 25, 2000. Nitzsche's death was attributed to cardiac arrest, brought on by a recurrent bronchial infection. He was 63. He is survived by his son, Jack Jr. Bernard Alfred 'Jack' Nitzsche was born April 22, 1937, in Chicago, Illinois and lived outside Newaygo, Michigan. In 1955 he moved to Los Angeles.
Over the decades I conducted a series of interviews with Jack Nitzsche. Portions were printed in Goldmine and New Times in the U.S. and Mojo in the U.K. He once told me in a 1986 interview that he was a big fan of jazzman and Stan Kenton alumnus Bill Holman. Upon looking at an advertisement in Downbeat for the L.A.-based Westlake School Of Music and seeing the movie 'Rebel Without A Cause', he knew he had to live in Hollywood.
Jack Nitzsche's name is on a whole lot of records in your collection. He had a remarkable 40-year music career as one of the great composers for film as well as being one of the seminal rock 'n' roll arrangers of our time. An extraordinary talent in the studio, he garnered an Oscar for co-writing 'Up Where We Belong' with Buffy Sainte-Marie and Will Jennings, a number one hit sung by Joe Cocker with Jennifer Warnes for the film 'An Officer And A Gentleman'. Nitzsche was nominated for an Oscar in 1975 for his experimental score to 'One Flew Over The Cuckoo's Nest'.
Behind the mixing board and inside the recording studio, often with detailed lead sheets and unique musical concepts, Nitzsche's techniques impacted on and influenced songs by The Rolling Stones, The Monkees, Neil Young, Ricky Nelson, Marianne Faithfull, Barbra Streisand, Doris Day, Bobby Darin, Sonny and Cher, The Neville Brothers, Jackie DeShannon, Bob Lind, Captain Beefheart, Willy DeVille, The Tubes, Graham Parker, and Phil Spector, among others.
In the last few decades, Nitzsche scored such hit films as 'Stand By Me', 'Jewel Of The Nile', 'Starman', '9½ Weeks', 'Breathless', 'One Flew Over The Cuckoo's Nest', 'An Officer And A Gentleman' and 'Blue Collar'. His composer credits also include the scores to 'Hardcore', 'Revenge', 'Greaser's Palace', 'Cruisin'', The Indian Runner', 'The Crossing Guard', 'The Hot Spot' and 'Personal Best' (with Jill Fraser).
He provided the tension and audio environment for the Mick Jagger film 'Performance'. "The only movie I have ever done where nobody interfered, nobody", he told me in a 1998 interview. "You saw the film. I would want to see that film again. I want to see what's holding that film up. To this day, I'll be in a restaurant, or walking down the street, or leaving a screening on a lot somewhere like at Paramount, and someone will yell out 'Performance'. Recently, Billy Friedkin saw me walking and across the street yelled 'Performance'. The greatest use of music in a motion picture ever".
He also supplied some music to Friedkin's 'The Exorcist'. Today's film composers have nicked a lot from this guy. He really understood the music and sound merger of film scoring and participated in song placement.
Sonny Bono gave Nitzsche his start in the music business when Bono was doing Artist and Repertoire duties for Specialty Records and hired Nitzsche as a copyist. Kim Fowley and Gary Paxton, who were charting in the 1960-1964 era as songwriters and record producers, also employed Nitzsche to do their lead sheets. "On onion skin typing paper at ten dollars a song", Fowley remembers. Bono and Nitzsche penned 'Needles And Pins' for Jackie DeShannon, later covered by The Searchers and The Ramones. In 1962, he hooked up with Phil Spector after a variety of jobs and a gig at Capitol Records, where he met his first wife, Gracia Ann May, also a singer and an original studio member of The Blossoms. He was later married to singer / activist Buffy Sainte-Marie.
To some, Nitzsche was the unheralded architect behind the Wall Of Sound. In the June, 1988 Goldmine interview he explained to me the relationship with Spector and illustrated their studio collaborations. "Phil played me the demo for 'He's A Rebel'. We went to a rehearsal with The Blossoms. I had been working with them for years. I didn't do the lead sheet for 'He's A Rebel', just the arrangement. I put the band together for the session, a lot of the same guys I had been working with for years. Phil didn't know a lot of these people. He had been in New York 1960-1962. Leon Russell, Harold Battiste, Earl Palmer, Don Randi, Hal Blaine, Glen Campbell - a lot of the players came out of my phone book. Phil knew Barney Kessel. At one time he had taken guitar lessons from Barney, years before."
"Producers these days seem like PR people or business people. Maybe they like the records, but Phil loved the records. He was really the artist", Nitzsche mentioned. He knew what he wanted from me and gave me a lot of input for the arrangements. We were friends and had a lot of ways to work together. It was easy and fun. My fee was fifty dollars a song. I don't feel any bitterness about the money or payment whatsoever. The credits helped me secure employment for years. Phil knew what he wanted. He put my name on many of the singles as arranger. I loved it. What an education...
Over the years, Jack and I would at times meet at record executive / artist manager Denny Bruce's house. Bruce was the original drummer in The Mothers Of Invention, and in the mid-sixties was Nitzsche's roommate, after his legal seperation from Gracia. He would later go on to produce and manage the likes of Leo Kottke, John Hiatt and The Fabulous Thunderbirds. He was a close friend of Nitzsche for over a third of a century. Nitzsche invited Bruce to some Rolling Stones' sessions in 1966, and later it was Bruce who formally introduced Nitzsche to Neil Young. And when these two characters discussed records and girls, you listened. And learned. Once in a while, usually around a televised boxing match, Nitzsche, Bruce and I would talk about some specific songs he had arranged and produced in the sixties. Jack was particularly proud of The Walker Brothers' 'Love Her', a Barry Mann effort done at RCA. He loved 'When You Walk In The Room', that Jackie DeShannon sang, and 'River Deep - Mountain High' by Ike and Tina Turner, the monumental Spector production at Gold Star. Between punches he'd often tell us about his recent composing activities and movie gigs. This cat really covered the waterfront.
In 1964, it was Nitzsche who put together the T.A.M.I. Show band and helped coordinate some of the talent for that epic music and film rock 'n' roll event. On the show, Chuck Berry wails in front of Nitzsche and crew. Nitzsche also was involved in the legendary TNT Show that Spector put together the following year. You want to see rock 'n' roll in films, check out these two music-driven properties on the big screen. Try your local revival movie house. Might also be available on home video in some markets.
Now on tour with Brian Wilson on the 'Pet Sounds 2000' live tour, Darian Sahanaja, songwriter / vocalist and keyboardist for The Wondermints, further described Nitzsche's role in music and celluloid. I'm always delighted when I see his name on the credits of a film. Nitzsche had the ability to take tunes somewhere else for the good of the song. One of my favorite soundtracks he did was 'Village Of The Giants'. His first score from 1965, maybe the first heavily orchestrated teen soundtrack. Like Brian Wilson, he could utilize instruments and voicings that would complement each other, especially in the way he paired strings and percussion
Writer Jimmy McDonough was working with Nitzsche on his autobiography at the time of his passing. "I do a whole number when I produce an artist" he told the scribe. "I really put them through something. They have an experience, and it changes the records"
In 1963, Nitzsche had an instrumental hit single, 'The Lonely Surfer'. Ten years later he released an album of orchestral pieces, 'St. Giles Cripplegate'. Nitzsche was also partially responsible for helping Neil Young and Ry Cooder land on Reprise Records. He was both pivotal and essential to Young's first solo album. Listen to 'The Loner' and 'The Old Laughing Lady' for Nitzsche's influence and arranging skills. Earlier, Nitzsche had worked with Young during his Buffalo Springfield days on 'Expecting To Fly'. Nitzsche, along with Brian Jones and Kim Fowley, were also instrumental in convincing Mo Ostin at that label to sign Jimi Hendrix to an American record deal.
There simply isn't enough space to list Nitzsche's studio contributions to The Rolling Stones LPs in the mid to late sixties. Monitor the album sleeves. He is the tambourine player on 'Satisfaction'. He did the choral arrangement on 'You Can't Always Get What You Want'. Go spin 'Aftermath', and realize that the Stones had first met Nitzsche in 1964 at RCA Studios in Hollywood when their manager and producer, Andrew Loog Oldham , arranged for the band to visit when Jack was doing Hale And The Hushabyes dates. He befriended the Stones, introduced the band to his engineer, Dave Hassinger, and some classic Stones songs were cut in that RCA complex.
Jack Nitzsche was also a storyteller. Too bad VH-1 wasn't smart enough to include him on their recent airing of a list and profile of rock's 'Bad Boys'. He must have lead the league in rehab stints; he even had one hassle filmed for an episode of the TV program 'Cops'.
One year he could deliver the electronic score for 'Starman' and then pair Miles Davis and John Lee Hooker for 'The Hot Spot'. He was always searching for exotic instruments. When he was preparing for a new music project or a film assignment, it was not unusual to see him loading a shopping cart with CDs and albums from Tower Records on Sunset Strip. Even as a musical maverick, industry pariah and intellectual bad ass, Jack Nitzsche always cared about the music and the artists involved creating it with him.
Over a meal - even when scanning the menu - he could hurl oral histories on doo-wop, Neil Young, women, and R&B. He loved talking about The Rolling Stones, The Mighty Hannibal, Howlin' Wolf, racism in the record business and the plight of the Native American Indian.
He could recall his initial meeting with Little Richard and tell about the session that produced the wonderful 'Elusive Butterfly' from Bob Lind. If he talked about composer Jon Hassell, listeners were then expected to hear one of Hassell's CDs and investigate the restaurant where he and Hassell had lunch. He used to refer to me as "a writer who produces beatnik recordings". I always took it as a compliment.
Jack Nitzsche was a real to reel music teacher. He had a lot of talent, worked hard on his craft, and was not the product of nepotism and industry favors. At the time of his death, he was working with Louisiana rocker Charles 'CC' Adcock. In the 90s, Nitzsche also did scores for director Sean Penn's 'The Indian Runner' and 'The Crossing Guard'.
Nitzsche was buried at Hollywood Forever, down the street from the now defunct Gold Star studios on Santa Monica Blvd. Neil Young provided dozens of red roses for the occasion. Conducting the service was Jimmy Bond, a jazz bassist who played with Lou Rawls and recorded with Phil Spector. Spector gave the closing eulogy, and quoted from his composition 'To Know Him Is To Love Him'. A lot of people then started crying. He really nailed it. Before the ceremony Phil confided that he didn't know how to play his speech out about Jack. He told a funny story about the time Brother Julius, who hung out at the Gold Star studio parking lot, sold Nitzsche's car after a long two-day session. Preceding him were statements from Christine Bono, Sonny's daughter - who blew everyone's mind with her unique insights on her own father and Jack's friendship - arranger H.B. Barnum and session great Don Randi. Jack Nitzsche, Jr. spoke last.
Also paying respects were Jackie DeShannon, Nancy Sinatra, Carol Kaye, Earl Palmer, Lux Interior and Ivy from The Cramps, Jon Hassell, Gracia Nitzsche, Barry Goldberg, Gerry Goffin, Jon Byrum, Jewel Akens, Denny Bruce, Ron Nagle, Scott Mathews, Dan Bourgoise, Julian Wasser, Robert Leslie Dean, and actors Sean Penn and Don Calfa.
Harvey Kubernik
© Goldmine 2000 Harvey Kubernik
Many thanks to the TimesIndicator and especially to contributor Joyce, for her help and research in finding this obituary, which was printed in the Newaygo local paper on September the 6th 2000.
Local historian Stan Woodard's writing captures some of the highlights of Jack Nitzsche's musical career after his move to Los Angeles and he rightly displays a sense of pride in the accomplishments of Newaygo's former resident.
The paper has been serving the local community since the 1870s and can now be accessed on the web at TimesIndicator.
Denny Bruce has kindly supplied the following corrections to Stan's piece:
Jack Nitzsche is not mentioned in "Creeque Alley"; the first line of the song is, "John and Michie were gittin' kinda itchy".
Michelle Philips, John's good-looking young wife was nicknamed Michie.
Jack did not compose the music for "The Wonder Years" but he did do a TV show called, "Middle Ages" that was about being middle-aged in Chicago.

Rock musician and Newaygo native Jack Nitzsche passes away
Jack Nitzsche died of a heart attack in Los Angeles, August 25. He was 63. the Newaygo native first made a splash in the rock music business with an instrumental song, "The Lonely Surfer", (Reprise) which hit #39 in 1963.
Nitzsche is one of those guys that you've heard millions of times, seen his name on numerous music scores for films and television, and despite a slew of gold records and awards, he has never been a household area name like Coopersville's Del Shannon. Shannon also recorded "Needles & Pins", which Sonny Bono and Nitzsche wrote together when Bono was living at Nitzsche's apartment, when both men were just starting to be heard from at Gold Star Records and with Wall of Sound producer/guru, Phil Spector.
"Needles & Pins", was the song that knocked the then hot Beatles out of the top slot on the charts in 1964, and the Searchers are the ones that made the song famous.
If there are any early Rolling Stones albums lying around in an attic that you haven't looked at for years, you'll find Jack Nitzsche's name in liner notes on the back of more than one of them for songs that sold millions of copies. He was almost like a 6th Rolling Stone. In California, the Mamas & Papas mention him on their hit single, "Creeque Alley". And almost all the girl groups in their heyday worked with Jack Nitzsche and they sold millions more records.
If you saw "Stand By Me", "The Wonder Years", "An Officer & A Gentleman" and a slew of others, you saw Nitzsche's name as the scorer of the music. He won an Oscar for the song, "Up Where We Belong", in 1982.
He did a lot of authentic living and work, and he should have been in the Rock 'n' Roll Hall of Fame years ago.
Stan Woodard
© TimesIndicator 2000 Stan Woodard