Jack Nitzsche had ceased working for Jimmy Bowen at Reprise Records, the last record released was Gail Martin's "After Loving You" in '67 but this had probably been in 'the can' for awhile. Phil Spector was 'semi-retired' and the independent producer of the early 60s seemed a distant memory. He wanted/needed a job. Denny Bruce was Jack's friend and confidante at this time and he recalls Jacks signing for K & R: "He took a job with a nice salary working for Koppelman and Rubin out of NYC. They were basically into publishing and getting more into production. They had the Lovin' Spoonful, Tim Hardin, and Gordon and Bonner (who wrote "Happy Together"). This was how Jack got to produce ex-Spoonful Zal Yanovsky and Gary Bonner's "The Heart of Juliet Jones." He really didn't have to do much work for them at all. The job lasted just 32 weeks."
A check of the discography shows that for just 32 weeks work, even allowing for the probability that Jackie DeShannon's 45 was recorded after this period, his work load hadn't lessened. The same year, '67 he also arranged the Ike & Tina Turner sessions, his last for Phil Spector; produced and arranged Don & The Goodtimes, including the hit "I Could Be So Good For You" and accompanying LP, arranged for Terry Melcher's artists The Gentle Soul and continue his working relationship with The Rolling Stones and Lee Hazlewood's artists. There was also the little matter of a new talent he was quite excited about, Neil Young. "Expecting To Fly" a solo Jack and Neil record was released on The Buffalo Springfield's debut LP. Ermm, maybe he was slowing down...:-)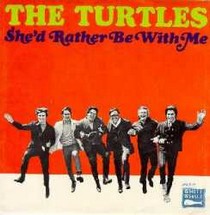 Despite not being credited on the record labels, his first arrangements were for The Turtles. In Jack's BOMP! feature it's noted he arranged the horns on "She'd Rather Be With Me", the even more successful, in chart terms, follow-up to "Happy Together". Alan Gordon (co-writer with Garry Bonner), notes in his piece for ACE Records' CD "The Jack Nitzsche Story", that Jack also arranged the strings for "You Know What I Mean". If these two tracks were a test, he passed the audition.
Nitzsche's first credited releases for Koppelman-Rubin were for teen sensation Gary Lewis & The Playboys. For ten years the comedic and singing team (Dean) Martin & (Jerry) Lewis were top of the pops. One of the biggest draws in the cinemas, theatres and on TV & radio: in show business terms a hard act to follow. For the off-spring of these famous fathers, a very hard act to follow. Dino Martin, who tragically died too young to fulfil his potential, had hits with Dino, Desi And Billy but during '65 and most of '66 the success Gary Lewis achieved put even his famous father into the shade. While the US and the rock and pop charts in particular seemed to be gripped by the British invasion Lewis not only managed a very impressive Top Ten placing for his first seven 45s but in '65 he was voted Cash Box magazine's "Male Vocalist Of The Year". Not bad for a teenager whose looks, it could be argued, better suited a comedian than a teen-star and whose voice has been described as having a 'limited range'.
Gary Lewis And The Playboys were first spotted whilst playing a summer season at Disneyland by Les Brown (Famed band-leader and Dean Martin's musical director for his hugely popular TV show) who urged Snuff Garrett, head of A&R at Liberty Records, to check him out. Duly impressed, partly for the publicity he expected the eldest Lewis sibling to attract, they were signed to the label.
Straight from Disneyland and into a fairy-tale, their first 45 "This Diamond Ring" hit the #1 spot and stayed in the charts for eleven weeks. As was common for the time with a major record label, an un-tested group, the cost of studio time and the proximity of LA's superb session musicians The Playboys1 talents, and to an extent Gary Lewis's were enhanced even supplanted for most of their records. Over the years this has enlisted much musical snobbery and wailing of 'the tut-tut, naughty, naughty' type. Yawn. Even more flack has come Gary Lewis's way from Al Kooper, co-writer of "This Diamond Ring" with Bob Brass and Irwin Levine, for having the temerity to score a pop hit with a song he envisaged as R'n'B. Shame. For two years Gary Lewis, assorted Playboys, producer Snuff Garrett, arranger Leon Russell and the latterly known 'Wrecking Crew' crafted some superb sides. Many of these tracks were written by Russell and Garrett some with input from Lewis, including big hits like "Everybody Loves A Clown", "She's Just My Style" and one of my favourites "Malibu Run". This was performed by Gary Lewis and the Playboys in the movie "Out Of Sight" it's a "Little Miss Go-Go" style surfin' number. Just as everything was going so swimmingly the bells tolled a New Year, 1967. Lewis was drafted, Garrett left Liberty to found his own label Viva (with Jimmy Bowen from Reprise records) and Russell also left Liberty to concentrate on his own and more 'serious' rock music.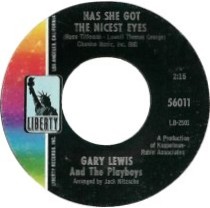 Dave Pell supervised the immediate post Garrett sessions but it wasn't long before Koppelman & Rubin were appointed to take charge. For the appropriately named, "New Directions" album K & R assembled an all-star cast and shared production with Gary Klein, arranging duties were split between Nick DeCaro, Hank Levine & Jack Nitzsche. Alan Gordon & Garry Bonner wrote the majority of the songs with contributions from Artie Kornfield, Steve Dubof, Bobby Darin and Ted Daryll. The album is very good and it's easy to understand why Gary was so excited about his fresh start. With the exuberant"Girls In Love" & "Moonshine" and reflective "New In Town" & "Me About You" there is much to enjoy. Brent Cash in a Spectropop message explained that, despite the many versions, by 'better' vocalists of Bonnor & Gordon's "Me About You", the honesty and vulnerability of Gary Lewis's vocal steals the show.
As good as "New Directions" is though "Listen" blows it away. Gary Klein producer and Jack Nitzsche arranger were given full control and "Listen" is flawless. Many of my favourite Nitzsche arrangements are on here without a duff track amongst them; I often think it's one of the most complete body of work Jack arranged. I don't mean he didn't do better records but there is not one filler on the whole LP. Fabulous originals such as "Look, Here Comes The Sun", "Jill", "Happiness" and covers that add, even better the originals. The arrangement of "She'd Rather Be With Me" adds more weight than The Turtles, the richness of Richie Haven's "Reason To Believe", is masterful. Gary Klein was thrilled, even a little in awe of Jack's arranging skills and was delighted to hang-out in the studio while Jack worked his magic.
Gary Lewis kindly shared some of the fond memories and disapointments on these sessions:
"The 2 albums that I made with Koppelman-Rubin were my favorite 2 albums I've ever done. Another good producer in that company was Gary Klein; he did most of the work with me. The writing of Bonner and Gordon was terrific and the best songs I ever did. It's just too bad that I was too young to realize that at the time. I had just come out of the Army, and I thought those 2 albums would put me back on top. (New Directions and Listen) But that didn't happen. Not because of the songs or bad production, but because the music got much harder in 1967. (Jimi Hendrix, Janis Joplin, Jefferson Airplane) So I was doomed no matter what I recorded. It took me a long time to get over that. Jack Nitzsche was a tremendous asset in the studio, and the arrangements were almost flawless.
Those 2 albums are still my favorites. I never could have done any of those songs on stage because I could never have reproduced them, because of the 30 pieces we used of wonderful studio musicians. That's weird, my favorite songs, and I never could have done them live!".
"Girl's In Love" made the Top 40 but it must have been very disapointing for all concerned that the chart postions didn't reflect the quality of the music. Garry Bonner supplied backing vocals on some of the cuts but these, without studio trickery, were Gary's vocals. He was allowed to 'grow-up' on these songs. Musical tastes were changing with newer kids and styles on the block, the new teenager's wanted their own hearthrobs and combined with Lewis's limited opportunity for promotional appearances, I guess it's not surprising that Gary's career should have taken a dip.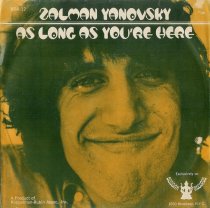 Zal Yanovsky was a founder member, lead guitarist and some say impish heart of the Lovin' Spoonful. Following an arrest for marijuana possession and grassing his supplier he left the group, damaged his and their reputation and was deported to his native Canada. Who said a bit of hash never did anyone any harm?! He returned to the US where he cut a rather cool and excitably frantic Bonner & Gordon song, "As Long As You're Here". The b-side "Ereh Er'ouy Sa Gnol Sa" was the a-side minus vocals and played backwards, groovy. It bubbled under Billboard's Hot 100 chart but reached #67 on Casbox, enough success for Buddah to record an LP, "Alive And Well In Argentina". This did not feature the 45 or contain any Nitzsche involvement and despite some interesting tracks it did not sell well.
This sites good friend, Denny Bruce attended the recording session for "As Long As You're Here" as copyist and his comments form a very interesting part of an obituary for Zal who died of heart failure on December 13th, 2002. The tribute written by Matthew Greenwald, "Zal Yanovsky - The Man Who Believed In Magic" has been posted on Gene Clark's Yahoo Group web site.