One of the biggest stars signed to Koppelman + Rubin's new production company was Bobby Darin. No slouch as a writer himself he could also call upon Paul Levinson, Artie Resnick, Kenny Young, Rudy Clark, Ron Dante, Van McCoy, Roger McGuin etal, who were all, at one time or another, signed to his T.M. Music publishing company but he was constantly looking for new styles and material. Bobby Darin was initially attracted to Koppelman + Rubin by the song writing and sound of Tim Hardin's debut album. Hardin was apparently very disappointed when he first heard his composition "If I Were A Carpenter", sounding very much like the demo he'd cut, performed on the radio by Darin. That Darin had a top ten hit with the side and recorded another four Hardin cuts on his "If I Were A Carpenter" LP, produced by Koppelman + Rubin, hopefully softened the blow. Released at the end of '66 it featured a majority of songs by the writers signed to Koppelman + Rubin. Darin was no stranger to folk music but these recordings fitted neatly into the now popular folk-rock idiom. The follow-up album, "Inside Out" was even more so, again it featured compositions by Tim Hardin & John Sebastian and was produced by K + R. This time three Bonner-Gordon songs were also included, "Me About You", "Whatever Happened To Happy" & "Lady Fingers".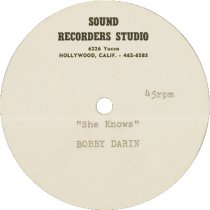 The best cut of a Bonner & Gordon composition by Bobby Darin though was released as Darin's final Atlantic 45rpm and arranged by Jack Nitzsche. Nitzsche was already well-known to the multi-talented and faceted Darin, he had hired him to arrange and conduct Roosevelt Grier's "Soul City" album in '64. Darin not only produced the LP but he owned the record label, R.I.C. (Recording Industries Corporation). A year earlier Nitzsche had also arranged Darin's Capitol release and No. 10 chart hit "18 Yellow Roses". A pleasant enough piece of country pop and you can't argue with a Top Ten but I much prefer the Darin composed flip "Not For Me", a real diamond containing all the menace of much of Nitzsche's great work. Bonner & Gordon's "She Knows" gets a similar tension-filled treatment. It's a fine song with unsettling lyrics and structure but it's the arrangement and delivery that send shivers down the spine. A powerful yet restrained vocal by Darin with a menacing atmosphere created by Nitzsche.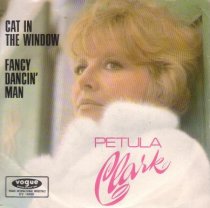 Sounding very good on her new CD, "The Rod McKuen Songbook" it is hard to believe that Petula's first chart hit was way back in 1954. In an age where McDonalds and Starbucks are in every High Street in every country in the world it is perhaps a bit easy to take Petula Clark's truley international success and influence for granted. Even France that most insular of nations accepted 'La petite Anglaise' as one of their own, in the US success came later and was tied to the British Invasion but to understand the impact she had one only has to listen to Jayne Morgan's version of "Downtown". (English has never been sung like this before!) To be honest "The Cat In The Window (The Bird In The Sky)" and the flip are not Bonner, Gordon or Nitzsche's finest minutes but the plan was for hits and the 45 was a very respectable #26 on the US charts. There are many greatest hits compilations of Petula Clark's work but if you like what you've heard by her do check out the three double CD's released by Seguel in the UK, "The Pye Anthology Vol.1" & "Vol.2" and "En Vogue (Beat en Francais)". The latter offers a very cool version of Jack Nitzsche & Sonny Bono's composition, "Needles And Pins".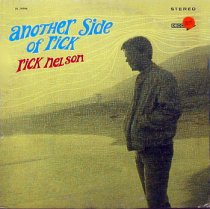 Ricky Nelson was also a chart topping recording and acting star from the 50s but unlike Petula Clark lately his star hadn't been burning quite so bright. 'Ricky' had long given way to Rick and the former teen heart throb was still cutting some good records but the musical landscape had changed beyond recognition and Rick, or at least his aides, were trying to find where he fitted in. By the time Koppelman and Rubin were called to give Rick Nelson a 'now' sound his last Top 30 hit had been 3 years ago. The first of the two LP's by the team, "Another Side Of Rick" really is quite good but like the follow-up "Perspective" sold poorly. A new audience was not forthcoming and fans of Rick Nelson's country styled songs were not endeared by his change of direction. Produced by John Boylan most of the tracks on "Another Side Of..." were arranged by Jimmy Haskell with a goodly selection of the cuts written by writers signed to K+R's publishing company. Jack Nitzsche arranged three tracks, "Marshmallow Skies" written by Rick Nelson & his long standing music buddy James Burton, Tim Hardin's "Reason To Believe" and "It'll Never Happen Again". The existence of the latter track was revealed in the session notes for Bear Family's "For You-Decca 1963-69 6CD Box & 140-Page Book" unfortunately it never made it to the "Another Side Of..." LP and the track is listed as unissued and lost. (I'd assume it is a version of Tim Hardin's song, maybe you have a mp3 to send me?) "Marshmallow Skies" has been described as being inspired by The Beatles "Lucy In The Sky With Diamonds" too laid back for that but a prominent sitar and good arrangement. I'd guess Jack Nitzsche had fun on this cut. "Reason To Belive" is a great song and Jack's rich, classy arrangement showcases his skills but really the song and arrangement needed a singer with a bit more omph to do it justice.*1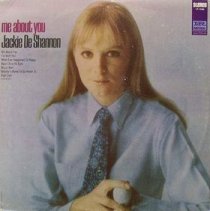 They may have been working for a new production team but as with Bobby Darin, Nitzsche & De Shannon were old friends. Their earlier work together had created some of the most seminal recordings of the decade and titlehough the two sides the pair worked on for Jackie's "Me About You" LP, weren't going to change the face of popular music they were most enjoyable; as you'd expect from Jackie De Shannon so is the rest of the album. Besides Jack's two productions Joseph Wissert did the honours, with arranging duties shared between Nick De Caro, Kirby Johnson and Arthur Wright. Many of the writers were part of Koppelman+Rubin's stable with three of them by Bonner & Gordon including my second favourite cut the Nick De Caro arranged "What Ever Happened To Happy". The two tracks Jack produced and arranged, the title track a version of Bonner & Gordon's "Me About You" and "I Keep Wanting You" a new track written by Jack & Jackie were paired as a 45 but failed to chart. Shame, with repeated playing "I Keep Wanting You" gets under your skin, if the song particularly Jackie's delightful double-tracked chorus had achieved more radio/TV exposure I'm sure this would have been a contender.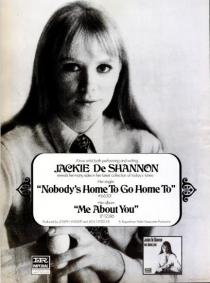 *2Skip this chapter if you've read enough about Jackie but if you'll indulge me for awhile it's interesting to look back over 'The Pop Princess' career. Her blonde hair, beautiful face & body, and natural sexiness made her a captivating presence on TV shows, in movies and magazine features. The fates even conspired to add the cache of touring with The Beatles to her résumé. The public may not have been aware but it wasn't her 'California Girls' look that got her the media attention (titlehough it may have helped!) rather it was her musical skills that gained her the respect of her peers, the music press and eventually, even in the male dominated 60s, her music biz bosses. She is an extremely talented and innovative musician, a compelling & emotive vocalist and revered song-writer. Even without a 'Gerry Goffin' or 'Jeff Barry' type male partner to shoulder the load of wheeling & dealing with the suits she had the mental strength to persue her own musical path. Strange then that despite writing blockbusting songs, that were huge hits for others, most of her own chart hits were penned by others. Bad luck, poor timing, 'music-biz' prejudice, or Jackie's own cussedness? For instance when Liberty Records unlocked the door of her Metric Music cubicle to record (and release!) her debut album, "Jackie De Shannon" instead of recording mainly her own work with a few pop hits thrown in she recorded an LP of folk songs. Alright one of these was her own song and her musical antenna was tuned into the coming trend but it was hardly what the punters or the record label expected, nor did they know how to promote it. Would we have wanted Jackie any other way? No, didn't think so. Just one thing to mention before I get back on topic...When I caught De Shannon's fantastic show at London's Dingwalls venue it shouldn't be a surprise to know that among the packed audience was Britain (and the world's) own, Petula Clark.
*1A return to his country-rock roots with the Stone Cannyon Band and '72s "Garden Party" did put Rick Nelson back at the top of the charts but by the late 70s he had again fallen out of favour with the record buying public. He signed for Capitol Records in '80 releasing "Playing To Win". This featured (or not! - depending on who you believe) Jack Nitzsche as producer but that's a whole other story.
*2Jackie De Shannon has a huge back catalogue of recordings and unlike many of her contemporaries is well served with CD reissues. Not too hard to find good quality 'Greatest Hits' packages but the British independent labels RPM Records and Ace Records offer the best selections for the real fan, with excellent sound quality from the original masters and well researched sleeve notes. RPM has a series of original LP reissues with bonus tracks. While ACE are releasing three CD's containing all her original mono Liberty & Imperial 45s as well as Break-A-Way, The Songs of Jackie DeShannon.