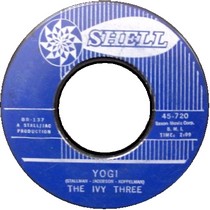 Interviewed by Mervyn Rothstein in Autumn 1993's Cigar Aficiondo Magazine Charles Koppelman was depreciating about his musical ability.
"I'm a fan. I can't sing. I can't write music."
With hindsight, after working with many of the best writers and singers in the music business, he might have come to this opinionin regards to his early dabbling in music. In fact, although he was to prove more adept at spotting and managing the musical talent in others, he and his long time partner and collaborator, Don Rubin did create some rollicking good slices of pop music.
Thirty-four years before Koppleman's Cigar Aficionado interview he, Rubin and fellow college friend Art Berkowitz had formed a vocal group The Ivy Three, as a way to make music and perhaps more importantly meet girls. Bruce Eder tells the story of the group ina piece for the All Music Guide. The 45s were released on Lou Stallman and Sid Jacobson's Shell record label, Stallman and Jacobson had, together and separately already written plenty of hits, "Treasure Of Love" for Clyde McPhatter, "Round And Round" for Perry Como and "Don't Pity Me" for Dion and The Belmonts among them. Despite their song writing pedigree they accepted and credited Charles Koppelman's writing input with "Yogi." Three further 45s as The Ivy Three followed on Shell but no more hits. As important and according to Mike Rashkow*1 as interesting as it must have been working and learning about the business from Stallman and Jacobson their next contacts were to have a far bigger impact.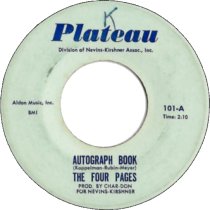 Charles and Don along with Bob Meyer wrote and recorded, "Autograph Book" as The Four Pages for Plateau. A true New York sounding, up-tempo doo-wop number, complete with a cool sax break, this was the sole release by the group and the label, it garnered no chart action but it rocks! A click on the label to the left for a larger scan foretells the future, their first use of the soon to be famous Char-Don moniker. It also demonstrated that besides still writing and singing, their eyes had already been opened to the business side of the music business. In Al Nevins and Don Krishner, two of the decades most successful and profitable entrepreneurs, they had met their ideal role models. They were signed as writers to ALDON Music Inc. possibly the most famous and certainly the most evocative publishing name in music, their fellow writing partners included Goffin-King, Sedaka-Greenfield, Mann-Weil and many others.
Unsurprisingly considering the calibre of the opposition they were among the second tier of writers at Aldon. Notable recordings include Tony Orlando's cut of "My Baby's A Stranger", Susan Lynne's "There'll Be No Goodbyes", an early release for Jan & Dean "Wanted One Girl". They also continued their singing career with two 45s as The Cardigan Brothers "Everybody Loves A Guy Named Johnny" / "Say Hello" (Motion 3000)*2, "Let's Go To the Movies"/ "I Know, Know, Know" (Chairman 4400)*3 (both these were produced and some written by Jack Keller) and as Charlie & Don "Hush Little Baby" / "A Young Man's Fancy" (Duel 513). Behind the scenes however the pair were making a big impression. When in 1963 Don Krishner decided to vacate his New York office and set up the Columbia Film linked Colpix music division in L.A. it was Charles Koppelman he placed in charge with Don Rubin also filling an executive position.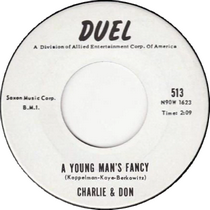 Seemingly frustrated in their new roles they left Screen Gems/Columbia Music and signed, in August '64, as vice-presidents of Planetary-Nom, one of the publishing firms of Morris Levy's Roulette Records. Charles and Don soon showed their intent and unified all Roulette's publishing operations including Planetary-Nom, Patricia, Frost, Hugo and Luigi, and Favorite under the umbrella name, Big Seven Music Corp. An active pursuit of new writing talent was instigated including an advert in Billboard, as well as the signing of writers with a proven record including Gary Klein, Neil Levenson, Chip Taylor and Ted Daryll. I suspect K+R were continuing their education and honing their business skills more than their creative talents at Big Seven Music. (although the pair did co-write, with Artie Kornfeld, the very cool "Yeh, Yeh, Yeh (That Boy Of Mine)" for Lorie Burton). Morris Levy was a major player in the New York record scene with friends in very high and very low places and out-lasted almost all his contemporaries. Perhaps because of his longevity and despite his sometimes shady business methods he now seems to be regarded rather affectionately.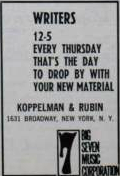 With the benifit of hindsight it's plain Koppelman and Rubin found taking orders 'difficult'. They were overflowing with ideas and must have found it hard when others couldn't keep up; or even worse veteod their plans. They needed a new challenge and one that left them in total control. They didn't stay long at Big Seven, (maybe just long enough to pick-up a few tips from Morris!), before in April 1965 Billboard announced "Koppelman, Rubin Form Company". Chardon Music was their music publishing division while Koppelman-Rubin Associates was their record production company.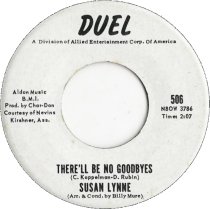 The springboard for their subsequent success came almost immediately.Erik Jacobsen was getting desperate, he had this hot band, going down a storm in the clubs, writing their own songs but none of the major labels were biting and he was running out of money. Jac Holzman of Elektra Records was interested in making a deal but before Jacobson signed he called on Koppelman-Rubin. Their enthusiasm clinched the deal, the contract not only signed the Spoofull but bought K+R in as partners of Jacobsen's Faithful Virtue publishing company (including writers Tim Hardin and John Sebastin) and gave them the oppurtunity for record production. A walk down the corridor to place the master with the new Kama Sutra record label and Koppelman-Rubin (& Kama Sutra) were flying. The Top Ten placing of "Do You Believe In Magic" proved the pair could spot star potenial. The Spoonfull had a further nine Top Thirty hits, including a No. 1 "Summer In The City", in two years. Do you believe in magic? K+R did!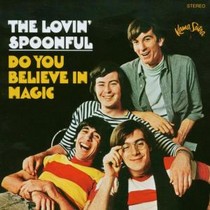 With the British Invasion the pop world was changing, artists were being expected, at least by the music snobs, to write their own music and, heaven forbid, even play their own instruments!. But for every Brian Wilson & Lennon-McCartney there were scores of vocalists and groups who couldn't. Even if they could come-up with a few good songs, to consistently write hits and enough material to fill albums, combined with world tours, photo-shoots and publicity apperances was beyond all but the most gifted few. Even these 'gifted few' usually carried the mental scars for life. Despite this as publishers K+R were frustrated that not enough of their songs were being picked up by the record companies. Many of their earlier recordings had been personally produced by K+R but as the demands on their time grew they signed more arrangers and producers to their talented stable. Their company was now producing for scores of the biggest stars of the mid-sixties and they had deals signed with most of the major record companies. In the three years since they'ed started the company they racked up a very respectable 17 gold records.
My Top Ten
(Jack Nitzsche-less hits)
BoydSisters - I'm Just Barely Sixteen - Roulette
Tony Orlando - My Baby's a Stranger - Epic
Susan Lynne - There'll Be No Goodbyes - Duel
Anita Humes - Just For The Boy - Roulette
Lorie Burton - Yeah, Yeah, Yeah (That Boy Of Mine) - Roulette
Four Pages - Autograph Book - Plateau
Jimmy Barden & Donna Byrd - 'Til I Met You - KR
Their reputation was growing with every chart hit. A look at the discography page gives an idea of the talented folk Koppleman and Rubin Associates had signed to their company and in mid 67 they made a new signing, Jack Nitzsche. According to the interview Jack Nitzsche gave to BOMP! he did not relish the experience of working with Charles Koppelman and Don Rubin. Now it could be said, he would say that wouldn't he. By 1967 with his affinity for those on the edge of the mainstream K & R would have represented 'the suited and booted' side of rock'n'roll. But as with Phil Spector just because you've got good business sense it doesn't mean you can't love rock'n'roll. Certainly Nitzsche was working with some gifted vocalists and groups, renewing and making new friendships in the studio with a-class musicians, writers, arrangers & producers and playing a major role in making some fine music. The job may not have given him the artistic freedom he craved but it would do!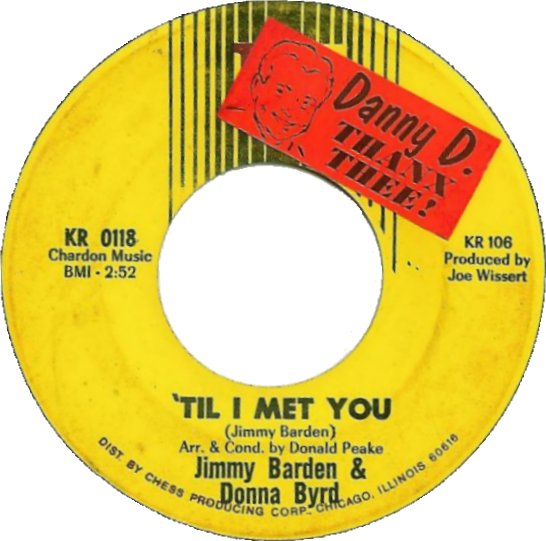 For Koppelman and Rubin it was onward and upward, time for phase three of their plan for world pop domination. Still wanting more control and I daresay more profits they started their 'own' record labels. Well sort of, K+R provided the artists, material and finished masters while Chess Records in the first instance and Capitol Records in the second provided everything else. Known for there soul, jazz, blues and r&b records Chess were keen to diversivy, a joint venture between K & R and the pop world seemed a good idea. The KR Records collabaration didn't provide the hits that were hoped for but there were some good records, the Sonny & Cher styled "'Til I Met You" by Jimmy Barden & Donna Byrd (KR 118) and the girl-group Tiffanies "He's Good For Me" (KR 120) amongst them. Two labels were set-up with Capitol Records, as with KR neither lasted very long. Hot Biscuit was perhaps the more interesting with some good soul from Timothy Carr, the wonderfully named Epic Splendor and Magic Fleet with their highly thought of version of Bonner & Gordon's "Mary Elizabeth" amongst them. We Make Rock'n'Roll Records was even shorter lived with only five records I'm aware of, two by Freddy Cannon and one each from Guild Light Gauge, Mello Moods and the Pop Explosion.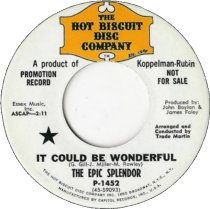 In the midst of all this toing and froing making records Koppelman and Rubin's company which had been subject to much speculation about a buyout was duely purchased by Commonwealth United Corp, for a reported $3 million. CUC a movie, TV, petrol and real estate company had no knowledge of the record business and the idea was for K & R to carry on as before but as employees to head the newly formed Commonwealth United Music Division. It all starts to get a bit boring now, hope you'll forgive me fast forwarding over K+R's business wheeling and dealing but to cut a long story short...At the end of 1970 CUC wound up their music division. K & R bought back 70 percent of the songs previously owned by their Chardon & Faithful Virtue companies. Back to being independants they set up a new record label Faithful Virtue Records with the first release by Garry Bonner. None of the records charted and by April '71 Charles Koppelman was running a Homeowners Repair Service. (Not to infer he was running around with a spanner and sink plunger - he had a full team of professionals for that.) In April though he was back in the music biz where he has remained since, as vice-president of CBS's April/Blackwood Music and the executive roles have continued, Columbia to head up their a&r dept, joint founder of Entertainment Co. & S.B.K Entertaintment World, CEO of EMI Music Publishing and EMI Records Group, North America and a position he still holds as CEO of CAK Entertainment Co. He's also to be found as a regular face on Martha Stewart's TV shows for whom he holds many executive positions in her Company. Meanwhile Don Rubin had set up his own companies, Don Rubin Productions & RadaDara Music. His first hits were with Charlie Daniels' "Uneasy Rider" and his "Honey In The Rock" LP.
*1Mike Rashkow, producer andwriter who writes intersting, often fun letters to Spectropop has this to say in response to a request for info on Lou Stallman.
"I think Lou was in his late 30's early 40's when I was 25 or 30, so I guess he was between generations. I only worked with Lou once.As engineer on a little film score he did for an industrial film --kind of head arrangements with a small group of musicians. I spent some time with him, knew him kind of tangentially, went to a party at his apt., but never became close or worked with him creatively. He had a very unusual characteristic for someone who was a really nice, gentle person. He had the most foul mouth you have ever heard in your life--non-stop obscenities. He told me that his "therapist" said he should not try to control it --- just let it go. And he did, full time, full bore. The last two you mentioned, Round And Round and Treasure Of Love, were co-written with a guy (possbibly Sid Jacobsen or something like that) who only wrote as a sideline. He was a career schoolteacher. Lou was always positive, always had a smile. Nice vibes. That's what I remember anyway. Last time I saw him he was waiting for a bus on 57th St. with his guitar case inhand."
*2I know of only two releases (Motion 3001) was by Billy Sills, who also had an earlier 45 on Colpix and later "(I Know) I'll Love You More Tomorrow" / "Why Don't You Love Me" on (Chairman 4404).
*3Only nine releases on Chairman but some very highly sought after 45s, including The Palisades "Heaven Is Being With You" (Chairman 4401), Octobers "Stop It Little Girl" (Chairman 4402), Rand-Dells "Martian Hop" (Chairman 4403) and The Permanents "Oh Dear What Can The Matter Be" (Chairman 4405).