For most of the mid-'60s, even if it was the heart of winter, when one of Terry Melcher's productions came over the radio waves, it was summer; a permanent, glorious, sun blazing, imaginary, Californian Summer. Surf and hot rod-styled sides by groups with such evocative names as The Rip Chords, The Hot Doggers, Bruce & Terry, (Bruce being Bruce Johnston, Terry's friend and often singing, producing and arranging partner) and The Rogues. Delightful, eagerly sought one-offs such as Wayne Newton's "Coming On Too Strong", Pat Boone's "Beach Girl" and The Osmonds' "My Mom". Speaking of Mom, who can forget Doris Day's "Move Over Darling"? Terry's work with his mom continued into the 1970s.
If this wasn't enough, Terry 'invented' folk-rock. Alright, it wasn't his song, Mr. Bob Dylan gets the credit for that. It wasn't even his decision to cut most of the lyrics, leaving just the glorious and quizzical chorus. However, it was 'his' single. Equal parts late surf, jangly guitar-led folk, Spectorian production, heavenly harmonies and a rock beat. Without Terry Melcher, The Byrds may never have been signed to Columbia. If it hadn't been for Terry Melcher, The Byrds might not have agreed to studio musicians playing their parts. Without Terry Melcher, The Byrds' "Mr Tambourine Man" would not have defined the sound of an era and sold millions of records. "Turn Turn Turn" soon followed and Columbia must have thought about printing "Terry Melcher Walks On Water" t-shirts.
For lazy journalists, it may be convenient to say that after these recordings, pop music and Terry's work changed forever. But was this the end of 'pop music', had the kids grown up? Not really. Some of the kids - Dylan, Wilson, The Beatles, Stones and others, including Melcher - were pushing at the boundaries but pop was and is a broad church. Only a few weeks before the "Mr Tambourine Man" sessions, Terry had been working on a follow-up to the rock'n'roll "Every Day" for the Rogues. The resultant track, "Come On Let's Go", although featuring many of the same set of musicians who had played on The Byrds' recording, was stylistically no 'improvement' on their equally fab earlier release. The planned project after The Byrds was a new Rip Chords album, but the times they were a-changin'. Paul Revere & The Raiders, representing rock, with a string of hits and a sound acknowledging AND belying their garage roots, clean and summer fresh, continued notching up big charting records. Two albums produced by Terry followed for The Byrds before 'artistic differences' reared their head. Bruce & Terry continued developing an ever more mature style with their recordings, but, perhaps hampered by their earlier surf roots, sales slowed, and Bruce was soon a full time Beach Boy. Melcher continued at Columbia signing and recording the rootsy Rising Sons and Sunshine Pop favourites, Gentle Soul. He also helped to organise what many consider the final loss of innocence for pop, the Monterey Pop Festival in 1967.
Seemingly sitting on the top of the world, three events in the space of two years brought it all crashing down. In 1968 Doris Day starred in her last film "With Six You Get Egg Roll". On the film's completion, her husband, manager and producer, Marty Melcher, died. The hugely popular Ms. Day and Terry Melcher found themselves, due to Marty's mismanagement, 'financially challenged'. Without her knowledge, Melcher Snr. had also signed his wife to present "The Doris Day Show" on TV for CBS. The advance money for this had already been spent. Terry put his music career on hold to assist in sorting out the mess and turned executive TV producer. The following year the Charles Manson murders took place. Debate is still ongoing as to whether Terry was the intended victim, but either way, the stress, with hired bodyguards, police questioning and a gossip-hungry press, was extreme. Scars of a more physical nature followed. While riding his motorbike he was involved in a serious accident. At one point it was feared both legs would have to be amputated, but, with the surgeons' skill, and months spent in hospital and at home, his body was mended. The bonds with his mum were strengthened and showing immense willpower he carried on.
My Top Ten
(Jack Nitzsche-less hits)
Rip Chords - Gone - Columbia
Wayne Newton - Coming On Too Strong - Capitol
Pat Boone - Beach Girl - Dot
Rip Chords - The Queen - Columbia
Osmonds - My Mom - MGM
Bruce & Terry - Carmen - Columbia
Doris Day - Oo-wee Baby - Columbia
Rogues - Everyday - Columbia
Eddie Hodges - Would You Come Back - Columbia
Terry Day - Just Another Broken Heart - (unreleased)
Bruce & Terry - Trophy Machine - Columbia

He returned to produce the Byrds after a five album hiatus with "The Ballad Of Easy Rider", "(Untitled)" and "Byrdmanix". He released the critically acclaimed "Terry Melcher" in '73 and "Royal Flush" in '76 and reactivated his Equinox Records/Productions. This united many of his pals from the '60s, the ever-present Bruce Johnston, Brian Wilson and Barry Mann amongst them. The released results, for this writer at least, disappointingly highlighted Terry's more mellow approach to music making. Super group California Music (Bruce, Terry and famous others) was included in the roster of acts signed. The label promised much but besides the David Cassidy hit, "I Write The Songs" (actually Bruce Johnston did, but you get the drift), it failed to deliver much in the way of chart action. Worth a listen is California Music's "Why Do Fools Fall In Love", a Brian Wilson production and vocal, Barry Mann's "Survivor" LP and David Cassidy's version of the Nilsson/Spector song, "This Could Be The Night".
His financial affairs now on a firm footing, with his property and music publishing businesses doing well, and with no need to prove anything as far as music was concerned, Terry spent less and less time in the recording studio. Just when it looked like he might have finished with music altogether, Mike Love with Bruce Johnston approached him about writing and working for the Beach Boys. The first recordings were "Getcha Back" and the very 'Melcher'-produced version of "California Dreaming". This was followed by his co-written, Golden Globe-nominated, US No.1, and the biggest selling Beach Boys record ever, "Kokomo". Not so much a case of 'Brian's back' but 'Terry's back', but actually he wasn't. Sporadic music projects were mooted but amounted to little, with Terry seemingly content to run the Cypress Inn in Carmel that he owned in partnership with his mother and Dennis LeVett. He put in many hours on his mother's charitable activities, including the Doris Day Animal Foundation, and at the time of his death had been apparently negotiating the DVD releases of "The Doris Day Show" and "Doris Day's Best Friends".
His music may present him as a laid back easygoing guy, but he did learn some things from his stepfather, and in business he could display a ruthless streak. Al Hazan was charmed by Terry the man, but less enamored by his business dealings. Bruce Johnston was less than pleased that the 'first' Bruce & Terry disc, "Hey Little Cobra", was released with the Rip Chords' (better known) name on it. Carol Connors must have felt peeved that, for a few additions to "Hey Little Cobra", half the publishing went to Daywin Music. Cher's reaction to the pressure Terry applied when her version of "All I Really Want To Do" scotched the sales of the Byrds 45 was less than complimentary; she described him as "horribly competitive", and "a total asshole". Other stories do the rounds, but whatever; Terry's memory will deservedly live on for his wonderful capacity for making beautiful, timeless music.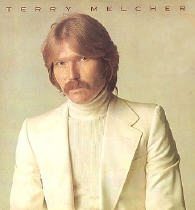 Terry Melcher's career boasts an impressive resumé by any standards, but this feature, although inextricably entwined with many of these later releases, is concerned with his earlier less documented career and work with Jack Nitzsche. Hopefully his later, far more successful, career will receive the attention it deserves elsewhere.
Stephen J McParland's Terry Melcher interview, recorded in Carmel on September 29, 1993, first appeared in his book "bull sessions with the big daddy - Interviews With Those Who Helped Shape The California Sound" (CMusic Books. 2001). This, along with other interviews he conducted and other material, formed the basis for his chapter "Terry Melcher And Bruce Johnston - Summer Means Fun" from "Sound Waves And Traction - Surf And Hot-Rod Groups Of The '60s - Volume 1" (CMusic Books. 2002). The two volumes, featuring session details, first person interviews and discographies, form an indispensable guide to the back room movers and shakers who created the California sound. Stephen's interview is quoted extensively throughout this article, as is another excellent interview with Terry and Bruce Johnston, conducted by Al Quaglieri and used as the basis for the sleeve notes for the "Best Of Bruce & Terry" CD release (Sundazed 1998). Stephen's books and the Sundazed CD are linked to in (Part 7) of this article.
Terry Melcher's mid-'60s recordings and the publicity photos of a fresh-faced, blond-haired Californian surfer-type left an indelible impression. The news of his death came as a shock. With sympathy to his wife Terese and son Ryan and, as Phil Milstein in a letter to Spectropop summed up succinctly, his mother:

"I was surprised to read in Terry's obit this morning that he was Doris Day's only child. NOBODY should ever have to bury their child, but especially not Doris Day, and especially not her only one at that. A terribly sad event all around."
Q: Who, besides Bruce Johnston, worked with Terry Melcher in 1958 and was still with him in 1970?
A: Kim Fowley. A regular member of Kip Tyler & The Flips, he also co-wrote two songs for The Byrds' "Untitled" album.