Terry Melcher and Jack Nitzsche were now going to work with one of pop's legends, Frankie Laine. With his record sales into the millions, Terry and Jack's mettle would truly be tested. They might have got away with it with the kids, but how would they fare with this pop colossus? Very, very well as it turned out.
Frankie Laine's recording career had begun in the 1940s, with his first hit in 1947, "That's My Desire", on Mercury. Since then his records had hardly been off the charts. Classics such as "Jezebel", "Rawhide", "Cool Water" and "A Woman In Love" had made Frankie a huge star, not only in the States, but throughout Europe and most of the world. A rich, powerful and emotive voice combined with his bear-like frame made him instantly recognisable. By the early '60s though, Columbia had let his career slide. Tony Cooper, membership secretary and treasurer of the Frankie Laine International Appreciation Society has this to say, After what some would call the "run of the mill" recordings that Irving Townsend etc. produced for Laine towards the end of his tenure with Columbia, Terry was like a breath of fresh air. He proved that, given the right production and songs, Laine, even in his late 50s, could come up with a "modern sound". Mitch Miller's 'Midas touch', which had made Columbia the world's biggest-selling record label in the mid-'50s, had deserted him. To compete against the plethora of new independent labels springing up in the increasingly fast changing world of rock 'n' pop, new styles and new artists were needed. The 'young guns', Terry and Jack, were given the opportunity to update the sound of a few of Columbia's biggest-selling artists.
They both seemed to enjoy the experience. Jack Nitzsche said in his BOMP interview, Frankie Laine, he was great. "Mule Train" was one of my favorite records. When Terry Melcher was hired as producer at Columbia, there were certain acts he could do. That was a good record ["Don't Make..."]. Terry Melcher had known Laine for a long time, as he revealed to McParland, I knew Frankie Laine since I was about eight years old and I knew they were dying to get him back on the radio.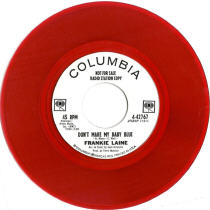 Terry's choice of material for his new charge was excellent. For the first release he turned to two of the Brill Building's newest stars, Barry Mann and Cynthia Weil. "Don't Make My Baby Blue" featured a dense, rich arrangement and heavy guitar riff; probably Glen Campbell's lead weaving in and out. Frankie's strong, emotive, 'been there, done that' voice bemoaned the loss of his lady's loves to a rival; the recording perfectly encapsulated the new and the old. The single was released as a promo item in (perversely) red vinyl, accompanied by a picture-sleeve of a broken record to signify the record breaking into the charts across the country. Columbia hedged their bets by using a more traditionally styled Frankie song for the flip. Despite not being a big hit, it did break into the Top Sixty. The impressive line-up of session musicians was complemented by Darlene Love and Gracia Nitzsche on backing vocals. Melcher revealed to McParland that Steve Lawrence had been offered the first chance to record "Don't Make My Baby Blue", but turned it down. The song he chose was Goffin and King's "Go Away Little Girl". A good pick, it spent two weeks at the top of the charts.
Melcher revealed a terrific story to McParland, but you'll have to buy the book to read the entire tale. According to Melcher, joining the girls on vocals was his current beau, Jackie DeShannon. This, in turn, led to her current 'stalker', Phil Spector, showing up for the session. Wearing dark glasses, he sat opposite Terry for the whole six hours glaring at him. Over the next couple of days Spector warned Nitzsche and the other guys that if they wanted to work for him, they couldn't work for Melcher again. The musicians ignored him.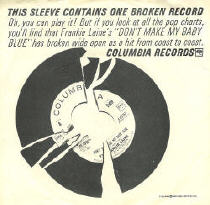 Tony Cooper discusses the four Laine/Melcher/Nitzsche tracks in his Fans Review article for the main Jack Nitzsche site. "Hey There Mountain", recorded at the same August '63 session as "Don't Make...", must be the same Helen Miller, Dee Ervin and William Buchanan song that Terry and Jack had earlier cut with Emil O'Connor. Unfortunately the master has been mislaid and was not included in Bear Family's boxed set. November '63 saw Frankie, Terry and Jack back in the studio to cut two more tracks. A young West Coast writer, Randy Newman, wrote "Take Her". One of the first of his songs to be recorded, it again displayed Terry's good judgment. Paired with Mann-Weil's "I'm Gonna Be Strong", a full orchestra was in evidence. Sadly missing from the latter's US release was a choral backing. These are great records that stand up to repeated plays today. The only reason I can advance, besides Tony's comment on the poor pressings, for the record's failure to make more of an impact is they are all just so damn sad!
It's worth taking a breather to review Terry's recording career up to this point. His first 45rpm, "That's All I Want", was released in June 1962. Fourteen months later he is in charge of a session producing one of the most popular vocalists of the previous two decades. Working with an orchestra of fifteen or so of the finest musicians to have beat a drum, blown a saxophone or strummed a guitar, as well as some of the most memorable voices to have performed in the field of popular music as 'simply' backing singers. Previous to this session he had 'discovered' The Rip Chords, achieved his first chart record, and produced some excellent, albeit unheralded, examples of early '60s pop. He was still only 21 years old. The one (almost) constant factor during all this time was Jack Nitzsche. I don't believe it's possible to over-estimate the importance of Jack's contribution to Terry's musical development. Certainly Terry was fulsome in his praise of Jack's encouragement, ability and musical skills. The upcoming sessions with his mother were to be Terry's 'coming of age'.