Terry Melcher credits Jack Nitzsche as being the first to acknowledge and encourage his musical abilities and for introducing him to the famed West Coast session players. Guitar player extraordinaire Carol Kaye, who worked on many sessions with Terry, writes in (Part 5) of the high regard with which he held the musicians and the quiet confidence he had in his ability, he instinctively knew exactly what to do. Jack Nitzsche was still only 25, but already a veteran of countless sessions. Having him as arranger on these early dates must have made the young producer feel comfortable working with the seasoned musicians. Terry's first production for Columbia hadn't resulted in a hit, but he had cause to be pleased with the result. The future was looking bright.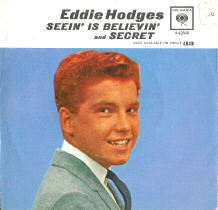 Eddie Hodges arrived at Columbia on the back of a pair of novelty rock'n'roll hits for Cadence, "I'm Gonna Knock On Your Door" and "Girls Girls Girls (Were Made To Love)". Fitting Columbia's clean cut image, Eddie, an 'all American boy' and successful child actor, was, I'd assume, assigned to, rather than signed by, Terry. Nevertheless, his first 45, "Secret" / "Seein' Is Believin'" (Columbia 43324), was a very assured debut. "Seein' Is Believin'", a cracking "Zip-A-Dee Doo-Dah" cop, in particular, showcased Terry's, perhaps Jack-inspired, love for Phil Spector's sound. Sundazed's Bruce & Terry CD notes detail the way Terry mixed the multiple tracks of hand-claps, extra vocals, drums etc to create, as Al Quaglieri dubbed it, a "dynamic squashing" to create a "dense midrange-y wash of music". Not quite a "Wall Of Sound", but I'm sure you get the idea. Terry also noted to McParland that he cared more how the record sounded from a car speaker than in the studio. Terry was not the only producer who understood the Americans love of the automobile. Working close-up with Terry on many sessions was Eddie Hodges; "I cut my teeth for rock recording working with Archie Bleyer at Cadence, who never finished the final master without first listening to it over a small car radio speaker. Terry seemed to have a similar belief about how the final master should sound, though I never saw a car radio speaker in the control room."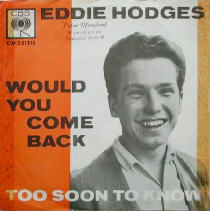 Columbia had proved not to be as fleet of foot as its new independent rivals, but the size of the company did present advantages, not the least its capacity to seemingly produce colour picture sleeves at will. "Seein' Is Believin'" came, partly due to Eddie's flaming red hair, in a very colourful cover. There may well be other US picture covers waiting discovery. "Too Soon To Know" gained a European release and if you were lucky a cool picture sleeve. Eddie had three 45s released: all highly recommended, but sadly none dented the national charts. Two of the sides bore no input from Jack, with Terry producing and arranging "Rainin' In My Heart" and "Would You Come Back". The latter song in particular, an obscure Sharon Sheely-Jackie DeShannon composition, highlighted just how far Terry's musical education had progressed. Despite Terry's sojourn in New York, of Eddie's six sides, only one, Howie Greenfield-Helen Miller's "Secret", was from East Coast writers.
Eddie recalls his time at Columbia warmly; "I met Terry Melcher after I signed with Columbia. He was introduced to me as my new producer. Being painfully shy, which I always struggled to hide, was no problem for him - he was a soft-spoken, quiet sort who quickly disarmed those around him and put them at ease. He seemed to really know what he was doing. You know, I look back on working with Jack and Terry as a magical time in my life, though I did not realize it at the time - I was just having a blast! What I liked most was being treated like a colleague by them both. Jack had a quiet, concentrated attitude when he was conducting and knew exactly what he wanted. Terry naturally agreed with him, but still had ideas of his own. They worked so well together. You can't help learning a lot from people like Jack and Terry when you are right there experiencing their creativity flowing. They just made me want to work as hard as they worked. I did not have great confidence in myself, being a teenager lost in the angst of adolescence, but they both seemed to understand that and accept me in spite of it. I trusted Terry implicitly. We talked about hot rod cars and dragsters, sometimes. We even talked about the girls I had a crush on - he would give me brotherly advice about that. Terry was very respectful and always seemed to be concerned that I was comfortable about the way the session was going. He listened to my ideas in a way that made me feel I was part of the team. I always wished Terry had introduced me to the Byrds, though. They were my favorite group until I discovered Buffalo Springfield - I used to watch them rehearsing at the Whiskey when I lived in an apartment just behind it. Jackie De Shannon was around sometimes - she wrote one of the songs I recorded, "Would You Come Back" - Terry and Jackie seemed to be very close and I figured they were probably dating. Terry never ceased in his kindness towards me and my family."
Many of Eddie Hodges' records on Columbia, and later Aurora, were arranged by Jack Nitzsche, and have been featured as 'Records Of The Week' on the main site. A link to the reviews of these records, including label scans and a potted history of Eddie's career, can be referenced by links on (Part 8), the discography page. Also check out Eddie's piece on The Jack Nitzsche I Knew page on the main site.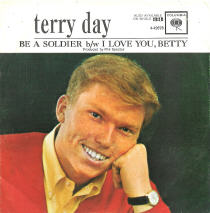 Terry Day was next to step up to the mike, only this time, instead of covering a Phil Spector composition, or trying to re-create the sound, he had 'the Master' twiddling the knobs. "Be A Soldier"/"I Love You, Betty" was almost a complete 'Wall Of Sound' production: Jack arranging, Blossoms on backing vocals, and the usual suspects playing the instruments. The flip (originally recorded by the Crystals as "I Love You, Eddie") was even co-written by Spector. All that was lacking was Gold Star Studio. I would have plumped for "I Love You, Betty" as the stronger of the two sides, but both are excellent, and, despite its rarity (not because of it!), it's a 45 well worth tracking down. A groovy but limited colour sleeve was printed proudly bearing the legend, "Produced by Phil Spector". 33rpm 7-inch pressings were also advertised, but I've never seen one. Unfortunately, the sales were no more impressive than Terry's debut, and it was to be his final solo effort until RCA's "Terry Melcher" LP in '73.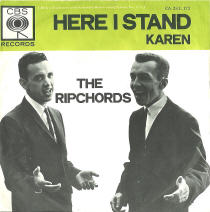 (Rip Chords Dutch picture sleeve)
Terry Melcher said that being the son of Doris Day did not make his A&R job at Columbia easy. Most artists he attempted to sign did not take his approach seriously. His first signing after Emil O'Connor was a pair of writers from his stepfather's Daywin Music publishing company who had been recommended to him as performers. A pair of 'white country boys' initially dubbed The Opposites, Ernie Bringas was a theology student and Phil Stewart a private detective. They might not have seemed ideal rock'n'roll material, but following a name change, most probably suggested by Terry, the newly christened Rip Chords were ready to cut their first slice of wax. The intended release, "Karen"/"Ding Dong" (both sides written by the group), was assigned as Columbia 42641, but the coupling, lacking any input from Jack Nitzsche, was pulled. Instead Terry went back into the studio, this time with Jack arranging, and produced a version of Wade Flemons' small hit for VeeJay, "Here I Stand". In the hands of Terry and Jack, Wade's very groovy doo-wop/soul track was beefed up with a Four Seasons-styled stomping beat. Boasting riveting guitar playing from Glen Campbell and an infectious feel, it was flipped with the earlier cut, "Karen". It sounded like a hit and it was: No. 51 in Billboard's chart on 25th June 1963. Terry and Jack were cooking.
Terry claimed to have broken the staid Columbia's 'Easy Listening' image and opened it up to the brave new world of rock and pop. Not strictly true. Prior to his arrival there had been a few releases that fit the rock 'n' pop groove, including The Four-Evers, Carl Perkins, Bob & Jerry and former Teddy Bear, Carol Connors, who had three 45s on Columbia. Later, Carol became a prolific Hot-Rod songwriter (including The Rip Chords' "Hey Little Cobra") and film music composer. They were a bit 'clean' sounding, but they were a departure from the soft sounding norm. On the East Coast, Aldon Music's influence was coming to bear with cool releases by Eydie Gorme and Steve Lawrence. Cookies' vocalist Dorothy Jones had a superb solo outing, written and produced by Goffin and King. Complete with a fab picture sleeve, "It's Unbearable"/"Takin' That Long Walk Home" was a dynamic, powerful pop 'n' soul two-sider. Despite these, a look through Columbia's release schedules does make fairly bleak reading. A modest chart hit "Here I Stand" may have been, but nothing influences a record biz executive as much as a hit, and Terry now had the kudos to brush the cobwebs from the fading record giant.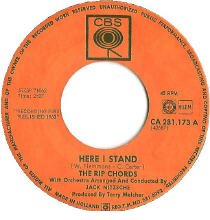 Future Rip Chords releases bore no input from Jack. Instead Terry collaborated with his latest, most important signing, beach buddy Bruce Johnston. The Rip Chords' tracks are collected on two Sundazed CDs, "Hey Little Cobra" and "Three Window Coupe", with sleeve notes written by McParland. An interesting side note: McParland identifies Jack's wife Gracia, another regular on Terry's sessions, as providing one of the classic, semi-spoken passages on disc. Over the sound of a car engine revving, she intones a sultry intro to "Gone", We've been going steady, and you've been making me cry, now it's your turn baby, so I'm saying bye-bye. Just one of many examples of Bruce and Terry's understated sense of humour - check out their "I Love You Model 'T'" for another.
The 'pop fluff' of the Rip Chords was going to have to wait though, because Terry and Jack's next artist was a vocal giant, Frankie Laine. Read how they got on with him in Part 4.