Terry's stepfather, Marty Melcher, as well as looking after Doris Day's business affairs (rather badly as it turned out), owned Arwin Records and its publishing company, Daywin Music. Despite the family connection, or perhaps because of it, apparently Terry didn't spend much time there, although McParland does mention him supplying backing vocals (along with Bruce Johnston) on a Kip Tyler & The Flips' side. McParland's interview with Richie Podolor supplies some more information on his time spent around the music business: We employed Terry as a gofer so he didn't have to go to school! Terry didn't play any instruments. He wasn't even knowledgeable. He was just a friend and the fact that I was involved with his family business [Arwin Records] through records made the connection possible. He was a nice kid and I helped him out. I assume this was a limited opportunity for Terry, because besides being "a nice kid", the consensus of all who knew him, and what he proved at such a young age, was that he was talented, musically aware and as bright as a button. There again, Richie Podolor was a very busy guy; check out his chapter in "Sound Waves And Traction" for the full story.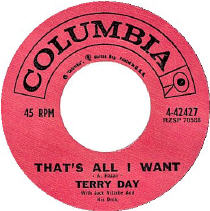 (Scan courtesy of Al Hazan)
After this far from auspicious start, McParland and Sundazed (after interviewing Terry) both place his next musical education in New York on Columbia's trainee producer program. Melcher said to Sundazed, he was there for six or eight months and to McParland almost a year. Sorry but this doesn't add up. Both accounts have Terry borrowing $300 from a school/college pal for the "That's All I Want" session, recorded at Gold Star Studios. (Interestingly, Eric Olsen claims in his chapter on Melcher in "The Encyclopedia Of Record Producers" [Watson Guptill, 1999] that Jack Nitzsche put forward half the $300.) If Terry had returned from NYC with his experience of recording and fancied a solo disc, why not record a song by one of his new Aldon Music pals? And why didn't Columbia back him and record the session at Columbia's studio? Al Hazan's account and the dates of Terry's first recordings and productions strongly suggest that his NYC adventure took place after his first 45rpm as Terry Day. And he would have been away weeks rather than the stated months. McParland supplies this quote from Terry after the lukewarm reception given "That's All I Want"; At that point I went to the company and said, "Forget the artist contract. Just let me be in A&R training." Whenever the period was, and however long he spent in NYC, he did make some useful contacts. Among them was a young songwriter who, along with his partner, Cynthia Weil, provided some fine songs for Terry. Melcher said to McParland, Barry Mann, who I had gotten to know a little bit in New York...
Terry Melcher did not mention him in interviews with McParland, Sundazed, or any that I'm aware of, but I believe the spark that helped ignite one of the most prodigious and successful careers in music was Al Hazan.
Relatively unknown to the public at the time of his and Jack's first meeting, this singer, songwriter, session player and producer's recording adventures began as a 16-year-old. The Bell Sisters sang his composition, "The Dance Of Love", on the very popular Bing Crosby Radio Show in 1953. Unfortunately, the intention to release the recording on 45rpm was curtailed by RCA's appointment of a new CEO. The non-appearance of this record (although this track - along with all The Bell Sisters hits - is now available on CD from Jasmine Records, U.K., The Bell Sisters - The "Bermuda" Girls) certainly prepared the young Mr. Hazan for the vagaries of the record biz! There are many fine recordings in his back catalogue - check out The Complete Al Hazan website. Too many of his records just didn't get the distribution, airplay or, most important of all, that bit of good fortune that separated the few chart 45s from so many contenders. As Jack Nitzsche said when interviewed by BOMP!....His [Al Hazan's] songs always sounded like hits but they never were. Perhaps in hindsight, the diversity in musical styles in which he worked, that brings so much delight in listening now, didn't help either; girl-group, soul, ballads, rock 'n' roll, doo-wop, surf, almost all musical forms of the early '60s, but no sound or idiom that could be called his own. This diversity is reflected in his solo work, not only the music, but the aliases he used to record them. Dudley Duncan, Crazy Luke and Ali Hassan are just some of the names used. It's great music that is so evocative of its time. There were also some big sellers in his portfolio including recordings of his compositions by Ritchie Valens, James Darren AND Mr. Jack Nitzsche amongst them.
By the time Hazan's girlfriend had introduced him to Melcher in early 1962, Al could, in the business, be described as 'hot'. His debut solo vocal, the self-produced "The Force Of Love" (credited to Al Anthony and arranged by Jack Nitzsche), had just hit the streets, his piano playing on B. Bumble and the Stingers' "Nut Rocker" was notching up healthy radio plays and sales, as had his earlier composition, "Daydreams" for new teen sensation Jimmy Crawford. Combine this with being in and out of Gold Star Studios on various projects (including his own Philles release, "Maleguena") and he must have seemed to the music-mad Terry as someone he'd like to hang out with. Al was always on the lookout for talented vocalists, musicians and writers to share in his musical visions. A look at some of his collaborators reads like a who's who of the L.A. scene and many of them are still friends today. Al describes the Terry he first met as, charming, mature for his years, and very talented.
Columbia's publicity and promotion departments may not have been geared up to promote rock 'n' roll but their distribution department at least got the product out there. As well as the UK CBS 45rpm, the record was released as a 78rpm in the Philippines! I would be interested to know of releases in other countries. (I recently discovered that the publicity dept was hotter than I've given then credit for, "That's All I Want" / I Waited Too Long" came in a picture sleeve. Using the same photograph of Terry that was later used for "Be A Soldier. The scan can be viewed on the Produced by Al Hazan page's.)
During a lengthy email interview with Al (collated as a feature on the Produced by Al Hazan page's of this site) he describes in great detail meeting, befriending and producing Terry on his first 45rpm. Al's account, although more detailed, does not differ much from Terry's recollections, it's just that Terry's interviews about these early days mostly pass over this period. Forgetfulness? Perhaps. "That's All I Want"/"I Waited Too Long" were the first two Melcher-Hazan (and Nitzsche) recordings. A mark of the importance placed on their collaboration was that, rather than use Al's Chemistry Music or Terry's stepfather's Daywin Music publishing company, they set up a joint venture, Alterry Music. This lead to some friction in later years when Al found that both songs had been placed in Terry's Daywin Music company. It may also be of interest to note that California Music is credited as publisher for the UK CBS pressing of the 45.
They were good, strong recordings, but they failed to set the charts alight. A later session took place, also written, produced and this time arranged by Al, "Just Another Broken Heart". Al recalls, "It was probably done at Gold Star, with Stan Ross at the controls and using my favorite musicians". An all out rocker, it boasts a very strong song and tough vocal from Terry. This recording remains unreleased.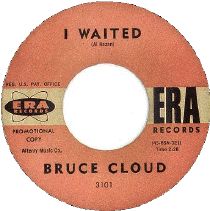 (Scan courtesy of Al Hazan)
Jack Nitzsche later arranged this very different version of Al's composition, "I Waited". Click on the label for a full sized scan and note the Alterry Music Co. publishing credit.

Some weeks after their final Terry Day session, a letter arrived saying that on Terry's return to L.A. he wanted to get back in the studio to record more of Al's songs. Al readily agreed. More time passed and Al received a phone call from Terry who was sitting in his office at Columbia where he'd been given the role of producer. If Al had any acts that he thought were worth recording, he should bring them in for Terry to check out. It just so happened that Al thought he had the perfect performer for Terry's new role as producer, Emil O'Connor, and he had the perfect song for him, "I Wanna Be There". This was Little E's debut recording and Al carefully selected other tracks to complement his vocal style. Two more sides were auditioned. Terry shared Al's love of "I Wanna...", but the song he fancied as the flip was "Hey There Mountain". The song had been released a few months earlier by Obrey Wilson on Liberty, produced by Phil Spector. The song's writers, Helen Miller, Dee Ervin and William Buchanan, were from the Brill Building school of hit writing. As good as this recording is, Emil's sounds even better. This is what Al has to say on his production, ...the arrangement Jack did on Emil O'Connor's session was much more dramatic. I remember H.B. Barnum played the piano on the date and played a very interesting introduction. (Frankie Laine also cut a version of "Hey There Mountain", more on this later.) Al describes Emil coming down from San Francisco for the audition, rehearsals and session on Al Hazan And Jack Nitzsche's Record Of The Week page. It's great reading AND you can follow the link to Al Hazan's Discography page to hear "I Wanna Be There".
Emil's performance received rave reviews from folks in the business, with many tipping him to become a big star, but as excellent as the session was, none of the tracks were released. This was not due to musical differences. Terry was impressed with Emil's vocal, and the songs were strong, but a business disagreement between the pair resulted in Al walking away from the situation.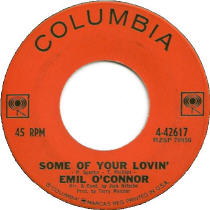 Terry, not wishing to be obligated to his arrangement with Al, took Emil back into the studio to record some new songs. Lightening may not strike twice, but Terry came very close with "Some Of Your Lovin'". The song, written by Phil Spector and Terry Phillips, was an obscure Johnny Nash side produced by Spector, but released to little acclaim on ABC-Paramount the previous year. Emil's handling of the vocal is superb and the arrangement (again handled by Nitzsche) is indebted to the early Tamla Motown sound. This is what Terry had to say about it to McParland: I was really interested in Marvin Gaye. I thought he was great at the time, therefore it was kinda in that direction. One other O'Connor track, "Yes Sir, That's My Baby", was also recorded. This is what Nitzsche had to say in his BOMP! interview, First Terry Melcher did this "Yes Sir" with a guy named Little E. So we did this at Columbia but it never came out. Another record I'd like to hear! Although Terry recorded the massive voiced Frankie Laine some time later, see (Part 4), this remained his only work in the R&B field - a pity.
Emil released one other single in '62 as Little E & The Mello-Tone Three, "Candy Apple Red Impala "/"Bye Bye Pretty Baby" (Falco 302). It sounded rather old fashioned in comparison to his recordings with Al and Terry. Nevertheless, it did create a buzz locally. In the early '70s, Terry was an associate of Sly's and, despite this time period appearing too early, it may well have been Terry's recommendation that brought Emil to Sly's attention. The Ace Records CD, "Precious Stone - In The Studio With Sly Stone" (CDCHD 539) from '94, features two tracks Emil cut with Sly, namely "The Nerve Of You" and "Every Dog Has It's Day". Recorded by Emil(e) O'Connor during Sly's tenure as producer at Autumn Records ('63 till '65), they remained in the can until '97 and '91 respectively. Both songs are strong and soulful featuring prominent female vocals. Sleeve note writer, Alec Palao, identifies Bertha Tillman's vocal on "The Nerve Of You". I'd love to hear differently but, sadly for Emil, these few tracks appear to be the sum total of his released work.