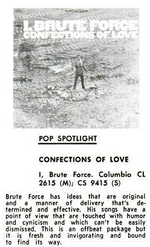 For most of the mid-sixties Stephen Friedland AKA Brute Force was a 'Token' (as shown in scans from the Press Release pack sent out by The Tokens manager Seymour Barash) but I decided to focus on the four core members, Margo, Margo, Medress and Siegel and hadn't intend a 'Brute Force' page. In complying The Tokens discography though and paying a bit more attention to the credits, listening & re-listening to the music I decided Bright Tunes Music Inc. most prolific writer/composer at the very least deserves this discography.
There are a number of pages on the web, including Brute Force's own website Brutes Force with information and interviews that have interesting tales including his starting out as a songwriter with Billy Gussak at RCA and introduction to The Tokens. Both Brute Force original 60s LP's B.T. Puppy's "Extemporaneous" and Columbia's "Confections of Love" have been re-released, with bonus tracks and informative sleeve notes but web and CD's, at least to these ears, concentrate too narrowly on particular compositions and recordings. His song writing in the sixties produced a body of work, in all the then current musical styles, that deserves attention from all aficionados of quality pop not just the controvosial or 'hit' recordings.
"The King of Fuh" despite a great melody, production and picturesque/interesting but 'rude' lyrics (without the slight ambiguity of say Max Romeo's "Wet Dream" or Jane Birkin and Serge Gainsbourg's "Je T'Aime" which did breach the UK charts in 1969) could hardly have been expected to be a chart hit then or now. "She Still Remembers Tony" cool song purposely written and sounding just right for Del Shannon but still just one of many great cuts. The "Extemporaneous" album, shit rare yes but deservedly so? A quirky live studio recording but possibly the humour/social comment is lost in translation from American to English. (To be fair though many knowledgeable folk rank the album very highly.) The recently released "Confections of Love" is more accessible, with tunes, lyrics and production that will have you smiling, thinking and jigging your botty. But like I said before these are only a small part of Brute Force's legacy to sixties popular music.
Song titles such as "Nobody Knows What's Goin' On (In My Mind But Me)", "On The Go", "One Face in The Crowd, "Relief", "Sharin'" and many, many more from the first flames of the 60s to its burning embers should get the blood pumping and if not you've been missing out on some great musical nuggets.
Until at least one CD anthology of Brute Force's musical delights gets released you may have to scour the record bins, CD track lists, YouTube et al to hear what you've been missing but I promise the hunt will be worth it!
About the discography: As with the main Tokens Discography pages the writer, producer and arranger credits have in almost all cases been taken from the record.
If I have omitted any tracks from this 'Complete Discography'(!) scans/mp3s would be appreciated. One B.T. Puppy track, that I'm aware off and haven't heard is "Friendly" from Frankie Paris' "P.H.B" album.
On some recordings more detail is supplied in the main Tokens Discography on 'notes'.
Brute told me that his co-writer on a number of tracks, Charlotte Parsons and David Rockefella are both aka Jay Fishman. (As Charlotte Parson he also had a number of near hits with the New York (Soul) song writing team of Johnny Northern & J.R. (Ralph) Bailey).
A Complete A - Z of Recordings, Composed & Written by Stephen Friedland aka Brute Force (and Friends)

| | | | | | | | |
| --- | --- | --- | --- | --- | --- | --- | --- |
| | | | | | | | |
Adam And Evening
(Brute Force)
Brute Force
Prod & Arr by The Tokens for Bright Tunes Productions Inc
Warner Bros. 7224
68
A Few Casual Words
(Friedland, Kalina)
Beverly Warren
Prod & Arr by The Tokens for Bright Tunes Productions
Andrea Carroll & Beverly Warren - Side By Side LP
BTP/S 1017
70
All Through The Night
(S. Friedland - R. Kalina)
Chubby Checker
Billy Harner
Tom Burt
Arr & prod Dave Appell
Arr Leroy Glover Prod Wes Farrell
prod & arr Dave Appell
Canadian Parkway 936
Parkway 950
Cameo 363
64
Amanda's Man
(Brute Force - Paul Kahan)
Amanda Ambrose
Arr. & Cond. by Norman Bergen for Bright Tunes Productions, Inc.
B.T. Puppy 539
68
As Long As My Song Lives
(Brute Force)
Brute Force
Prod. John Simon
Confections of Love - Columbia LP 2615
67
Beautiful Girl
(Brute Force - David Rockefella)
Joe Graves
Arr. and Prod. Dave Appell
Parkway 964
65
Break Away
(Brute Force, Paul Kahan)
Next Exit
Prod & Arr by The Tokens for Bright Tunes Productions Inc
Warner Bros. 7220
68
Brute's Circus Metaphor
(Brute Force)
Brute Force
Prod. John Simon
Confections of Love - Columbia LP 2615
67
Brute's Party
(B. Force)
Brute Force
Prod John Simon
Columbia 44371
67
Conjugation: To Love
(Brute Force)
Brute Force
Dorian
Prod John Simon
Prod. By The Tokens For Bright Tunes Productions Arr. Pat Williams
Bar/None Records CD
B.T. Puppy 556
10
69
Cudd'ly
(B. Force)
Brute Force
Prod John Simon
Columbia 44091
67
Dirty Old Beach
(Margo, Margo, Medress, Siegel, Friedland)
The Tokens
Produced by The Tokens for Bright Tunes Productions
December 5th LP
BTP/S 1014
70
Docking
(Brute Force)
Brute Force
Prod. By The Tokens
Extemporaneous BTP/S 1015
70
Don't Be Afraid
(Stephen Friedland- Billy Gussak)
Tommy Boyce
Hugo & Luigi Producers, Orch. cond. Dick Wolfe
RCA 8208
63
Don't Paranoi It, Baby Enjoy It
(Brute Force)
Brute Force
Prod. By The Tokens
Extemporaneous BTP/S 1015
70
Doughnut
(Brute Force, Paul Kahan)
Brute Force
Prod John Simon
Bar/None Records CD
10
Dwayne Of The Upper Regions
(Brute Force)
Brute Force
Prod. By The Tokens
Extemporaneous BTP/S 1015
70
For All That I Am
(Kahan, Friedland)
The Tokens


Soulful Bowlful
The Creation
Produced by The Tokens for Bright Tunes Productions

Prod & Arr Dave Appell
A Shel Talmy Production
It's A Happening World, (Warner Brothers 1685) LP
20th Cent Fox 6688
German Hit-Ton 300235
67


67
69
Five Minutes For Peace
(Brute Force)
Brute Force
Prod. By The Tokens
Extemporaneous BTP/S 1015
70
Friendly
(Friedland)
Frank Paris
Produced by The Tokens for Bright Tunes Productions
Frank Paris - P.H.B. Purple Haze Band BTP/S 1016
70
G54321 (Girl On 6)
(Brute Force)
The Tokens
Produced by The Tokens for Bright Tunes Productions
Intercourse BTP/S 1027
72
Girls On The Go
(Brute Force)
The Happenings
Prod. Big Time Productions
Eng. Johnny Cue
Arr. & Prod. Big Time Productions
B.T. Puppy 517
66
Great Skakes
aka Any Place Can Be A Soda Fountain Now
(Friedland, Margo, Margo, Medress, Siegel)
The Tokens
The Chiffons
The Happenings
Dusty Springfield
The Who
Blues Magoos
The Yardbirds
Spencer Davis Group
Great Shaken' with Groups from The 60's Mo-Donna EP#1
67
Greatest Moments In A Girl's Life
(Brute Force, Paul "Mints" Kahan)
The Tokens
Prod. Bright Tunes Productions
Arr. Trade Martin, Eng Bill Mac Meekin
B.T. Puppy 519
66
Grey City Day
(P. Kahan, S. Friedland)
The Tokens


Unsung Heros
Denny Belline
Produced by The Tokens for Bright Tunes Productions

Arr & Prod Dave Appell
prod by Andy Wiswell
It's A Happening World, (Warner Brothers WS 1685 / WM 1685) LP
20th Cent 6656
RCA 9041
67


67
67
Hail The Hare (Hair)
(Brute Force)
Brute Force
Prod. By The Tokens
Extemporaneous BTP/S 1015
70
Hang Around
(Stephen Friedland-Robert Kalina)
The Del Satins
Arr & Big Time Productions
B.T. Puppy 506
65
Hello Moscow
(Brute Force)
Brute Force
Prod John Simon
Bar/None Records CD
10
Her Heart
(Brute Force)
Chubby Checker
Prod Billy Jackson Arr Dave Appell
Parkway 112
66
Hush Don't Cry
(S. Friedland - H. Jamith - R. Kalina)
Bonnie Herman
Prod & Arr John Simon
Prod & Arr John Simon
66
I Can't Find The Girl On My Mind
(Brute Force - Charlotte Parsons)
The Satans Four
A Big Time Production
Eng. Bob Arnold
B.T. Puppy 515
65
In Jim's Garage
(B. Force - P.Kahan)
Brute Force

Prod John Simon, Arr Pat Williams
Columbia 44371
67
In My Diary
(Jamiph, Kalina, Friedland)
Reparata & The Delrons
Prod. by World United Productions
Whenever A Teenager Cries (LP) World Artists 3006
65
In The Back Of Uncle Harry's Limousine
(Stephen Friedland)
The Penny Sisters
Produced by The Tokens for Bright Tunes Productions
The Penny Sisters - Wishing You Well BTP/S 1023
71
I Think I'm Gonna Call It Love
(Stephen Friedland)
The Penny Sisters
Produced by The Tokens for Bright Tunes Productions
The Penny Sisters - Wishing You Well BTP/S 1023
71
Joyride
(Brute Force)
Randy & The Rainbows
The Tokens
Produced by Bright-Tunes Prod Inc
Produced by The Tokens for Bright Tunes Productions
Rust 5101
Golden Moments Of Our Past
Crystal Ball 1036 CD
65
01
King Of Fuh
(Brute Force)
Brute Force
Produced by The Tokens
UK Apple 8
Extemporaneous BTP/S 1015
69
70
Let it Ride
(Friedland, Margo, Margo, Medress, Siegel)
The Four Winds
Prod. By The Tokens For Bright Tunes Productions
B.T. Puppy 555
69
Little Girl-Little Girl
(Friedland-Kalina)
The Tokens
Produced by The Tokens for Bright Tunes Productions
The Greatest Moments With The Tokens BTP/S 1012
70
Madelenna
(Friedland, Parsons)
The Tokens
Produced by The Tokens for Bright Tunes Productions
Golden Moments Of Our Past
Crystal Ball 1036 CD
01
Making Faces At Each Other
(Brute Force)
Brute Force
Prod. John Simon
Confections of Love - Columbia LP 2615
67
My Teenage Castle (Is Tumblin' Down)
(Stephen Friedland- Billy Gussak)
Little Peggy March
A Hugo & Luigi Production
cond. by Sammy Lowe
RCA 8189
63
Needles Of Evergreen
(Brute Force)
Margo, Margo, Medress & Siegel
Produced by the Tokens for Bright Tunes Productions
arr. Norman Bergen
Warner Bros. 7183
68
No Olympian Heights
(Brute Force)
Brute Force
The Other Voices
Prod. John Simon
Prod. Ellie Greenwich & Mike Rashkow
Confections of Love - Columbia LP 2615
Atlantic 2523
67
68
Nobody Knows What's Goin' On (In My Mind But Me) (Brute Force)
Nobody Knows (Brute Force)
The Chiffons
Tammy St. John
Brute Force
Produced by Bright Tunes Productions
Directed by Johnny Harris
Produced by The Tokens
Laurie 3301
UK Pye 17042
UK Apple 8
65
66
69
Nutty Fragrant, Something To See
(Brute Force)
Brute Force
Prod. By The Tokens
Extemporaneous BTP/S 1015
70
On The Go
(Steve Friedland, Robert Kalina)
The Buddies
Arr. & Prod. Big Time Productions
Eng. Brooks Arthur
Swing 102
64
One Face in The Crowd
(Force)
The Boys Next Door
The Four Winds
Produced by Bright Tunes Productions
Produced by The Tokens for Bright Tunes Productions
Atco 6443
B.T. Puppy 555
66
69
Overture To Hello
(Brute Force)
Brute Force
Prod. By The Tokens For Bright Tunes Productions
B.T. Puppy 561
69
Relief
(Brute Force-Bob Kalina-Douglas Furber)
The Del Satins

Prod. Big Time Productions
Eng. Bob Arnold
B.T. Puppy 514
65
Real Microphone Technique
(Brute Force)
Dorian
Prod. By The Tokens For Bright Tunes Productions
Arr. Pat Williams
B.T. Puppy 556
69
Sharin
(Friedland)
The Canterbury Music Festival
Produced by The Tokens for Bright Tunes Productions
The Canterbury Music Festival - Rain And Shine BTP/S 1018
70
Sharin'
(Steve Friedland)
Randy & The Rainbows

A Bright Tunes Prod
Rust 5091
64
She Still Remembers Tony
(Brute Force-Charlotte Parsons)
Del Shannon
The Tokens
Producer Harry Balk An Embee Prod.
Produced by The Tokens for Bright Tunes Productions
Amy 937
Golden Moments Of Our Past
Crystal Ball 1036 CD
65
01
Ski Beat
(Margo, Margo, Medress, Siegel, Friedland)
The Del Satins
Produced by The Tokens for Bright Tunes Productions
The Del Satins - Out To Lunch BTP/S 1019
70
Snowflakes (You Are Here)
(Stephen Friedland)
The Penny Sisters
Produced by The Tokens for Bright Tunes Productions
The Penny Sisters - Wishing You Well BTP/S 1023
71
Sufferin' Surfin'
(Brute Force)
Brute Force
Prod. By The Tokens
Extemporaneous BTP/S 1015
70
Sunset See My Sadness
(S Friedland)
The Tokens


The Young Americans
Produced by The Tokens for Bright Tunes Productions

Prod. Anita Kerr
It's A Happening World, (Warner Brothers WS 1685 / WM 1685) LP
ABC 10998
67


67
Take A Good Hard Look
(Friedland)
The Tokens
Produced by The Tokens for Bright Tunes Productions
The Tokens - December 5th BTP/S 1014
70
Tapeworm Of Love
(Brute Force)
Brute Force
Prod. John Simon
Confections of Love - Columbia LP 2615
67
Thank You - Hello
(Brute Force)
Brute Force
Prod. By The Tokens
Extemporaneous BTP/S 1015
70
The Burp Theory)
(Brute Force)
Brute Force
Prod. By The Tokens
Extemporaneous BTP/S 1015
70
The Heavenly Place
(Brute Force)
The Chiffons

Prod. Bright Tunes Productions Inc
Laurie 3318
65
The Hexagon
(Brute Force)
Brute Force
Prod. By The Tokens
Extemporaneous BTP/S 1015
70
The Sad Sad World Of Mothers And Fathers
(Brute Force)
Brute Force
Prod. John Simon
Confections of Love - Columbia LP 2615
67
The Sirens Cry (The Gun Don't Work Anymore)
(Brute Force)
Brute Force
Prod. By The Tokens
Extemporaneous BTP/S 1015
70
The World Is Filled With So Much Bullshit
(Brute Force)
Brute Force
Prod. By The Tokens
Extemporaneous BTP/S 1015
70
There's A Fire In The Fireplace
(S. Friedland)
The Cyrkle
Prod. By John Simon
Red Rubber Ball Columbia LP 2544
66
Thumbs Down
(Friedland)
The Chiffons
The Tokens
Produced by The Tokens for Bright Tunes Productions
Sweet Talkin' Guy LP Laurie SLP 2036
Golden Moments Of Our Past
Crystal Ball 1036 CD
66

01
Tierra Del Fuego
(Brute Force - J. Fishman)
Brute Force
Prod. John Simon
Confections of Love - Columbia LP 2615
67
Tonight I'm Gonna Dream
(Brute Force, Charlotte Parsons)
The Chiffons

Prod. Bright Tunes Productions Inc
Laurie 3318
65
Topics
(Brute Force)
Brute Force
Prod. By The Tokens
Extemporaneous BTP/S 1015
70
To Sit On A Sandwich
(Brute Force)
Brute Force
Prod. John Simon
Confections of Love - Columbia LP 2615
67
Toy's For Tots
(B. Force)
Brute Force

Prod John Simon, Arr Pat Williams
Columbia 44371
67
Vicky
(Brute Force)
Brute Force

Produced by The Tokens for Bright Tunes Productions
Extemporaneous CD
Rev-ola CRREV36
04
W.A.R.
(Brute Force)
Brute Force
Prod. By The Tokens For Bright Tunes Productions
B.T. Puppy 561
69
What A Lonely Way To Start The Summertime
(Brute Force)
The Bitter Sweets
A Bright-Tunes Production
Cameo 368
65
Why Can't You Give Me What I Want
(S. Friedland, T. Dawes)
The Cyrkle
Prod. By John Simon
Red Rubber Ball Columbia LP 2544
66
Will You Care What's Hap'nin' To Me
(B. Force, P. Kahan)
Bernadette Peters

Prod & Arr John Simon
Columbia 44106
67
You're The Only Good For Me
(Friedland)
The Canterbury Music Festival
Produced by The Tokens for Bright Tunes Productions
The Canterbury Music Festival - Rain And Shine BTP/S 1018
70
A Complete A - Z of Recordings, sung by Brute Force Written by Friends
The Purpose Of A Circus
(Margo, Margo, Medress, Siegel)
Brute Force
Prod & Arr by The Tokens for Bright Tunes Productions Inc
Warner Bros. 7224
68