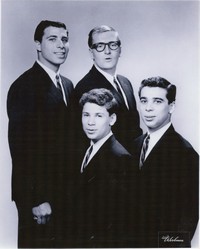 Reading this far I take it you're a fan of The Tokens and already knew that the group were far more than "The Lion Sleeps Tonight" hopefully the site has opened your eyes even further. Fingers crossed you can add a missing scan, correct any mistakes I've made, add some info or supply details of missing tracks, if so do get in touch!
I do have most of The Tokens recordings on vinyl but certainly not all the label varients, stock, demo, picture covers, foreign releases etc. Where possible I've used as many different designs as I could find to add a visual element to the discography. A big thank you to good friends & fellow record collectors for their assistance in supplying record scans.
Thanks also to Billboard magazine for the original reviews, adverts, & chart placings etc. hope you find these as interesting as I do.
I had been thinking about cataloguing a Tokens discography for a number of years and three years ago thought I'd knock one out, of course it took a lot longer than I'd planned but was it worth it? On balance yes but this record collecting malarkey has changed enormously since I first compiled Jack Nitzsche's discography over ten years ago.
I was particularly chuffed when I found, what I assume are all The Tokens Capitol 45s and their Columbia single but these are now already on 45cat and likewise Discogs is also providing a marvellous visual resource. The scans are obviously supplied by record collectors who love not just the music but the visuals as well and although they may not all be experts or specialists in particular artists they may have just the missing gem to better understand an artists work.
Another "why am I bothering" moment came after Mike Edwards sent me a scan of The Tokens discography from 'Big Al Pavlow's Pro-Files Discographies' . A few months ago, feeling pretty pleased with myself I'd sent the web address to friends for comments on the layout & style of this discography and if they could help with missing tracks. Naturally Mike meant well and I did add a few records to this discography but at first I thought Big Al's copy made this website superfluous.
On closer inspection though this discography has doubled Big Al's research and although I'm sure 45Cat, Discogs et al will continue to introduce previously hidden gems I think there is still a place for single artist discographies. Hope you've enjoyed it.
Martin
Thanks for help in compiling the discography and label scans goes to good and knowledgeable folk, web sites, record & CD sleeve notes etcetera. If I've used a label scan or information from you that is not credited please get in touch and I'll get it sorted.
Diamond geezers...
David Bell, Gerard Bickel, Bob Brainen, Phil Chapman, Ken Charmer, Keith D'Arcy, Mike Edwards, Brute Force, Patrick G., Michel Gignac, Michael Greenberg, Bob Halverson, Frank Kramer, Phil Milstein, MikeM, Mick Patrick, Jay Siegel, Harvey Williams, Dave 'Spector Collector' Young & Harry Young
Colin Escott - Sleeve notes for "Wimoweh!!! The Best of The Tokens"
Steve Stanley - Sleeve notes for "Night Time Music" and "Intercourse".
Web Delights...
45cat Record Label scans from all eras & countries.
Spectropop Still the daddy
Ebay Marvellous resource for 45s, that I've used shamelessly for label scans.
Badcat Records Cool site with scans and discussion on the B.T. Puppy albums
Google - Books - Billboard For anoraks it don't get much better than this
Hank Medress Interview Hank Medress interviewed by Artie Wayne for Spectropop
Rare Rockin' Records - Phil Margo Interview
Doo Wop Blog Excellent Doo Wop / vocal group information site

Amazing Tunes...
Lots of CD's, downloads available, I've listed a few essentials:
Wimoweh!!! The Best of The Tokens (RCA B000002WR2)
Tonight I Fell In Love with the Tokens (Crystal Ball 1038)
Golden Moments Of Our Past (Crystal Ball 1036)
Very Best Of The Tokens - 1964 - 1967 (Varse Sarabande 302 066 547 2)
It's A Happening World (Real Gone Music 69) (At the time of writing I haven't got this CD but if you haven't got the records, get the CD!
Night Time Music - The B.T. Puppy Story (Revola 38)
The Best of The Happenings (Sequel 690)
Sweet Talkin' Girls - The Best of the Chiffons - (Stateside 0946 3 69278 2 4)

In Print...
Echoes of the Sixties - Marti Smiley Childs and Jeff March (Billboard Books)
The Billboard Book of American Singing Groups - A History 1940-1990 - Jay Warner (Billboard Books)
The Directory of American 45 R.P.M. Records - (Stack Of Wax)
Big Al Pavlow's Pro-Files Discographies (Volume One) - (Music House)
Do us a favour...
Seem to be getting closer to living up to the sites title, 'The Complete Tokens Discography'. But anyone know if the B.T. Puppy album 1029 was actually pressed/released, care to share? - Likewise "Rumble In The Park" (Rust 5094). I daresay if it should exist it will be a instrumental but what a great title.
Scans are also needed for some of the other LP's and later 45's, and any other info, photos of interest, additions, corrections & comments always welcomed and credited.
Mp3's Wanted:
B.T. Puppy LPs: The Sundae Train - Sundae Train (non 45rpm cuts)
Frank Paris - P.H.B. Purple Haze Band
The Del Satins - Out To Lunch "Out To Lunch"
Amrod's Brand - Live On The Playground
Productions: The Revlons "You Don't Love Me" (Crystal Ball 138)