Discography 1960-2009... The arrangements, productions and compositions of Jack Nitzsche.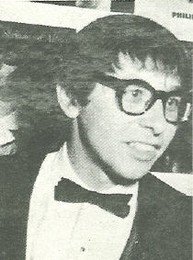 Discography Notes
The earlier releases, 60s to mid-70s, were the time of the great USA 45rpm. These are still my main passion and the discography reflects this.
It's great to note that some of Jack Nitzsche's work is being made available on CD. I've included previously unreleased tracks, by year of recording (where known), rather than date of release.
Soundtrack recordings & videos are included in the Movies page.
This page is 'work in progress'. All additions/corrections will be acknowledged.
If you would like to use a label scan or copy the discography, help yourself! If the information is being used on the web or for publication, a credit and link to this site is required.
This discography first appeared here on 24th May 2002, and was initially derived from Ken Barnes' interview "The Arranger As Superman" in Bomp magazine, my own collection of 45s and record lists. Early additions were contributed by Ken Barnes, Chuck Girard, Al Hazan, Donna Loren and Mick Patrick. Thanks also for information from Stephen J McParland's sleeve notes to The Honeys' CD (Capitol Collector Series), "The Rolling Stones - An Illustrated Discography" by Miles (Omnibus Press) and too many record dealers to mention, but I THANK YOU ALL!
Subsequent additions have been supplied by Stephen J McParland, Peter Richmond, Ian Chapman, Yoshinori Otake, Mick Patrick, Phil Chapman, Martin Jenson, Chris Martin-Smith, Ichiro Ohno, Rob Santos, David A Young, Mike Edwards, Guy Lawrence, Clay Stabler, Mark Frumento, Ron Barrett Jr, John P. Dixon, Alan Gordon, Andrew Sandoval, Tom Ardolino, Phil Milstein, Steven Evanich, Owen Coppin and Anthony Reichardt.
Discography A - C (Adcock, C.C. - Crystals, The)

| | | | | | | |
| --- | --- | --- | --- | --- | --- | --- |
| | | | | | | |
| | | | | | |
| --- | --- | --- | --- | --- | --- |
| Adcock, C.C. | Castin' My Spell | Young Guitar Slingers - CD | Antone's TMG-Ant 0049 | pr | 01 |
| Adcock, C.C. | Stealin' All Day | Lafayette Marquis - CD | Yep Roc 2040 | pr | 04 |
| Alan, Edgar & Po' Boys | Panic Button | Lenore | Rust 5053 | arr,co-wr | 63 |
| Alley & Soul Sneakers | Love Breakdown | Running Away Like A Child | Capitol 4678 | pr,arr | 78 |
| Alley & Soul Sneakers | | Love Breakdown - LP | Capitol 11913 | pr,arr | 78 |
| Alley Cats | Puddin N' Tain | | Philles 108 | arr | 62 |
| Andrea, John | Look Into My Eyes, Maria | | MGM 13423 | arr,cond | 65 |
| Anthony, Al | Force Of Love | Is It A Sin? | Downbeat 752 | arr-unc | 61 |
| Balin, Marty | Nobody But You | You Made Me Fall | Challenge 9146 | keyboards | 62 |
| Balin, Marty | I Specialize in Love | You're Alive With Love | Challenge 9156 | keyboards | 62 |
| Barrett, Ron & Buckskins | Lilli | | Magnum 715 | co-wr | 63 |
| Berry, Dorothy | The Girl Who Stopped The Duke Of Earl | I'm Determined | Little Star 111 | arr | 62 |
| Blue, David | | Stories LP | Aslyum 9001 | arr strings | 71 |
| Blue, David | Another One Like Me | Come On John | Asylum 11001 | arr strings | 72 |
| Bob B Soxx & Blue Jeans | Zip-A-Dee Doo-Dah | | Philles 107 | arr | 62 |
| Bob B Soxx & Blue Jeans | Why Do Lovers Break Each Other's Heart | | Philles 110 | arr | 63 |
| Bob B Soxx & Blue Jeans | Not TooYoung To Get Married | | Philles 113 | arr | 63 |
| Bob B Soxx & Blue Jeans | | Zip-A-Dee Doo-Dah - LP | Philles 4002 | arr some | 63 |
| Bob B Soxx & Blue Jeans | | A Christmas Gift For You - LP | Philles 4005 | arr | 63 |
| Bob B Soxx & Blue Jeans | But You Don't Love Me | Rare Masters 2 UK - LP | PSI 2307 009 | arr? | 63 |
| Bob B Soxx & Blue Jeans | The Walk | '' | " | arr? | 63 |
| Bonner, Garry | The Heart Of Juliet Jones | | Columbia 44306 | pr,arr | 67 |
| Bramlet, Delaney | Tomorrow Never Comes | Heartbreak Hotel | GNP Crescendo 328 | arr | 64 |
| Bramlet, Delaney | You Never Looked Sweeter | Genesis - LP | GNP Crescendo 2054 | arr | 71 |
| Brooks, Donnie | Gone | | Reprise 0261 | arr,cond | 64 |
| Brooks, Donnie | If I Never Get To Love You | | Reprise 0363 | arr,cond | 65 |
| Bruce & Terry | Halfway | | Sundazed CD 11052 | arr,cond | 6? |
| Buckley, Tim | Grief In My Soul | Wings | Elektra 45606 | arr strings | 66 |
| Buckley, Tim | | Tim Buckley - LP | Elektra 4004 | arr strings | 66 |
| Buckley, Tim | Aren't You The Girl | Strange Street Affair | Elektra 45612 | arr strings | 67 |
| Buckshots | Animal Duds | The Letter | Monogram 512 | arr | 62 |
| Buffalo Springfield | Expecting to Fly | | Atco 6545 | co-pr,arr | 67 |
| Burnette, Dorsey | Invisible Chains | Pebbles | Reprise 20177 | arr,cond | 63 |
| Burnette, Dorsey | One Of The Lonely | Where's The Girl? | Reprise 20208 | arr,cond | 63 |
| Burnette, Dorsey | Four For Texas | | Reprise 0246 | arr, cond | 63 |
| Caesar & Cleo | Love Is Strange | Do You Wanna Dance | Reprise 0308 | arr | 64 |
| Caesar & Cleo | Love Is Strange | Let The Good Times Roll | Reprise 0419 | arr | 65 |
| Cake | Baby That's Me | | Decca 32179 | co-wr | 67 |
| Campbell, Glen | | Southern Nights - LP | Capitol 11601 | arr some | 77 |
| Captain Beefheart | Hard Workin' Man | Coke Machine | MCA 366 | arr,co-wrA,wrB | 78 |
| Cascades | Flying On The Ground | Main Street | Smash 2101 | arr | 67 |
| Castells | Only One | Echoes In The Night | Era 3089 | arr | 62 |
| Castells | Initials | | Era 3102 | arr | 62 |
| Christie, Lou | If My Car Could Only Talk | Song Of Lita | MGM 13576 | pr,arr | 66 |
| Christie, Lou | Wild Life's In Season | | MGM 13623 | pr,arr | 66 |
| Christie, Lou | Watch Your Heart After Dark | Enlightnin'ment CD | Rhino 70246 | pr,arr | 66 |
| Cinders | The Cinnamon Cinder | C'mon Wobble | W. Bros 5326 | arr, co-wrB | 62 |
| Clark, Petula | The Cat In The Window | Fancy Dancin' Man | W. Bros 7073 | arr | 67 |
| Clayton, Marry | The Doorbell Rings | | Teldisc 501 | co-pr,arr | 63 |
| Clayton, Merry | It's In His Kiss | Magic Of Romance | Capitol 4984 | arr,cond | 63 |
| Clifford, Mike | Before I Loved Her | Shirl Girl | Cameo 381 | arr, cond, unc | 65 |
| Cloud, Bruce | I Waited | Little Spark Of Fire | Era 3101 | arr, unc | 63 |
| Cocker, Joe & Jennifer Warnes | Up Where We Belong | | Island 99996 | pr,arr,co-wr | 82 |
| Cole, Jerry | Every Window In The City | Come On Over To My Place | Capitol 5394 | arr,cond | 65 |
| Collins, Linda | I'm Crying | The Way You Like | Time 1039 | arr?,co-wrB | 61 |
| Concords | Should I Cry | | Epic 9697 | co-wr | 64 |
| Connors, Carol | Big Big Love | Two Rivers | Era 3084 | arr, unc | 62 |
| Connors, Carol | Tommy Go Away | I Wanna Know | Era 3096 | arr, unc | 62 |
| Cooperstown Volunteers Band | Salvation City | | Interlude 202 | arr,co-wr | 62 |
| Crab Creek County High School Band | Chivaree | Tell Your Story Walkin' | Old Town 1118 | arr | 62 |
| Crawford, Bobby | Mrs Smith Please Wake Up Joan | That Little OI' Lovemaker Me | Del Fi 4211 | arr-unc | 62 |
| Crazy Horse | Downtown | Crow Jane Lady | Reprise 1007 | wrB,co-pr | 71 |
| Crazy Horse | Dance Dance Dance | Carolay | Reprise 1025 | wrB,co-orc | 71 |
| Crazy Horse | Dirty Dirty | Beggar's Day | Reprise 1046 | co-pr | 71 |
| Crazy Horse | | Crazy Horse - LP | Reprise 6438 | co-pr | 71 |
| Crazy Horse | Gone Dead Train | '' | " | co-pr,co-wr | 71 |
| Crazy Horse | Outside Lookin' In | Rock And Roll Band | Epic 10925 | co-prod | 72 |
| Crazy Horse | | At Crooked Lake LP | Epic 31710 | co-prod | 72 |
| Crazy Horse | (1st LP alternate versions) | Scratchy | Rhino HM 7884 | co-prod | 05 |
| Crosby, Gary | That's Alright Baby | Who | Gregmark 11 | arr | 61 |
| Crosby, Phil | Where The Blue Of The Night | Little By Little | Reprise 20220 | arr,cond | 63 |
| Crystals | He's A Rebel | | Philles 106 | arr | 62 |
| Crystals | He's Sure The Boy I Love | | Philles 109 | arr | 62 |
| Crystals | He's Sure The Boy I Love (alternate version) | Phil Spector's Greatest Hits - LP | Warner Spector 9104 | arr | 62 |
| Crystals | Da Doo Ron Ron | | Philles 112 | arr | 63 |
| Crystals | Then He Kissed Me | | Philles 115 | arr | 63 |
| Crystals | | He's A Rebel - LP | Philles 4001 | arr some | 63 |
| Crystals | | Sing The Greatest Hits - LP | Philles 4003 | arr some | 63 |
| Crystals | | A Christmas Gift For You - LP | Philles 4005 | arr | 63 |
| Crystals | All Grown Up (alternate version) | Rare Masters UK - LP | PSI 2307 008 | arr | 63 |
| Crystals | Heartbreaker | '' | " | arr | 63 |
| Crystals | Girls Can Tell | Back To Mono box set | Abkco 71182 | arr | 63 |
| Crystals | Little Boy | | Philles 119x | arr | 64 |
| Crystals | All Grown Up | | Philles 122 | arr | 64 |
Discography D - F (Daniels, Billy - Furys, The)

| | | | | | | |
| --- | --- | --- | --- | --- | --- | --- |
| | | | | | | |
Daniels, Billy
That Old Black Magic
Woe, Woe, Woe
Liberty 55711
co-pr,arr
64
Darin, Bobby
18 Yellow Roses
Not For Me
Capitol 4970
arr,cond
63
Darin, Bobby
She Knows
Atlantic 2433
arr
66
Date With Soul
Yes Sir That's My Baby
Bee Side Soul
York 408
arr,co-pr
67
Davis, Mac
Stop And Smell The Roses
Poor Boy Boogie
Columbia 10018
arr
74
Davis, Mac
Rock & Roll
Columbia 10070
arr
74
Davis, Mac
If You Add All The Love In The World
Columbia 10111
arr
75
Day, Bobby
Another Country, Another World
l Know It All
RCA 8133
arr,cond
63
Day, Bobby
Buzz, Buzz, Buzz
Pretty Little Girl Next Door
RCA 8196
arr
63
Day, Bobby
Down On My Knees
Jole Blon (Little Darlin')
RCA 8230
wrA,arr
63
Day, Doris
Move Over Darling
Twinkle Lullaby
Columbia 42912
arr,cond
63
Day, Doris
Let The Little Girl Limbo
Move Over Darling box set
Bear Family 1580
arr,cond
63
Day, Doris
Rainbow's End
Columbia 43099
arr,cond
64
Day, Terry
That's All I Want
I Waited Too Long
Columbia 42427
arr,cond
62
Day, Terry
Be A Soldier
I Love You Betty
Columbia 42678
arr,cond
63
DeShannon, Jackie
The Prince
Liberty 55425
arr
62
DeShannon, Jackie
Just Like In The Movies
Liberty 55484
arr
62
DeShannon, Jackie
You Won't Forget Me
Liberty 55497
arr
62
DeShannon, Jackie
Needles And Pins
Did He Call Today Mama
Liberty 55563
co-wrA,arr
63
DeShannon, Jackie
Little Yellow Roses
Oh Sweet Chariot
Liberty 55602
arr
63
DeShannon, Jackie
Jackie DeShannon - LP
Liberty 3320
arr
63
DeShannon, Jackie
When You Walk In The Room
Till You Say You'll Be Mine
Liberty 55645
arr,cond
63
DeShannon, Jackie
Should I Cry
I'm Gonna Be Strong
Liberty 55673
co-wrA,arr
64
DeShannon, Jackie
Oh Boy
I'm Looking For Someone To Love
Liberty 55678
arr
64
DeShannon, Jackie
Hold Your Head High
She Don't Understand Him
Liberty 55705
arr
64
DeShannon, Jackie
He's Got The Whole World
It's Love Baby (24 Hours A Day)
Liberty 55730
arr
64
DeShannon, Jackie
Breakin' It Up On The Beatles Tour
Liberty 3390
arr
64
DeShannon, Jackie
Give Me A Break
Breakin' It Up On The Beatles Tour CD plus bonus tracks
UK RPM 302
arr
62
DeShannon, Jackie
Mean Old Frisco
"
"
arr
63
DeShannon, Jackie
Try To Forget Him
"
"
arr
6s
DeShannon, Jackie
Breakaway
What The World Needs Now... CD
EMI 7243 8 82978626
arr
64
DeShannon, Jackie
Should I Cry (alternate version)
"
"
arr,co-wr
64
DeShannon, Jackie
Be Good Baby
UK Liberty 10175
arr,co-wr
64
DeShannon, Jackie
Hellos And Goodbyes & Take Me Away
This Is Jackie DeShannon - LP
Imperial 9286
arr, unc
65
DeShannon, Jackie
some uncredited
You Won't Forget Me - LP
Imperial 9294
arr
65
DeShannon, Jackie
I Keep Wanting You
Me About You
Imperial 66281
co-wrA,pr,arr
68
DeVille, Mink
Spanish Stroll
Mixed Up Shook Up Girl
Capitol 4461
pr
77
DeVille, Mink
Little Girl
Cadillac Walk
Capitol 4510
pr
77
DeVille, Mink
Mink DeVille - LP
Capitol 11631
pr
77
DeVille, Mink
Just Your Friends
One Way Street
UK Capitol 5989
co-wrA,pr
78
DeVille, Mink
Guardian Angel
Easy Slider
Capitol 4607
pr
78
DeVille, Mink
Return To Magenta - LP
Capitol 11780
pr,arr
78
DeVille, Mink
You Better Move On
She Was Made In Heaven
Atlantic 3864
pr
81
DeVille, Mink
Maybe Tomorrow
Atlantic 3880
pr
81
DeVille, Mink
Coup De Grace - LP
Atlantic 50833
pr
81
DeVille, Willy
Miracle - LP
Raven 41
pr some
97
Dick & Dee Dee
Do I Love You
You Come Back To Haunt Me
Dot 17305
arr
69
Dino, Desi & Billy
I'm A Fool
Reprise 0367
co-arr
65
Dino, Desi & Billy
Not The Lovin Kind
Chimes Of Freedom
Reprise 0401
co-arr
65
Don & Goodtimes
I Could Be So Good To You
And It's So Good
Epic 10145
pr,arr,co-wr
67
Don & Goodtimes
So Good - LP
Epic 24311
pr/co-pr,arr/co-arr
67
Don & Goodtimes
Sweet Sweet Mama
"
"
and co-wr
67
Donner, Ral
Don't Put Your Heart In His Hand
I Wish This Night Would Never End
Reprise 20176
arr,cond
63
Drysdale, Don
One Love
Give Her Love
Reprise 20162
arr,cond
63
Entertainers
Marianne
Fuddy Duddy Walk
Catch 101
arr
63
Epps, Preston
Bongo Bongo Bongo
Hully Gully Bongo
Original Sound 9
arr,co-wr
60
Epps, Preston
Call Of The Jungle
Bongo Bongo Bongo - LP
Original Sound 5002
arr?co-wr
61
Escorts
You Can't Even Be My Friend
Itchy Coo
RCA 8228
arr,cond
63
Escorts
No City Folks Allowed
RCA 8327
arr,cond
64
Everly Brothers
June Is As Cold As December, Glitter And Gold
In Our Image LP
Reprise 1620
arr
66
Everly Brothers
Mr. Soul, In The Good Old Days
Down In The Bottom listed as Meet Me In The Bottom
Nice Guys LP
UK Magnum Force 1028
arr
84
Everly Brothers
Love With Your Heart
Chained To A Memory 1966 - 1972
Bear Family 16791
arr
06
Explosions
Like Your Love
Work With Me Annie
Imperial 66111
arr-unc
65
Fabulous Little Joe
Good Old Summertime
Lies Trouble And Love
Eden 2
arr
62
Faithfull, Marianne
Sister Morphine
Something Better
London 1022
dir pl. piano, organ
69
Fashions
Baby That's Me
Cameo 331
co-wr
64
Flamin' Groovies
Supersnazz - LP
Epic 26487
part-arr, some
69
Fleetwoods
Come Softly To Me
I'm Not Jimmy
Dolton 307
arr
65
Ford, Billy
My Girl
This Is Worth Fighting For
Reprise 0265
co-wrA,arr
64
Furys
If I Didn't Have A Dime
Dream
Liberty 55719
arr
64
Discography G - K (Gamboa, Johnny - Kottke, Leo)

| | | | | | | |
| --- | --- | --- | --- | --- | --- | --- |
| | | | | | | |
| | | | | | |
| --- | --- | --- | --- | --- | --- |
| Gamboa, Johnny | Why Lover | She's Never There | Star Revue 1003 | co-wrA, arr | 62 |
| Gas Co | Blow Your Mind | Your Time's Up | Mirwood 5501 | pr | 65 |
| Gas Company | You're All Alone | You'll Need Love | Reprise 0464 | pr,arr | 66 |
| Gas Company | Get Out Of My Life | We Need A Lot More Of Jesus | Reprise 0512 | pr | 66 |
| Gentle Soul | Tell Me Love | | Columbia 43952 | arr | 67 |
| Gentle Soul | Tell Me Love (alternate version) | | Sundazed CD 11123 | arr | 67 |
| Germs | | Lions Share - LP | Ghost O'Darb | pr some | 85 |
| Gore, Lesley | Baby That's Me | MyTown, My Guy And Me - LP | Mercury 61042 | co-wrA,pr | 65 |
| Gore, Lesley | What Am I Gonna Do With You | | Mercury 61042 | arr? | 65 |
| Gore, Lesley | Sunshine And Lollipops | It's My Party box set | Bear Family BCD 15742E1 | pr,arr | 65 |
| Gore, Lesley | What Am I Gonna Do With You (alternate version) | '' | " | pr,arr | 65 |
| Gore, Lesley | It's All In The Game | '' | '' | pr,arr | 65 |
| Gore, Lesley | Love Look Away | '' | '' | pr,arr | 65 |
| Gore, Lesley | Let It Be Me | '' | '' | pr,arr | 65 |
| Gore, Lesley | When Sunny Gets Blue | '' | '' | pr,arr | 65 |
| Gore, Lesley | No Matter What You Do | | Mercury 72513 | pr,arr | 66 |
| Gore, Lesley | Off And Running | | Mercury 72580 | cond | 66 |
| Gore, Lesley | You Sent Me Silver Bells | | Mercury 72892 | arr,cond | 69 |
| Greensleeves | Like Greensleeves | Horse Opera | Capella 502 | arr | 62 |
| Grier, Roosevelt | Fool, Fool, Fool | Since You've Been Gone | R.I.C. 102 | arr | 64 |
| Grier, Roosevelt | In My Tenement | Down So Long | R.I.C. 112 | arr | 64 |
| Grier, Roosevelt | | Soul City - LP | R.I.C. 1008 | arr | 64 |
| Griffin, Jimmy | What Kind Of Girl Are You | A Little Like Lovin' You | Reprise 20161 | arr,cond | 63 |
| Griffin, Jimmy | Summer Holiday | Love Letters In The Sand | Reprise 20178 | arr, cond | 63 |
| Griffin, Jimmy | Marie Is Moving | Little Miss Cool | Reprise 20221 | arr | 63 |
| Griffin, Jimmy | | Summer Holiday - LP | Reprise 6091 | arr | 63 |
| Griffin, Jimmy | | My Baby Made Me Cry | Reprise 0268 | arr | 64 |
| Grimes, Tammy | I Can't Remember Ever Loving You | On Vine Street - The Early Songs Of Randy Newman | Ace Records CD 1185 | pr,arr | 66 |
| Grimes, Tammy | Nobody Needs Your Love More Than I Do | The Big Hurt | Reprise 0487 | pr,arr | 66 |
| Hale & Hushabyes | Yes Sir That's My Baby | 900 Quetzals | Apogee 104 | arr,co-pr | 64 |
| Hale & Hushabyes | Yes Sir That's My Baby | Jack's Theme | Reprise 0299 | wrB,arr,co-pr | 64 |
| Hall, Dora | I Don't Want Your Kisses | Hoochi-Koochi | Premere 161 | arr | 63 |
| Hank & Dean | Old Devil Moon | And They Did | RCA 8109 | arr,cond | 62 |
| Hannibal | The Biggest Cry | I Need A Woman ('Cause I'm AMan) | Sue 751 | arr,wr | 61 |
| Harpers Bizarre | | 4 - LP set | W.Bros 4704 | arr some | 69 |
| Harris, Thurston | Dance On Little Girl | Dancing Silhouettes | Reprise 0255 | arr,cond | 64 |
| Hart, Judy | That's Enough | Didn't He Ramble | Staccatto 101 | pr,co-wrA | 61 |
| Hazlewood & Hokom | I'll Never Fall In Love Again | Reason To Believe | LHI 14 | arr | 69 |
| Hazlewood & Hokom | Califia (Stone Rider) | " | LHI 21 | pr,arr | 69 |
| Henske, Judy | | The Death Defying - LP | Reprise 6203 | pr,arr | 66 |
| Henske, Judy | Bye-Bye Blackbird | Let The Good Times Roll | Reprise 0458 | pr,arr | 66 |
| Henske, Judy | Let the Good Times Roll | Phil's Spectre Vol.3 | Ace Records CD 1149 | pr,arr | 66 |
| Henske, Judy | Road To Nowhere | Sing A Rainbow | Reprise 0485 | pr,arr | 66 |
| Henske, Judy | Dolphins In The Sea | | Reprise 0567 | pr,arr | 67 |
| Hiatt, John | | Living A Little Laughing CD | Raven 50 | pr some | 96 |
| Hill, Joel | I Ran | Secret Love | Monogram 510 | arr | 63 |
| Hodges, Eddie | Secret | Seein' Is Believin' | Columbia 42649 | arr,cond | 62 |
| Hodges, Eddie | Too Soon To Know | | Columbia 42697 | arr,cond | 63 |
| Hodges, Eddie | Halfway | | Columbia 62811 | arr,cond | 63 |
| Hodges, Eddie | Love Minus Zero/No Limit | The Water Is Over My Head | Aurora 156 | arr,cond | 65 |
| Hodges, Eddie | The Old Rag Man | | Aurora 161 | arr,cond | 65 |
| Hokom, Suzi Jane | Same Old Songs | Alone | LHI 19 | arr | 69 |
| Hondas | Twelve Feet High | Send It | Eden 4 | arr | 62 |
| Honey Ltd | Louie Louie | Louie Louie alt | LHI 1216 | arr, cond | 68 |
| Honeys | From Jimmy With Tears | | Capitol 5093 | arr | 63 |
| Honeys | Raindrops | Capitol Collectors Series CD | Capitol 7931932 | arr | 63 |
| Horton, Jamie | Only Forever | | Joy 266 | arr,cond | 62 |
| Horton, Jamie | Oh Love (Stop Knockin' On My... | Go Shout It From A Mountain | Joy 269 | co-wrB,arr,cond | 62 |
| Howard, Vince & Vinetes | The Wayward Wind | Return To Me | Big R 2000 | arr | 63 |
| Inoue, Yousui | Nishoku NoKoma | Nishoku No Koma - LP | JP Poly 5050 | arr,piano | 74 |
| Jagger, Mick | Memo From Turner | Natural Magic | UK Decca 13067 | wrB,pr,arr | 70 |
| James Gang | Ashes The Rain And I | Rides Again - LP | ABC 711 | arr strings | 70 |
| James, Peter | You Won't Forget Me | | Reprise 0357 | arr,cond | 65 |
| Jason, Bobby | Venus | | Chancellor 1201 | arr | 67 |
| Jones, Toni | Dear (Here Comes My Baby) | Love Is Strange | Smash 1814 | arr | 63 |
| King, Carole | Rulers Of The World | | Capitol 4864 | arr | 80 |
| King, Ramona | Oriental Garden | Soul-Mate | Eden 3 | arr | 62 |
| King, Ramona | What About You | Mind Reader | Eden 5 | arr | 63 |
| King, Ramona | Ballyhoo | I Wanna Dance | Eden 6 | arr | 63 |
| Kottke, Leo | | Leo Kottke - LP | Chrysalis 1106 | arr | 77 |
Discography L - N (Laine, Frankie - Northcott, Tom)

| | | | | | | |
| --- | --- | --- | --- | --- | --- | --- |
| | | | | | | |
Laine, Frankie
Don't Make My Baby Blue
Columbia 42767
arr,cond
63
Laine, Frankie
I'm Gonna Be Strong
Take Her
Columbia 42884
arr,cond
63
Lee-Anne
Never
Ann 1001
arr-unc
63
Lewis, Gary & Playboys
Jill
Liberty 55985
arr,cond
67
Lewis, Gary & Playboys
New Directions - LP
Liberty LST 7519
ar some
67
Lewis, Gary & Playboys
Has She Got The Nice Eyes
Happiness
Liberty 56011
arr,cond
67
Lewis, Gary & Playboys
Listen - LP
Liberty LST 7524
arr,cond
67
Life Guards
Swimtime U.S.A.
Swim Party
Reprise 0277
arr
64
Lind, Bob
Elusive Butterfly
Cheryl's Goin' Home
World Pacific 77808
pr,arr
66
Lind, Bob
Remember The Rain
Truly Julie's Blues
World Pacific 77822
pr,arr
66
Lind, Bob
I Just Let It Take Me
We've Never Spoken
World Pacific 77830
pr,arr
66
Lind, Bob
San Franciscan Woman
Oh Babe Take Me Home
World Pacific 77834
pr,arr
66
Lind, Bob
Don't Be Concerned - LP
World Pacific 841
pr,arr
66
Lind, Bob
I Can't Walk Roads Of Anger (alternate version)
The Best Of Bob Lind CD
EMI 0777895
pr,arr
66
Lind, Bob
Photographs Of Feelings - LP
World Pacific 1851
pr,arr
66
Loren, Donna
Challenge
arr
60s
Loren, Donna
Call Me
Capitol 5548
arr,cond
65
Loren, Donna
Woman In Love (With You)
Hard Workin' Man CD
Ace Records CD 1130
arr & cond
65
Loren, Donna
That's The Boy
Glitter And Gold - Words And Music by Barry Mann and Cynthia Weil
Ace Records CD 1130
arr & cond
65
Lory, Dick
Crazy Arms
There's Gonna Be A Fight
Liberty 55600
arr,cond
63
Love, Darlene
(Today I Met) The Boy I'm Gonna Marry
My Heart Beat A Little Bit Faster
Philles 111
arr
63
Love, Darlene
Wait Til' My Bobby Gets Home
Philles 114
arr
63
Love, Darlene
A Fine Fine Boy
Philles 117
arr
63
Love, Darlene
Christmas (Baby Please Come Home)
Philles 119
arr
63
Love, Darlene
A Christmas Gift For You - LP
Philles 4005
arr
63
Love, Darlene
Chapel Of Love
Back To Mono box set
Abkco 7118 2
arr
63
Love, Darlene
Stumble And Fall
(He's A) Quiet Guy
Philles 123
arr
64
Love, Darlene
Christmas (Baby Please Come Home)
Winter Wonderland
Philles 125
arr
64
Love, Darlene
Run Run Runaway
Rare Masters UK - LP
PSI 2307 008
arr
64
Love, Darlene
Strange Love
''
"
arr
64
Love, Darlene
A Long Way To Be Happy
Rare Masters 2 UK - LP
PSI 2307 009
arr
64
Love, Darlene
Johnny (Baby Please Come Home)
''
"
arr
64
Love, Darlene
Let Him Walk Away
So Much Love - A Darlene Love Anthology
Ace Records CD 1169
pr, arr, co-wr
63
Lyman, Joni
I Just Don't Know What To Do With Myself
Happy Birthday Blue
Reprise 0378
pr,arr
65
Lynn, Kari
Summer Day
Yo-Yo!
Auburn 601
arr-unc
61
Lynn, Sammi
You Should Know I'm Still Your Baby
Blue Butterfly
Staccato 101
co-wrB,arr
61
Lynn, Sammi
I Could Have Loved You
Down On Your Knees
Sue 762
pr-unc,wr
62
Mariachi Brass
Flowers On The Wall
Tequila
World Pacific 77815
arr
66
Mariachi Brass
A Taste Of Tequila - LP
World Pacific 1839
arr
66
Mariachi Brass
Hats Off - LP
World Pacific 1842
arr some
66
Mariachi Brass
La Bamba
World Pacific 77853
arr
66
Marie, Celia
Walk With Me
Please Don't Let Go
Era 3090
arr
62
Marketts
Miami's Blue
Napoleon's Solo
W. Bros 5641
arr
65
Marketts
Ready, Steady, Go
Lady In The Cage
W. Bros 5670
arr, wrB
65
Martin, Gail
Theme From "The Sand Pebbles"
(And We Were Lovers)
Let's Not Take The Lovin' Out Of Love
Reprise 0556
arr
67
Martin, Gail
After Loving You
Reprise 0585
arr
67
Martinez, Val
Someone's Gonna Cry
They
RCA 8140
arr,cond
63
Martini, Bernardo
Ghost Town
Silver Town
Philips 40090
arr,cond
63
McDaniels, Gene
Walk With A Winner
Liberty 55805
arr
65
McFall, Orphelia
He's Never There
Saturn 403
co-wr
60s
McKuen, Rod
Some Trust In Chariots
RCA 8839
arr,cond
65
McKuen, Rod
The Loner
The Loner - LP
RCA 3508
arr,cond some
66
Michaels, Danny
Everyone's Gone To The Moon
Hands
LHI 16
arr
69
Mitchell, Guy
If You Ever Go Away
Joy 270
arr,cond
62
Mitchell, Guy
Have I Told You Lately That I...
Blue Violet
Joy 273
arr,cond
62
Modern Folk Quartet
This Could Be The Night
Rare Masters 2 UK - LP
PSI 2307 009
arr
65
Modern Folk Quintet
Night Time Girl
Lifetime
Dunhill 4025
pr,arr
66
Moments
Walk Right In (vocal)
Walk Right In (instrumental)
Era 3099
arr,cond
63
Moments
Homework
Big Round Wheel
Era 3104
arr
63
Monkees
Porpoise Song
As We Go Along
Colgems 1031
arr
68
Monte, Christopher
Giants Of Bombora
My Paradise
Dolton 84
arr
63
Nagle, Ron
Bad Rice - LP
W. Bros 1902
arr,cond some
67
Nelson, Rick
Another Side Of Rick - LP
Decca 4944
arr,cond some
67
Nelson, Rick
It Hasn't Happened Yet
Capitol 4974
pr
81
Nelson, Rick
Playing to Win - LP
Capitol 12109
pr
81
Neville Brothers
Neville Brothers - LP
Capitol 11865
pr
78
Neville Brothers
Speed Of Light
If It Takes All Night
Capitol 4688
pr
79
New Society
Do Not Ask For Love
Buttermilk
RCA 8807
co-pr
66
New Society
Of You
The Barock Sound - LP
RCA 3676
arr
66
Newman, Randy
Gone Dead Train
Harry Flowers
Reprise 0945
co-wrA,wrB,pr
70
Newman, Randy
Let's Burn Down The Cornfield
12 Songs - LP
Reprise 6373
co-pr
70
Nitzsche, Jack
The Lonely Surfer
Song For A Summer Night
Reprise 20202
co-wrA
63
Nitzsche, Jack
Rumble
Theme For A Broken Heart
Reprise20225
co-wrB
63
Nitzsche, Jack
The Lonely Surfer - LP
Reprise 6101
arr
63
Nitzsche, Jack
Old Town
''
"
co-wr
63
Nitzsche, Jack
The Last Race
The Man With The Golden Arm
Reprise 0262
wrA
64
Nitzsche, Jack
Theme From The Long Ships
Zapata
Reprise 0285
arr
64
Nitzsche, Jack
Dance To The Hits Of The Beatles - LP
Reprise 6115
arr
64
Nitzsche, Jack
My Bonnie
"
"
wr!
64
Nitzsche, Jack
Ringo
''
"
wr
64
Nitzsche, Jack
Beatle-Mania
''
"
wr
64
Nitzsche, Jack
Night Walker
Green Grass Of Texas
Reprise 0337
arr
65
Nitzsche, Jack
Senorita From Detroit
Puerto Vallarta
Reprise 0364
pr,arr,co-wr
65
Nitzsche, Jack
African Waltz
Gringo
Reprise 0417
65
Nitzsche, Jack
Chopin '66 - LP
Reprise 6200
arr
66
Nitzsche, Jack
Surf Finger
Hard Workin' Man CD
Ace Records CD 1130
pr,arr,co-wr
66
Nitzsche, Jack
St Giles Cripplegate - LP
Reprise 2092
pr,arr
72
Nitzsche, Jack
One Flew Over The Cuckoo's Nest
The Last Dance
Fantasy 760
wr,arr
76
Nitzsche, Jack & Hazard, Richard
You Are My Tomorrow's, Today (from the movie Heroes)
Bus Stop Affair
MCA 1969
co-wrA, arr
76
Nitzsche, Jack
Three Piece Suite CD
Rhino HM 787
pr,arr,wr
01
Northcott, Tom
Cities Make The Country...
The Rainmaker
W. Bros 7330
arr
69
Norman, Jimmy
True Love (For Ever More)
Good Sound 106
co-wr
61
Northcott, Tom
Best Of - LP
New Syndicate 1859
arr some
69
Discography o - R (O'Connor, Emil - Round Robin)

| | | | | | | |
| --- | --- | --- | --- | --- | --- | --- |
| | | | | | | |
O'Connor, Emil
There's A Time
Some Of Your Lovin'
Columbia 42617
arr
63
O'Hara, Charlotte
What About You
Ava 126
arr
63
O'Jays
That's Enough
Imperial 5976
co-wr
63
Palace Guard
All Night Long
Playgirl
Orange Empire 33
arr
65
Paris Sisters
Dream Lover
Lonely Girl
MGM 23236
dir, arr, unc
64
Paris Sisters
Always Waitin'
Why Do I Take It From You
Mercury 72468
arr, unc
65
Paris Sisters
Sincerely
Too Good To Be True
Reprise 0440
co-pr
65
Paris Sisters
I'm Me
You
Reprise 0472
co-pr
66
Paris Sisters
It's My Party
My Good Friend
Reprise 0511
co-pr
66
Paris Sisters
Some Of Your Lovin'
Long After Tonight Is All Over
Reprise 0548
co-pr
67
Paris Sisters
Sing Everything Under The Sun - LP
Reprise 6259
co-pr
67
Parker, Graham
Local Girls
I Want You Back
Arista 0420
pr
79
Parker, Graham
Squeezing Out Sparks - LP
Arista 4223
pr
79
Petty, Tom
& Heartbreakers
Southern Accents - LP
MCA 3260
arr strings
85
Phillips, Michelle
Victim of Romance
Lady Of Fantasy
A & M 2021
pr,arr
77
Phillips, Michelle
Victim Of Romance - LP
A & M 4651
pr,arr
77
Pleasures
Music City
If I Had A Little Money
Catch 100
arr
64
Powdrill, Pat
I Only Came To Dance With You
Fell By The Wayside
Reprise 20166
arr
63
Powdrill, Pat
Happy Anniversary
I Forgot More Than You'll...
Reprise 20204
arr
63
Proby, P.J.
So Do I
I Can't Take It Like You Can
Liberty 55588
arr,cond
63
Proby, P.J.
I Can't Make It Alone
Liberty 55916
pr,arr
66
Proby, P.J.
I Can't Make It Alone
Sweet Summer Wine
UK Liberty 10250
co-wrB,pr,arr
66
Proby, P.J.
You Make Me Feel Like Someone
Enigma - LP
Liberty 83032
pr,arr
67
Prophet, Johnny
The Test Of Time
Buona Notte Bambino
Reprise 20214
arr
63
Randi, Don
Spanish Harlem
Follow Me
Palomar 2201
arr
63
Randi, Don
Mexican Pearls
I Don't Wanna Be Kissed
Palomar 2203
arr
64
Randi, Don
Mexican Sunset
Baby, You Don't Understand Nothin'
Palomar 2210
arr
64
Randi, Don
The Exciting Piano Of Don Randi - LP
Palomar 24002
arr
64
Ray, Tony
Here Comes School Again
Lonely Weekends
Dot 17301
arr
69
Regents
When I Die Don't You Cry
She's Got Her Own Way...
Reprise 0430
pr,arr
65
Revere, Paul & Raiders
Ups And Downs
Columbia 44018
sco horns
67
Rickett, Nooney
A Man Needs Love
Hard Workin' Man CD
Ace Records CD 1130
pr,arrsco horns
66
Righteous Brothers
Try To Find Another Man
I Still Love You
Moonglow 231
pr,arr
64
Righteous Brothers
You Can Have Her
Love Or Magic
Moonglow 239
prA,arrA
64
Righteous Brothers
Burn On Love
This Is New - LP
Moonglow l003
co-wr
64
Righteous Brothers
Just Once In My Life
Philles 127
arr
65
Righteous Brothers
Hung On You
Philles 129
arr
65
Righteous Brothers
(I Love You ) For Sentimental Reasons
Philles 130
arr
65
Rip Chords
Here I Stand
Columbia 42687
arr,cond
63
Robins
Just Like That
Arvee 5001
co-wr
60
Robinson, Mark
I've Made Enough Mistakes Today
Can't Let Her See Me Cry
Sylvester 10000
arr, cond
62
Rolling Stones
12 x 5 - LP
London 402
?
64
Rolling Stones
Down Home Girl
The Rolling Stones Now - LP
London 420
piano
65
Rolling Stones
Pain In My Heart
"
"
Nitzschephone
65
Rolling Stones
Out Of Our Heads UK - LP
Decca 4733
piano/organ on some
65
Rolling Stones
December's Children - LP
London 451
?
65
Rolling Stones
Aftermath UK - LP
UK Decca 4786
piano/organ on some
66
Rolling Stones
Have You Seen Your Mother...
London 903
arr vocals?
66
Rolling Stones
Flowers - LP
London 509
?
67
Rolling Stones
Between The Buttons - LP
London PS 499
?
67
Rolling Stones
You Can't Always Get What You Want
London 910
arr vocals
69
Rolling Stones
Let It Bleed - LP
London NPS 4
?
69
Rolling Stones
Sister Morphine
Sticky Fingers
Rolling Stone 59100
piano
71
Rolling Stones
Sister Morphine
Sticky Fingers
Rolling Stone 59100
piano
71
Rolling Stones
Indian Girl
Emotional Rescue
Rolling Stone 39111
arr horns
80
Ronettes
Be My Baby
Philles 116
arr
63
Ronettes
Baby, I Love You
Philles 118
arr
63
Ronettes
(The Best Part Of) Breakin' Up
Philles 120
arr
64
Ronettes
Do I Love You
Philles 121
arr
64
Ronettes
Walking In The Rain
How Does It Feel
Philles 123
arr
64
Ronettes
Born To Be Together
-
Philles 126
arr
65
Ronettes
Is This What I Get For Loving You?
-
Philles 128
arr
65
Ronettes
When I Saw You
-
Philles 133
arr
66
Ronettes
A Christmas Gift For You - LP
Philles 4005
arr
63
Ronettes
-
Presenting The Fabulous - LP
Philles 4006
arr most
64
Ronettes
Paradise
Rare Masters UK - LP
PSI 2307 008
arr
65
Ronettes
Soldier Baby Of Mine
''
"
arr
64
Ronettes (credited Crystals)
Girls Can Tell
''
''
arr
63
Ronettes
(I'm A) Woman In Love
''
''
arr
64
Ronettes
Keep On Dancing
''
"
arr
64
Ronettes
Here I Sit
''
''
arr
65
Ronettes
Keep On Dancing
Back To Mono box set CD
Abkco 7118-2
arr
64
Rose, David
The Blowup
Capitol 5837
co-wr
67
Ross
The Pit And The Pendulum - LP
RSO 4802
orc, strings
74
Round Robin
Kick That Little Foot Sally Ann
Domain 1404
arr
64
Discography S - Y (Sainte-Marie, Buffy - Yuro, Timi)

| | | | | | | |
| --- | --- | --- | --- | --- | --- | --- |
| | | | | | | |
| | | | | | |
| --- | --- | --- | --- | --- | --- |
| Sainte-Marie, Buffy | | She Used To Wanna Be A Ballerina - LP | Vanguard 711 | co-pr | 70 |
| Sainte-Marie, Buffy | Soldier Blue | Until It's Time For You To Go | Vanguard 35116 | co-pr | 70 |
| Sainte-Marie, Buffy | Moratorium | She Used To Wanna Be A Ballerina | Vanguard 35127 | co-pr,arrB | 70 |
| Sainte-Marie, Buffy | Now You've Been Gone A Long Time | Helpless | Vanguard 35135 | co-pr,arrB | 71 |
| Sales, Soupy | Hilly Billy Ding Dong | And That's A Shame | Reprise 20189 | arr | 63 |
| Sales, Soupy | Santa Claus Is Surfin' To Town | Santa Claus Is Comin' To Town | Reprise 20244 | pr, arr | 63 |
| Satisfactions | Daddy You Just Gotta Let Him In | Bring It All Down | Imperial 66170 | pr,arr | 66 |
| Satisfactions | Baby I'm So Glad It Rained | Hard Workin' Man CD | Ace Records CD 1130 | pr,arr&cond | 66 |
| Satisfactions | I Didn't Have Any Summer Romance | Goffin & King Song collection | Ace Records CD 1170 | pr,arr | 66 |
| Satisfactions | Yes Sir That's My Baby | Phil's Spectre Vol.3 | Ace Records CD 1149 | pr,arr | 66 |
| Satisfactions | Woman In Love (With You) | Where The Girls Are Vol.7 | Ace Records CD 1218 | pr,arr | 66 |
| Sinners | Nightmare | Could This Be Love | Eden 1 | arr,cond | 62 |
| Smith, Keely | No One Ever Tells You | Look Again | Reprise 20211 | arr,cond | 63 |
| Spector, Phil & Artists | Silent Night | A Christmas Gift For You - LP | Philles 4005 | arr | 63 |
| Stafford, Terry | A Little Bit Better | Hoping | Crusader 110 | arr | 64 |
| Starr, Ringo | Photograph | | Apple 1865 | arr | 73 |
| Starr Sisters | All Because Of You | Ready For A Change | U.A. 569 | arr-unc | 63 |
| Stevens, April | Why Can't A Boy & Girl Just Stay In Love | Rare Masters UK - LP | PS1 2307 008 | arr | 63 |
| Stevens, Dodie | Does Goodnight Mean Goodbye | | Dolton 88 | arr | 63 |
| Stone, Albert | Somebody's Taken Maria Away | Don't Believe Him Donna | Reprise 0404 | pr,arr | 65 |
| Stone, Daniel | Stay In My Heart | Catch Me | Smash 1757 | arr | 62 |
| Stone, Daniel A | Little Miss Cool | It Must Be Raining | Capitol 4590 | arr | 61 |
| Stone, Daniel A | Young Boy Blues | Phil's Spectre Vol.3 | Ace Records CD 1149 | arr | 65 |
| Storm, Billy | I Can't Help It | Educated Fool | Infinity 023 | arr,cond | 62 |
| Storm, Johnny | Buckets Of Tears | Stay In My Heart | Staccato 1002 | arr | 61 |
| Streisand, Barbra | | Streisand Superman - LP | Columbia 34830 | arr some | 77 |
| Summers, Davey | Calling All Cars | The Good Ship Love | Vim 101 | arr | 63 |
| Sumner | | Sumner - LP | Elektra 267 | pr | 80 |
| Tempo, Nino & April | Whispering | | Atco 6281 | arr-unc | 63 |
| Tempo, Nino & April | Stardust | | Atco 6286 | arr-unc | 64 |
| Them | Lonely Weekends | I Am Waiting | Happy Tiger 525 | arr | 69 |
| Them | | Them - LP | Happy Tiger | arr some | 69 |
| Tillison, Roger | Nobody's Lover | | World Pacific 77856 | arr | 65 |
| Timers | No Go Showboat | Competion Coupe | Reprise 231 | part arr | 63 |
| Townsend, Sherrell | He Thinks I Still Care | Glass Of Tears | Gone 5135 | wrB,arr,cond | 62 |
| Treasures | Hold Me Tight | | Shirley 500 | arr | 64 |
| Tubes | Don't Touch Me There | | A & M 1826 | arr | 76 |
| Turner, Ike & Tina | River Deep - Mountain High | | Philles 131 | arr | 66 |
| Turner, Ike & Tina | I'll Never Need More Than This | | Philles 135 | arr | 67 |
| Turner, Ike & Tina | | River Deep - Mountain High - LP | Philles 4011 | ar some | 67 |
| Turtles | She'd Rather Be With Me | | White Whale 249 | arr horns | 67 |
| Turtles | You Know What I Mean | | White Whale 254 | arr strings | 67 |
| Twilley, Dwight | Somebody to Love | The Great Lost Twilley - LP | DCC 8020 | pr | 93 |
| Van Valkenburgh, Deborah | Dangerous Strangers | Where Do I Fit In | Casablanca 2333 | pr | 81 |
| Vee, Bobby | Run Like The Devil | Take A Look Around Me | Liberty 55828 | arr | 65 |
| Vee, Bobby | Like Someone In Love | Hard Workin' Man CD | Ace Records CD 1130 | arr & cond | 66 |
| Venet Orchestra, Nick | Mr. Novak (Part 1) | Mr. Novak (Part 2) | MGM | arr | 64 |
| Veronica | So Young | | Phil Spector l | arr | 64 |
| Veronica | Why Don't They Let Us Fall In Love | | Phil Spector 2 | arr | 64 |
| Verros, Karen | You Just Gotta Know My Mind | Karen's Theme | Dot 16780 | arr,cond | 65 |
| Verros, Karen | Little Boy | I Can't Remember Ever... | Dot 16815 | arr,cond | 65 |
| Vincent, James | Drifting Into Love | Song For Jayme | Caribou 9016 | arr | 76 |
| Vincent, James | | Space Travler - LP | Caribou 34237 | arr most | 76 |
| Vincent, James | Space Traveller | Walking On Higher Ground | Caribou 9019 | arr | 77 |
| Vulcanes | My Heart Won't Believe It | Poison Ivy | Capitol 5423 | arr | 64 |
| Vulcanes | My Heart Won't Believe It & Poison Ivy | alt. vers. Rare Surf CD | ATM 3836-AH | arr | 64 |
| Walker Brothers | Love Her | The Seventh Dawn | Smash 1976 | arr | 65 |
| Welch, Bob | | Man Overboard - LP | Capitol 16269 | orc | 80 |
| Westwoods | I Miss My Surfer Boy Too | Will You Love Me | A & M 763 | co-arr | 64 |
| What Four | Anything For A Laugh | Baby Can't You Hear Me Call Your Name | Capitol 5449 | arr,cond | 64 |
| Wildcats | What Are We Gonna Do In '64? | 3625 Groovy Street | Reprise 0253 | co-pr | 64 |
| Williams, Tony & Life | | Million Dollar Legs LP | Columbia 34263 | ar horns & strings | 76 |
| Wonder, Stevie | Castles In The Sand | | Tamla 54090 | arr-unc | 64 |
| Yanovsky, Zalman | As Long As You're Here | Ereh Er'ouy Sa Gnol Sa | Buddah 12 | pr,arr | 67 |
| Yolanda & Castanets | What About Me | Meet Me After School | Tandem 7002 | arr | 61 |
| Yolanda & Charmanes | There Oughta Be A Law | Hootchy Cootchy Girl | Smash 1777 | arr-unc | 62 |
| Young Jessie | I'm A Lovin' Man | Too Fine For Cryin' | Mercury 72104 | arr,cond | 62 |
| Young Jessie | You Were Meant For Me | Mary Lou | Mercury 72146 | arr | 63 |
| Young, Kathy | I'll Love That Man | (Hey There) Dreamboy | Monogram 506 | arr | 62 |
| Young, Neil | String Quartet From Whiskey | Neil Young - LP | Reprise 6317 | pr,arr,wr | 69 |
| Young, Neil | | After The Gold Rush - LP | Reprise 6383 | piano | 70 |
| Young, Neil/Crazy Horse | | Live at the Filmore East - March 6 & 7, 1970 - CD | Reprise 9362-44429-2 | electric piano | 06 |
| Young, Neil | A Man Needs A Maid | Harvest - LP | Reprise 2032 | pr,arr | 72 |
| Young, Neil | There's A World | '' | '' | pr,arr | 72 |
| Young, Neil & Graham Nash | War Song | | Reprise 1099 | keyboards? | 72 |
| Young, Neil | | Time Fades Away - LP | Reprise 2151 | guitar,keyboards | 73 |
| Young, Neil | The Last Train To Tulsa | | Reprise 1184 | keyboards? | 72 |
| Young, Neil | | Tonight's The Night - LP | Reprise 2221 | guitar,keyboards | 75 |
| Young, Neil/Crazy Horse | | Life - LP | Geffen 24154 | pr some | 87 |
| Young, Neil | | Harvest Moon - LP | Reprise 45057 | arr some | 92 |
| Young, Neil | | Neil Young Archives Vol.1 (1963-1972) | Reprise 515697 | pr, arr, piano some | 09 |
| Yuro, Timi | You Can Have Him | Could This Be Magic | Mercury 72391 | arr,cond | 65 |
| Yuro, Timi | Teardrops 'Till Dawn | | Mercury 72478 | arr | 65 |
Key to abbreviations:

A: A-side
B: B-side
pr: produced
co-pr: co-produced
arr: arranged
co-arr: co-arranged
sco: scored
wr: written
co-wr: co-written
cond: conducted
orc: orchestrated
co-orc: co-orchestrated
unc: uncredited
?: unconfirmed
Compiled by Martin Roberts