Previous ROTW.... What you've missed! An archive of the ROTW's review and label scan. (part 3)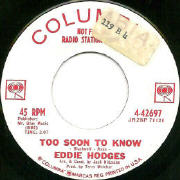 Ten-year-old Eddie Hodges featured in "The Music Man" on Broadway in 1957 and for a decade he remained in the public eye. For those interested, A Tribute To Eddie Hodges documents his film appearances, kinda cute.
As a rule, precocious children and recorded music should be kept at a distance. However, my being born in Britain, the name Eddie Hodges didn't strike the same fear that I assume the perpetually grinning, freckled-faced, child actor did with my American cousins. My introduction was via "The Water Is Over My Head" on Stateside, the UK release of the original on Aurora. I was bowled over.
His first two 45s on Decca are best avoided. Three charting 45s for the Cadence label followed, pretty good novelty-styled rock 'n' rollers. In mid-62 the emphasis switched; gone was the singing kiddie actor, he was now a matinee idol and promoted as a teen star. Signed to Columbia for three 45s, produced and arranged by the new kids on the block, Terry Melcher and Jack Nitzsche. "Seein' Is Believin'" has already been played. "Too Soon To Know" showcases the vitality these young guns brought to the studio, the Columbia sides come recommended.
Two child stars on one disc is far too risky so I've resisted the temptation to sample Eddie and Hayley Mills' duet on Vista from '63. Next up, an old-fashioned sounding single for MGM crept out unnoticed in '64. Eventually, in '65, Eddie musically hit the big time with eight fab slices of pop/rock for Aurora.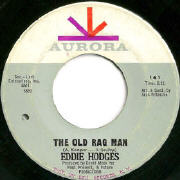 "The Old Rag Man" was the song chosen as Eddie Hodges' follow-up to "The Water Is Over My Head". Although it shares the same credits, it lacks some of the magic of the earlier release. It's a strong tune and vocal, the thought-provoking lyrics reflecting the period of social conscience. The times they really were a-changin'!
This release effectively marked not only the end of Eddie's recording career but also the 'Brill-Building' style of music making. There were still pretty boys (and girls) having songs written for them but the process seemed more cynical, the earlier innocence expelled. The expectation of the innocents had also changed in that most of the groups/vocalists wanted to write and perform their own songs, as did many of the writers. Two of the 'innocents' behind "Water.." & "Old Rag Man", Jack Nitzsche and Al Kooper, went on to even greater artistic triumphs but, sadly, without the public acclaim awarded to Eddie. Funny old game init!
Hodges featured in a late '67 beach-movie "C'mon Let's Live A Little" and had "Let's Go Go", a fair rocker, included on the soundtrack LP. One final 45 I've not been able to date came out on Sunburst, with his final film role as a delivery boy, in Elvis' "Live A Little, Love A Little".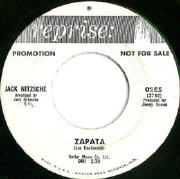 The four previous sides in the Lee Hazlewood season date from the early sixties, with Jack very much a junior partner. In 1965 his stature had grown considerably. His reputation, in particular via his work with Phil Spector and The Rolling Stones, was high in the business. Even the record-buying public knew the name via his Top Forty hit, "The Lonely Surfer". As strong a tune as "Zapata" is, I have a feeeling that Jack recorded Lee's composition as a small (very small as it turned out, not many copies were sold) thank you to Hazlewood. Not dissimilar to the way Jack had commissioned Al Hazan to pen a track for "The Lonely Surfer" LP.
Be that as it may, "Zapata" sure is a fine side, reflecting Jack's cine-reel rather than rock-n-reel based approach to instrumentals. Although an easy subject, a Texas based Western movie (and/or Lee's moustache), it's the kind of track that should be heard pounding from the cinema speakers. Close your eyes, turn up the volume and there is the baddie coming into view. No words, no pictures just a kaleidoscope of imagery in sound.
It's a fitting track to end this Lee Hazlewood season. There will be more to follow.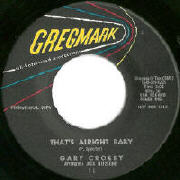 With the release of "That's Alright Baby" I can imagine Gary Crosby had high hopes that finally his turn in the spotlight had come. Firstly, Gary had left the stuffy environment of Decca and was signed to a new record label, Gregmark, currently enjoying chart success with Gary's former recording partners, The Paris Sisters. Secondly, producer Lee Hazlewood was taking care of business with Lester Sill. An up and coming arranger, Jack Nitzsche, was mixing it with the musicians, whilst the song itself was written by young man who was building a mighty reputation, Phil Spector. Only problem despite some interesting touches, for instance the drum sound, this is a rather average rock n roll record. Kell Osbourne released a better version of this song, arranged by Phil, a few months earlier on another Sill-Hazlewood record label, Trey.
Five years later Gary released another 45 this time for Hickory, "Town Girl" not a bad record co-written and produced by Dorsey Burnette but again it resulted in a lack of chart action. Gary, however, was to achieve fame or more precisely notoriety with the publication in 1983 of his book, "Going My Own Way" detailing years of emotional and physical abuse at the hands of his father.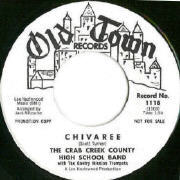 I might have missed one or two, but Jack Nitzsche worked for Lee Hazlewood on at least eight record labels. Five were owned or co-owned by Lee, Sylvester, Gregmark, Eden, Tandem and LHI. Two were larger, mainstream companies, namely Smash, who were very active on the West Coast, and Reprise where both Lee and Jack worked extensively. But you could have bowled me over when I found the pair had a record released on Hy Weiss's legendary New York-based Old Town record label.
The Crab Creek County High School Band (whoever they were) had their 45, "Chivaree" and "Tell Your Story Walkin'", both instrumentals, released on Old Town 1118 in '62. It should not come as a surprise that you won't find these on any of Old Town's many splendid doo-wop and blues compilations. The record, however, is deserving of a wider audience. A trumpet-led marching tune, it's quite infectious.
The writer of both sides is Scott Turner who had much success as a musician, writer, producer and publisher. He is also known for being the first to record Harry Nilsson. These 1962 demo tracks were later released as "Hollywood Dreamer".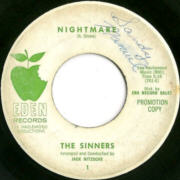 Continuing the 'Lee Hazlewood and Jack Nitzsche Season', sorry, did I forget to mention this feature last week? The record under review is The Sinners "Nightmare" (Eden 1). Rob Santos, a year or two ago, made me aware of the record and I finally found my own copy only recently. All the Eden releases are good but hard to find. This is a fabulous slice of Coasters influenced doowop and soul. Written, and I assume sung, by a vocalist I've afforded plenty of praise and space on the site, Albert Stone.
During Ken Barnes BOMP! interview the only Eden 45 mentioned was Ramona King's wonderful "Oriental Garden" (Eden 3). Jack talked about the formation of Eden Records... "Lester Sill and Lee Hazelwood were partners, and I was working with them. Then Lee split from Sill and made a deal with me, and that was when Eden Records happened. I'd just do all the arranging, wouldn't have to pay for an office, and if a record was a hit I'd get so much percentage, but I wouldn't get paid for the arrangement, I'd just get the office. It was all right, I got to ride in Lee's Cadillac and all that."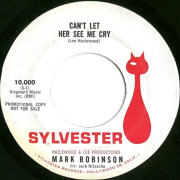 One of the delights of collecting records by Jack Nitzsche is that obscure 45s are still turning up. The latest find to grace the Discography page is Mark Robinson "Can't Let Her See Me Cry" (Sylvester 10,000), a Lee Hazlewood label, production and composition. A complete discography of Mr Hazlewood's work would rival Jack's for quantity and variety and I know from most of their many collaborations to expect, at the very least, something interesting. In this case it's when Lee's unmistakable drawl gruffly rolls out of the speakers (more noticeable on the flip). My reaction was surprise.
A quick Google check reveals that, although this later release appears to be undocumented, amongst Lee's many web admirers the Mark Robinson alias was fairly well known. Lee Hazlewood used this name in 1958 for a release on Jamie, "Pretty Jane". "Can't Let Her..." has a lilting country melody, bitter sweet 'what might have been' lyric, and a cutesy girlie refrain that will either enchant or annoy. I like it, but can understand it not setting the charts alight. Handy really, if this or the earlier Mark Robinson disc had charted, the Lee Hazlewood story might have been very different.
In her most vulnerable voice, Priscilla Paris lets us eavesdrop on her thoughts as she roams the streets of San Francisco, ruminating on her lopsided love affair. Pondering her dilemma, she works herself into a semi-daze that leaves her defenseless to the city's dangers.
Unbenownst to her, though, she is protected by unseen forces. While an all-American type by the name of Mike Curb takes credit for her supervision, in fact it is the slight and himself seemingly-dangerous Jack Nitzsche, aided by an impenetrable orchestra led by the sure snare-hand of Hal Blaine, that wards away the rats, pickpockets and hoods that would otherwise overtake her. Meanwhile, Priscilla's own flesh and blood, in the form of elder sisters Albeth and Sherrell, sympathetically audit her every plaintive cry and unresolved pang, taking as many of her troubles onto themselves as they're able.
At its apex the situation becomes so intense that it nearly swallows our fragile heroine. Ultimately, though, she arrives at her decision, and can return home. Her resolve is certain, and she knows what she has to do next.
--Phil Milstein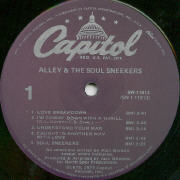 Good to read Christian Gordon's recent Spectropop message that his dad, Alan, along with Garry Bonner and Allan 'Jake' Jacobs reunited as 3/4 of the Magicians for an impromptu rendition of "Once Upon A Time" in a New York eatery. I hope they earned enough tips to pay for their dinner!
Of course, after their stint as "Magicians", Bonner & Gordon went on to write some of the most enduring and magical songs of the 60s. Many of these were arranged or produced by their friend Jack Nitzsche.
With a name as well respected as Alan Gordon it seems (and was proved?) a poor decision to release his only 'solo' LP, "Love Breakdown" (1978), under the name of Alley & The Soul Sneekers. Enlisting the services of Jack to produce and vocalists of the calibre of Carl Hall, Charles May and Venetta Fields the album, despite moments of musical excellence, sadly slipped out almost unnoticed. There has been some belated recognition, a Japanese CD release and a magazine piece on one of 'the great lost albums', but in the main it remains a neglected treasure. The track featured is "Understand Your Man" written by Alan with the lead vocal by Carl.
Do you remember during Ken Barnes' BOMP! interview with Jack Nitzsche when the chat got round to his later 60s Reprise sessions? Jack, upon seeing the Donnie Brooks single "If I Never Get To Love You" said, "I bet this must be horrible. Oh God, "Crocodile Rock!" Denny Bruce agreed: "Elton probably has it, that's where he got the lick".
On first sight of the 45 I thought, "surely some mistake, it's a Bacharach and David song for goodness sake." But from the first beat and chrous intro you could have knocked me down with a feather...anyway, hear it for yourself.
It's a good song without being one of their classics. Nevertheless Timi Yuro, Marianne Faithfull and Gene Pitney all recorded versions. None of them sounding like Donnie's though. I wonder if the writers had this arrangement in mind? But surely someone should be knocking on the former Watford F.C. chairman's door and asking, "Oi where's my money!"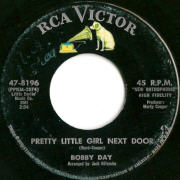 "Pretty Little Girl Next Door" is credited to Bobby Byrd and producer Marty Cooper, arranged by Jack Nitzche. Typical of its time, the recording falls into what the Rare Soul/ Northern Soul fans loosely describe as "Big City Soul", which are early Soul tracks with rich arrangements, big baritone vocals, often out of New York and heavily influenced by The Drifters sound of the time and typified by the recordings of singers such as Chuck Jackson and Gene McDaniels.
Starting with a glockenspiel and guitar that sets the theme for the whole track, the song is pleasant enough, without being earth shattering; the arrangement builds nicely throughout with subtle girl backing support and subdued orchestration. But all in all, it sounds like another day's work for all those involved.
The record sank without trace and languished in the bargain boxes and collections of Bobby Day completists. Now we fast forward to 2000 and the Northern Soul scene: The sounds are slower than the ones they used to dance to, "Pretty Little Girl Next Door" fits the bill. It's obscure enough and, at the time of writing, copies are on sale at anywhere between 200-400ukp!
Simon White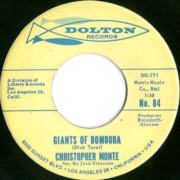 A surf instro without reverb guitar, contradiction in terms isn't it? Well it depends how open you are. The record starts out traditionally enough with a pounding drum intro but it may be a surprise that the sound that creeps up on you and takes over the driving of the rhythm is that of a harmonica. Complimented by a fierce tinkling of the ivories, a maniac on the drums playing as if the quicker he finishes the more he gets paid and a brief signature weaving and whirling of the strings by Jack Nitzsche. The sudden ending comes as a welcome chance to draw breath but it is a shock to note that all this noise and emotion has happened in less than two minutes. As with many of the best instrumentals it's slightly insane, impossible to imagine vocals but very possible to imagine being chased by the Giants Of Bombora! I love it.
The only release by the artist listed as Christopher Monte but unless he's the motor mouth on mouth organ I'd suggest the artist could/should be given as Jack Nitzsche. This may well have been Dolton/Liberty's attempt to cash-in on the success Jack had just had with the equally quirky but stylistically very different, "Lonely Surfer" for neighbouring Reprise Records.
Stephen McParland in his latest book Surf Music U.S.A. - All the Surf, Hot-Rod, Motorcycle and Skateboard Hits 1960-65" has tracked down the writer of "Giants Of Bombora", Dick Torst. Lyrically his songs dealt with surfing but musically they were in a folk style. Torst took a tape of twelve demos to Liberty records who chose the instrumental "Giants Of Bombora" to re-record. The demos had been cut with a few guitars and harmonica, producers Bob Reisdorff and Dick Glasser called in Nitzsche to give the track a bigger sound. Once the basic track had been cut Torst came in to add his harmonica.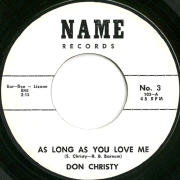 "Don Christy" is aka Sonny Bono, a name used for a series of recording projects, early in both their careers, with Jack Nitzsche. Sonny's voice here is surprisingly intimate, and, even with leaps upward into a range he'd later be known for brutalizing, warm and convincing. But there is a noticeable distance, a remove between singer and musicians, as if that voice had been crudely patched onto a pre-existing track. Even more oddly, that track is relentlessly -- and altogether inappropriately -- martial. In fact it reminds you of the signature sound of the Halmark label, a song-poem house from Quincy, Massachusetts whose specialty was the endless recycling of a set of a dozen musical beds, themselves salvaged from the trash bins of other studios, in thoughtless support of any and every type of song imaginable. Although "As Long As You Love Me" was co-written by H.B. Barnum and Bono himself (this time as S. Christy, the pseudosurname a nod to his first daughter), you learn that the Don Christy tag had a quasi-song-poem provenance behind it. And you are not surprised to do so.
--Phil Milstein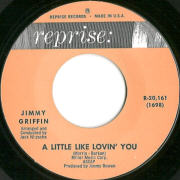 Jimmy Griffin has a good voice, a likeable personality and had a hand in writing some fine records ("Main Street" by the Astronauts being one of my favourites). This on its own would not normally be enough for a musical career to span 4 decades, but in late '69 Jimmy joined David Gates, Robb Royer, Mike Botts, Larry Knechtel to form Bread.
Jimmy's first rung on the ladder to pop stardom began in 1962 with Frank Sinartra's fledging Reprise label. There, the 18 yr old recorded seven 45s and a LP, "Summer Holiday", before moving to Imperial and Viva prior to mega-success with David Gates. An interview with Jimmy Griffin about the "Summer Holiday" sessions and Jack Nitzsche's arrangements can be found at the Bread Fans site.
"A Little Like Lovin' You" epitomizes Jimmy's Reprise years, pleasant enough but lacking the spark needed to make it memorable. Written by Morris and Barkan (also recorded by The Cascades on RCA), it has a nice clean arrangement and is 'pop'y enough that, combined with Jimmy's boyish good looks and more airplay, it might have been a moderate hit.
There's a Jack Nitzsche compilation CD in the pipeline. In an ideal world "Baby That's Me" by the Cake would be on it. Alas, life ain't like that. Universal, the owners of the old Decca catalogue, won't (or can't) play, making it unlikely that the track will ever appear on a legit CD. So here it is for all to hear. Issued on Decca 32179 in 1967, "Baby That's Me" was the Cake's debut release. The song, which dates from 1964, was written by Jack Nitzsche and Jackie DeShannon. Stan Ross engineered the session, indicating it took place at Gold Star, while Harold Battiste is the credited arranger and the producers are listed as Green & Stone. In other words, other than co-writing the song Jack seems to have had no involvement in this record at all. Which is curious, because to my ears it's one of the "Nitzsche-est" tracks I've ever heard. Earlier versions exist by the Fashions and Lesley Gore, the latter actually produced by Jack Nitzsche. Whatever, the Cake's rendition takes the ... erm ... biscuit.
Mick Patrick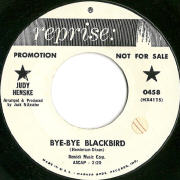 Continuing its ties with Warner-Reprise, Collectors Choice Music has recently released on CD "The Death-Defying Judy Henske - The First Concert Album", with the original artwork and sleeve notes by Nitzsche. The CD benefits from a review and interview with Judy by music historian Richie Unterberger. These notes are on Richie's website as well as his complete interview with Judy Henske. The LP is like no other, a rich orchestral accompaniment to a voice that alternately soothes and arouses. A catholic, even perverse, song selection is separated by humorous monologues. A standout from the concert is "Danny Boy", usually heard sung in a bar or pub by a thickset, strong-voiced Irishman. Judy somehow makes the song her own.
CCM are to be thanked for getting this LP released, however the lack of extra tracks for the CD release is a big disappointment. Jack mentions almost an hours worth of material from the concert that remains unreleased, and there are the five tracks that have still only seen release on 45rpm. Be sure to buy the CD, but as a taster for what you're missing, have a listen to Jack and Judy's "Bye Bye Blackbird".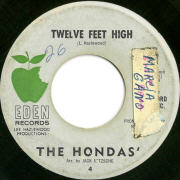 Lee Hazlewood's musical output, collated on The World Wide Fan Site was as prodigious, if not more so, than Jack Nitzsche's. Their working association spanned the 60s, but as Lee ruefully commented, how could Jack have had all those hits with Phil Spector yet none with him? Who knows? Suffice to say there were plenty of excellent releases amongst them.
The Hondas "Twelve Feet High" on Eden 4 is an excellent case in point. The Eden record label operated from late '62 to early '63 and there appears to have been a business, as well as a musical, tie-up: Lee was credited with production and Jack as arranger on all known releases. The records are on the RnB side of pop and, like perhaps the best known track, Ramona King's "Oriental Garden" (Eden 3), feature powerful vocals, rich productions and arrangements as classy as any by Nitzsche.
"Twelve Feet High" is a goodie from the pen of Lee Hazlewood, an unlucky guy brought up to size by his girl, with a rich melodic lead vocal and strings a-plenty. Unlike the B-Side, "Send It", no group is featured, but the writer being D. Stone and vocal similarities suggest that 'The Hondas' may well be Jack's vocalist, Daniel Albert Stone, and pals.
Jack Nitzsche was still using his first initial B, (for Bernard, his real name) on this gospel structured call and response track, co-written with his then mentor H.B. Barnum. Released in 1961, "The Way You Like", is an unusual hybrid of rock 'n' roll and soul. The A-Side, "I'm Crying", with its plaintive vocal and searing strings would have been perfect for Patsy Cline.
Time Records were based in New York, but I can find no details of any West Coast-based act recording the song, so I assume this is the original release. Maybe Linda Collins was LA-based with the track leased to Time? Perhaps. There are no producer or arranger credits on the record label, so Jack's involvement, other than writer, is open to conjecture. I'd guess he was at the session and quite thrilled to see his name, (in whatever capacity) on the label.
When "Revolutionary Etude", Chopin's protest against the brutal defeat of the Polish insurrection of 1830, was first played to the Czar, he said "This is dangerous music. It is like guns hidden under beautiful roses." Jack's treatment is suitably menacing, opening with one of his typically ominous Spectoresque rhythms, which I would have preferred to remain more dominant. However, this is soon subjugated by an advancing army of agitated strings, relentlessly pushing the military brass melody. Rhythm 'n' classics tracks are quite commonplace these days, but at the time, Jack must have been viewed as 'revolutionary' in his own way. If only he'd thought to title it "Guns and Roses"!
Phil Chapman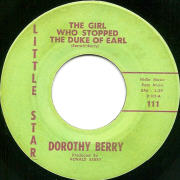 Ron Barrett Jr. kindly supplied these comments on the recording: "This song was arranged by Jack, written by Ron Barrett and Richard Berry. My father says that he was the sole writer of this song but never worried about correcting the credit. Richard and my father were good friends also and, lets face it, now it dosen't look bad having your name next to the 'Louie Louie' man himself! Ron Barrett also produced the song. The 'cut' was getting a lot of airplay here on the west coast as well as in the southern states in the mid 60s, and would have been a big hit for them but..."(for another day!)
Although respected in the RnB field, Dorothy Berry, wife of Richard 'Louie Louie' Berry, is particularly revered for her girl-group recordings. Her 45s on Challenge and Planetary, produced and mostly written by David Gates are highly prized amongst collectors.
With its early Motown feel, this record is another great example of her fine, strong voice. And the song is a great answer to Gene Chandler. Despite Ron's comments, it's not an easy record to find. Has anyone seen it on the BNH label?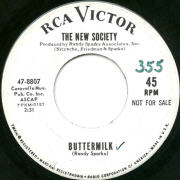 Quoted by 'Song Review' magazine around the time of co-producing The New Society's "Buttermilk", Jack Nitzsche said "My music is angry because I am. I try to stir up emotions and make people think."
Ermm...Dare say we all say things we meant at the time, and to be fair, Jack didn't have a hand in the writing, but as for stirring up emotions...
"Buttermilk" was tucked away as the B-side of "(I Prithee) Do Not Ask For Love", the closest the New Society had to a hit. The track is a lot of fun, a real country ho-down; sawdust, feet and spit a-flying. Very different to the rest of the group's material which, despite the period costumes they wear on their album sleeve, seems to take itself rather seriously. No straight faces on this release though. It sounds like the guys and gals were having a good time.
It would need more of a Monkees expert than me to hear him, but apparently Mike Nesmith was on the session. A Monkees fan site lists the record on its What's New page.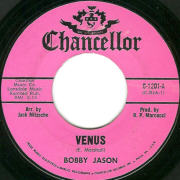 Robert Marcucci had a high regard for Jack Nitzsche's talents. He hired him, not only to produce or arrange tracks for artists in his stable of handsome male singers, but also later when he worked in the movies.
There is a 45 on Ranwood from '68 by a Bobby Jason who may well be the same vocalist. If Bob Marucci had hopes for Bobby to be his latest 'Frankie Avalon', he was to be disappointed. there's just the one 45 from '63 and even this had an instrumental B-Side. Released on Bob's Chancellor record label, "Venus" seems, at first sight, a strange choice. There was no chart action but, musically, Marucci's choice of song and arranger was vindicated.
It's a soft Spectorish arrangement, featuring a gorgeous intro, haunting string line, girly "whoa, whoa's", an OK voice (perhaps his picture looked good) and such a cool feel. If it had got the break, I could imagine it on the airwaves all summer.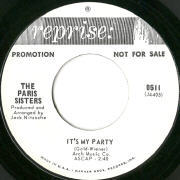 Who could live without Lesley Gore's schoolgirl angst? A bona-fide girlgroup classic, and you shouldn't mess with classics unless...you take what is already a great song and re-make it afresh. In place of Quincy Jones' bright pop sound and Lesley's teen vocal, the tempo is slowed to almost walking pace.
Lesley's recording, despite the pain, appears to 'grown-up' ears at least, transient, teenage despair on discovering that Johnny is not, after all, really the boy for her. Priscilla Paris' sultry, more mature vocal and rich, hauntingly evocative, waves of sound from Jack Nitzsche, emote a convincing sadness that cuts deep and could even be permanent.
Jack's work with The Paris Sisters is covered in detail on the Record Reviews page of the site. there are many surprises, including previously uncredited collaborations, why Jack asked "Please don't remind me of them" and Ian Chapman's review of "Everything Under The Sun", which first appeared in the 1984 Christmas edition of Philately magazine.
An old 'has-been' attempting to resurrect his career under the guidance of famed 'record-hustlers' Greene and Stone with an obscure song written by 'country boy' Johnny Horton and a B-side to boot. Doesn't bode well does it?
However, I appreciate that the audience for this site is far too mature to prejudge any record that has a Nitzsche involvement. In the early 60s Jack didn't turn down work. If he had the time to cut four tracks, then four tracks he'd cut! Naturally, this resulted in him merely be going through the motions for some, but, even with these, it is rare for at least some magic not to sparkle through.
And this track is almost all magic! From the opening, bluesy-Motown beat, the soulful girls wailing "woe, woe, woe" and a despairing growl from Billy, pleading for nobody else's troubles to be brought to him, before unleashing the chorus, in a howl strong enough to drown a jukebox, "I got enough trouble baby for you and me yeah in my soul". Billy's got no job, his TV and car have been reposessed. The final verse has him banged-up in jail, safe to say he's got the blues! But the record is no screaming howler backed with a bluesy guitar riff, oh no, this has tambourines, brass-a-plenty, fancy piano triplets and a beat to stir the soul!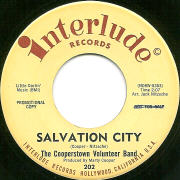 An interesting release, this. The credits list the artist as The Cooperstown Volunteer Band, although in reality they are a studio creation of Marty Cooper, the producer and co-writer.
Released on one of his own, seemingly one-shot, label Interlude, Marty cannot recall a B-side being released. He believes the only copies to escape the pressing plant were double-sided promotional copies, with the 'Not For Sale' notice struck out!
"Salvation City" is a lazy New Orleans-flavoured march tune carried by Mariachi trumpets. The melody is strong enough to be performed, apparently, by 'Marching Bands today. Recorded in late 61 or early 62, this release shows Jack to be as adept at arranging for a brass band as he is with his more usual session musicians or orchestras.
Perhaps the reason Jack seems so comfortable with the recording is that this was not the first time he'd arranged it. The same tune but featuring a very different, guitar led, 'Western'-themed arrangement, re-titled "Horse Opera", had been released a few months earlier. This time, the group was called Greensleeves and the label was Capella, a record for another day.