Previous ROTW.... What you've missed! An archive of the reviews and label scans. (part 4)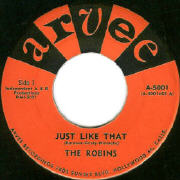 The Robins' recording career began in the late 40s, but their big break came in the mid-50s. They were signed by the writing/producing team of Leiber and Stoller to their LA based Spark record label. The pairing resulted in many loved classics, including "Riot In Cell Block No.9", "Smokey Joe's Cafe" and "Framed". These 45s soon attracted the attention of the much larger New York based Atlantic/Atco group. The too easily accepted view that most of the group, renamed The Coasters, shipped out to fame and fortune leaving behind a few rag bag 'Robins' to cash-in on the groups name, is rather misleading. The full story of the recordings, fluid membership and aliases used by these two groups is told on the marvelously informative Robins/Coasters site.
H.B. Barnum spent time as a vocalist for The Robins but by the late 50s he was producing and supplying songs for them. One of these, "Just Like That", was co-written by a couple of white kids with a keen love of R'n'B and an eagerness to learn, namely Don Christy (aka Sonny Bono) and Jack Nitzsche. Released on Arvee 5001 in 1960 it is a fabulous late doo-wop/early soul track and so far the earliest Nitzsche credit I have found on a record. It's hard to believe that their mentor, H.B., would refuse his charge's desire to be at the studio for the session. This was to prove fortuitous. Taking the lead vocal was future collaborator Bob B Soxx aka Mr. Bobby Sheen.
P.S. The only time I caught Bobby performing was in the 80s singing for a touring (yep you've guessed it) Coasters.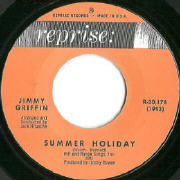 I was saddened to receive a letter today (13th January) from Anita Walls:
"I wanted you to know that my friend, James Griffin, passed away yesterday here in Nashville of lung cancer. Jimmy was the co-founder of the Grammy award-winning group 'Bread', he also co-wrote "For All We Know" by the Carpenters, he was also a member of the Remingtons and wrote hit songs for Restless Heart and Conway Twitty. A memorial service will be held here in Nashville on Friday.
The site has featured two of James 'Jimmy' Griffin's Reprise recordings "A Little Like Lovin' You" and most recently, Little Miss Cool. The earlier track has a pocket-sized run through James Griffin's career and includes a link to a super interview he gave to the Bread Fans web site. (Do also checkout a delightful letter, with pictures from Jimmy's biggest fan, his mum. Neva's Page".)
After a recommendation from former neighbours Dorsey and Johnny Burnette, Steve Venet signed Jimmy to Reprise. Just the one 45 before Steve was off the label and Jimmy Bowen was in. The 'new broom' kept Griffin and soon had him in the studio with one of his first signings, Jack Nitzsche. A huge British (and worldwide) hit, Cliff Richard's, "Summer Holiday" didn't receive a US release, leaving the way clear for Jimmy Griffin. The resultant LP, is decent, clean and unpretentious fun, which also applies to Mr. James (Jimmy) Griffin, R.I.P.
P.S. Just so you can hear the whistling at its best I've played the stereo mix from the LP.
Anita passed on this observation of the service: "I attended the memorial on Friday here in Nashville. There were many musicians and friends there. .... probably around 400.... It was a very sad day for many people. He had many friends who loved him. It touched my heart when they played a piano/vocal version of Amazing Grace with Jimmy singing it. I spent the night before with Rick Yancy of the Remmingtons, another long time friend and my friend, Dan Borgers a producer here in Nashville. Dan called me today to tell me that he attended the funeral in Memphis today. Around 60 people attended the graveside service."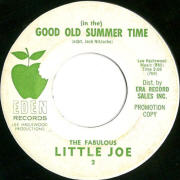 Intended to be just one part of a new page for the site, featuring the producers that Jack Nitzsche worked for, 'Prod. Terry Melcher - Arr. & Cond. Jack Nitzsche' has itself spread to seven pages. Mentally, I'm preparing other producers for the spotlight, namely Marty Cooper, Phil Spector, Koppelman & Rubin, Ron Barrett and Lee Hazlewood amongst them. But this time I intend to get the pages on the site while the folks are still living. (If you'd fancy helping with presenting, writing or furnishing any information please drop me an email.) The pressure I feel to beat the Grim Reaper has caused me to neglect my other duties, in particular the ROTW, for this please accept my apologies. By way of atonement please accept the current record, one I've been searching for some years, not knowing, merely assuming that Jack arranged it.
Pleased to find that he did, or rather in this instance, Jack Nitzsche is credited as 'adapting', "(in the) Good Old Summertime" the chosen side. Oh bliss. I know little of The Fabulous Little Joe, who has a good rasping voice and who possibly, in a more modest mindset, also recorded as one of the six or so other 'Little Joe' vocalists on labels such as IGL, Soma and Teardrop. The music itself is no 'Wall of Sound' production; in fact, as good as it is, I can't believe for a second that when Jack was working on the arrangement he had any aspirations of it breaking into the charts. Rather, I think Eden was the label 'given' to Jack by Lee Hazlewood in 'payment' for arranging the records Lee hoped might be hits. Jack was having fun recording the artists and music he liked, without any pressure or expectation.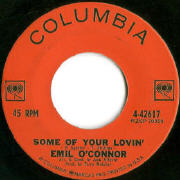 As a solo artist, Terry Day (Melcher) recorded a Spector-produced, Nitzsche-arranged, version of "I Love You Betty", written by Phil Spector and Hank Hunter. His next release for Columbia was another stab at a Spector co-composition, this time written with Terry Phillips, entitled "Some Of Your Lovin'". The vocalist on this outing was Emil O'Connor with Terry as producer. Spector's own production of this song, sung by Johnny Nash, had been released a year earlier on ABC-Paramount. A hip rockin' release by Johnny's standards, Emil's version blows it out of the water.
Motown afficianados may notice production resonances of Barrett Strong's "Money (That's What I Want)". It's a murky RnB workout with tambourine, chugging blues guitar fills, plaintive horns, gritty backing vocals by the Blossoms and Darlene at her wailing impassioned best. Not bad for Terry's first production, but I must recommend that a round of applause goes also to the man in the dark glasses, Jack Nitzsche.
It's a pity that, surprisingly, this is the only release I can find of Emil O'Connor, nicknamed "Little E". This was not his only recording though: Get over to Al Hazan and Jack Nitzsche's ROTW page and read Al's account of Terry Day's first, unreleased, production of his composition "I Wanna Be There". Even better, hurry along to Al's own website, The Complete Al Hazan , where you can also hear the song.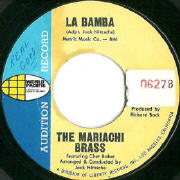 Pictured on the cover of Richard Williams' anthology of musical writings, "Long Distance Call", Chet Baker cuts an iconic figure. Cool in black and white, with hollowed cheeks and sultry eyes, his looks suggest starring film roles a la James Dean rather than arguably one of the most naturally gifted jazz musicians to have blown a trumpet or whispered a vocal. At the time of recording "La Bamba" he had recently returned from an eventful time in Europe bringing with him his new English wife and young son and needed to earn some cash. Despite having left the US at the tail-end of the 50s, due to various problems, his reputation was still high. He was signed to the then mainstream World Pacific label and Jack Nitzsche was appointed arranger for the first recordings. The idea of Chet and Jack working together sounds on paper as if the outcome would be at best an inspired melding of two diverse styles or at worst a drug-fuelled mess.
The resultant recordings were neither. Released as 'The Marachi Brass featuring Chet Baker' they were professionally played, well executed, hip go-go music for your mums and dads to be groovy. Nothing wrong with that but it's hardly likely to get your heart pumping or blood racing. Chet went on to record another ten LPs for the label either 'with', 'featuring' or 'and' Chet Baker. Not surprisingly, the many writings and web sites devoted to him pay scant attention to this period in his career.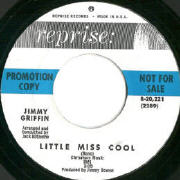 A overview of Jimmy Griffin's pre-Bread career and a link to an excellent interview can be found in his earlier ROTW review, "A Little Like Lovin' You". "Little Miss Cool" was Jimmy's penultimate Reprise 45 and one of his pop/rock best. The lyrics serve as warning to us guys not to be tricked by love; plenty of femme-fatales out there and, if we're not careful, it will end in tears, as it did for Jimmy. Written by Sonny Bono and first released on 45rpm by Daniel (AKA Albert) A. Stone in '61, also arranged by Jack Nitzsche but with a bluesy, rougher edge. Jimmy's version is more commercial with a good vocal, poppy beat and a sweetened, gospel-styled call and response backing vocal (almost a duet) supplied by the wonderful Darlene Love and accompanying Blossoms.
These girls, with varying numbers and members, sang on even more records than Jack arranged. The thought of a complete discography of their work, although very appealing, would I fear be too overwhelming to be accurate. This feature may be called 'Jack Nitzsche's Record Of The Week' but recent plays suggest I could amend the title to include '...With The Blossoms on Bvox.' Throughout the early and mid-sixties the Blossoms never seemed to be far from the mike when Jack was arranging. Jack's relationship with the girls began almost as soon as he arrived in L.A.; he was there when Ron Barrett introduced them to Phil Spector. They were his first choice for the T.A.M.I. Show and of course Jack was married to Gracia.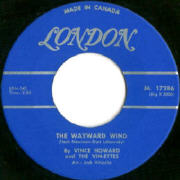 The song this week is a down and dirty cover of a much-loved classic recorded by, amongst others, Patsy Cline, Gogi Grant and Neil Young. "The Wayward Wind" by Vince Howard features a wonderfully gruff vocal accompanied by a delightfully sweet but understated vocal group, the inspiringly named 'Vin-ettes'. The bluesy backing is superb and undoubtedly supplied by Jack's LA session pals. The Vin-ettes are most probably another alias attached to Darlene, Gracia and Fanita, aka the Blossoms. Mr Howard's record careeer spanned the late 50s to mid 60s on labels such as Era and MGM, but none og them hit the charts. If it's the same Vince Howard, he did go on to have a successful career as an actor. As much as I enjoy this cut, the b-side, a cover of Dean Martin's "Return To Me", is even better. Listen out for this another week.
Despite being obscure, the last two records played at least had the 'benefit' of being on major labels. My copy of this week's record is a Canadian release on London but, according to the label, was apparently first released on the US label, Big R 3000. I've been unable to find any information or releases on this label. A possible clue, to the patronage at least, is that Herb Newman is the co-writer. Herb's Era label distributed Catch, Eden and other obscure LA labels that featured input from Jack Nitzsche.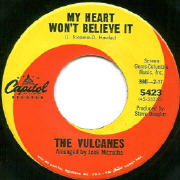 Despite a recording career spanning 7 years in a variety of styles, (mainly renowned as an instrumental/surf group) and performing alongside Frankie Avalon in "I'll Take Sweden", The Vulcanes were never quite as 'big' as perhaps they should have been. This '65 vocal release, "My Heart Won't Believe It", is a smashing song with Jack at his pop best. If I had to give it a musical tag, I guess a 'Summer Stomper' would suffice. It was produced by Steve Douglas, who no doubt provided the great sax break, and written by Jerry Riopelle & Deane Hawley.
Of course most of you S'poppers will see the name Riopelle, nod your heads and think Bonnie, The Parade, Clydie King and many others. But before Spectropop's daily dose of information on the names in the small print, Jerry Riopelle was just one of many unsung heroes to get their due recognition in the pages of "Philately". His known career at the time was covered over two issues with a discography and an article by Ian Chapman. The Vulcanes release was unknown then, more a testament to just how many great records were pressed and disappeared without trace than to any shortcomings in the research.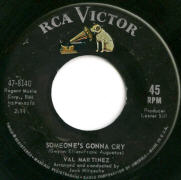 Val Martinez's "Someone's Gonna Cry" is a fairly recent find that I've seen listed as both Northern Soul and Popcorn. Be that as it may, the 45 sports a fine set of pipes, a strong song and a first-rate arrangement - a HIT! Of course it wasn't, but it shoulda been! And now, 41 years later, thanks to the wonders of the web (and Spectropop) we all get the chance to hear it.
Val's recording career apparently lasted 9 years. Signed to King for a brace of 45s in 1954, this was followed by one short stop at United Artists in '58 before signing to Groove for a one off in '62. The label execs must have liked what they heard because Val was signed to the parent company, RCA. Four singles resulted, with "Someone's Gonna Cry" being his last. If this was his final release what a shame, but what a fine song to bow out with. I've heard just one other track from Val, also on RCA and a good bluesy number, but it doesn't really compare to this outing.
A BIG soul sound, Val's passionate delivery wrings out the emotion as he pleads for his girl to stay, but in his heart he knows "Someone's gonna cry and it's gonna be me". Jack's arrangement, as to be expected with this type of record, is superb. Rich and full with the violins pulling even further on the heartstrings; the brass and drums driving the song at a healthy rate of knots, while the castanet chatters, strings swirl and girls ooh in refrain. Despite sounding as if the recording was sandwiched between sessions at New York's Bell Sound studio by Chuck Jackson and Tommy Hunt, it was most likely recorded at RCA's Hollywood studio.
Written by Gwynn Elias and Frank Augustus, who didn't often work as a team but separately were prolific without really hitting the big time. Produced by one of LA's biggest fixers, Lester Sill, with Nitzsche taking care of the music. Jack captured the intensity of the New York soul sound so well, particularly with his arrangements on RCA. In fact, with the exception of Hank And Dean, all his recordings for the label are must-haves.
Good friend to the Jack Nitzsche site, Rob Santos passed on session details for the recording:
Val Martinez, "Someone's Gonna Cry" (RCA) was recorded 1st November 1962 at RCA's Studio in Hollywood. Along with the 20 odd string and horn players...Vocals: Bobby Sheen, Darlene Love, Fanita James and Gracia Nitsche. Piano: Al Delory. Bass: Jimmy Bond. Guitar: Tommy Tedesco, Glen Campbell and Barney Kessel. Drums: Hal Blaine. Ray Pohlman is listed also but with no instrument specified. Thanks for the info Rob.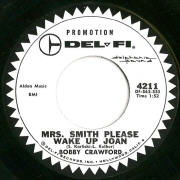 Bobby (Robert Jr.) Crawford was, like his younger sibling Johnny, a child actor. They even shared the same screen in the film 'Indian Paint'. Johnny is as well known for his run of chart hits, the biggest being "Rumours" for Del-Fi. Brother Bobby is still in the movies but behind the camera as a production assistant.
Bobby released two 45s, both on Johnny Crawford's musical home, Del-Fi. If you're like me, the side that really sets the blood pumping is "Mrs. Smith Please Wake Up Joan". In the famous BOMP! interview (and discography) Ken Barnes comments "It's conceivable that the unknown Bobby Crawford (Johnny's brother) record is the same Chip Taylor song Little Eva cut in 1965 as "Wake Up John," in which case it would definitely be one to seek out. When I 'won' the record in an auction, my excitement was tangible, but sadly when the record arrived it had no connection or comparison to Little Eva's mournful lament.
Jack Nitzsche is not credited on the record label but when he was interviewed by Ken Barnes and Greg Shaw for BOMP! he added the arrangement to his résumé. Rather surprising, considering the number of records that he didn't recall, that this teen item should have been remembered. Certainly it's quite a good song of its type with Mariachi flourishes, sweet lyrics and adequately sung.
The B-side of this single, "Secret Love" was played as an earlier ROTW, and what a fine pair of recordings they are. This is the raw side, a rockin' fusion of blues and country with a beat that, if it fails to get your toes tapping, brother you haven't got any feet. A Dion-esque lead from the future Canned Heat and Flying Burrito Brother guitarist/vocalist, Joel (Scott) Hill, over a mournful backing that's just dripping with soul (Blossoms?). And there's a fab harmonica to intensify the plaintive tone. But, despite the feel of the track, the whole song is built around a lyric guaranteed to make you smile and maybe think "that's me, that is". Well, perhaps not now, but once!
The label owner, Jim Lee, as well as producing, wrote the excellent song. His name has cropped up a few times in connection with Jack Nitzsche. Three I know of: the recently played Lee Hazlewood/Mark Robinson disc and two other Monogram releases by The Buckshots and Kathy Young. I'm hopeful that there are more to be discovered. Harvey Kubernick has mentioned a Chris Montez disc and I've been unable to find details of Joel's other two 45s on the label. (Jack was not involved in Joel's other two releases on the label) As always, any help is appreciated and, where appropriate, credited.
Joel Scott Hill's manager, Wade Heilig, recently contacted the site and relayed the information for the session.
"Joel was impressed with the way Jack did things, everything went snappy. He was impressed how Jack jotted down the drum charts, a whole lotta drum charts(!) for drummer Hal Blaine. Jack was a very quiet guy but impressive, took the job in hand and got it done!
The personal on the session were. Vocals & guitar (both sides) Joel Scott Hill, Piano: Leon Russell, Bass: Carol Kaye, Drums: Hal Blaine, Harmonica: Billy Lee Riley, Back up vocals: Blossoms, Arrangements: Jack Nitzsche."
I was pleased to supply label scans and mp3s of the 45 to Wade, he's put them on the Discography page of Joel's site. Check'em out, they're fab!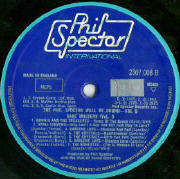 Spector & Nitzsche may not have the same resonance as, say, Rodgers & Hart, Bacharach & David, Leiber & Stoller, Bonner & Gordon (or even Al & Kooper) but for five years the pair were hardly ever off the pop charts. The magic they created in the studio produced some of the biggest selling and best loved records of the sixties. From their first collaboration in 1962, with The Crystals "He's A Rebel", until Jack's passing, their respect and friendship remained firm. Nitzsche's admiration for Spector was constant and oft repeated in interviews. Spector's respect was, as his is wont, not as loudly voiced. However when he wanted to get back to making music, following the death of his son Phil Jr, Jack was one of the first to be called. A public display of their enduring friendship took the form of Jack (along with Andrew Loog Oldham) being photographed at Phil's side when he was honoured at the Rock n Roll Hall of Fame awards ceremony.
My own record collecting began after hearing these 'little symphonies', not on the red-and-yellow Philles or black-and-silver London releases, but those on the mid-70s UK releases on the 'Phil Spector International' label. Non-obsessive collectors might think that Alan Klein's ABKCO compilation set, "Back To Mono", collated all the Phil Spector releases that are needed, but they'd be wrong.
Among the many tracks that are the equal of any to be found on CD is, "Girls Can Tell". Only to be found on the album "Phil Spector's Wall Of Sound Vol.5, Rare Masters" (PSI 2307 008). And it's a cracker. Originally recorded, but unissued, by the Crystals (hence the erroneous credit) this is the same recording with Ronnie singing lead. It's one of Spector/Nitzsche's finest powerhouse jobs featuring a continuous avalanche of percussion and an explosive timpani/drum blast underpinning the gospel-tinged choruses. This Spector/Greenwich/Barry opus innocently saw its first release by the Dixie Cups, but any suggestion of naivety is swept away by Ronnie's ball-grabbing delivery over this tumultuous backing track. Girls Can Tell!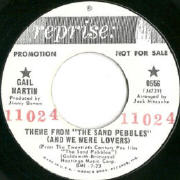 This was apparently Jack Nitzsche's last session as a 'staffer' for Reprise. It is easy to see how Gail Martin's recordings now appeared to him as old fashioned and irrelevant. At the time of Gail's release Jack was busy recording with Neil Young, had just come off arranging "River Deep - Mountain High" for Phil Spector and was hard at work with the Rolling Stones. The music world was now in Technicolor and Jack was one of its brightest stars. With the hope and promise of more artistic freedom, a new musical dawn beckoned; he gave Reprise Records the heave-ho.
But I'm getting ahead of myself, back to Gail; the last of the records to accompany our feature on Celebrities On Record. Nitzsche arranged three tracks for Martin that I'm aware of. They all feature a rich orchestral backing and a 'middle of the road' feel. That's not normally my listening pleasure but maybe it's the mood I'm in or perhaps old age. With my pipe lit, slippers on, seated in my comfiest chair with my feet on the poof, Gail Martin's "Theme From "The Sand Pebbles" (And We Were Lovers)" sounds not exactly cool but nice 'n' easy.
Pop lovers might care to check out her final Reprise 45, from '68, "What's Yesterday", written Poncia, Bruno & Andreoli and produced by Perry Botkin Jr.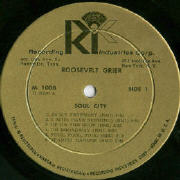 I hope you've visited the Record Reviews page and read Denny Bruce's letter on the pitfalls of Celebrities On Record. In particular he notes the "I (I Who Nothing)" session...
Roosevelt Grier's timing might have been off but as Phil Chapman commented, he does posses a rich powerful voice. And the original and cover songs he and Jack worked on, all collected on Rosie's "Soul City" LP, are of the highest quality. T.M. Productions, Bobby Darin's company had Rudy Clark, Artie Resnik, Kenny Young and Darin himself signed as writers and seven of their compositions are chosen. Session men of the caliber of Tommy Tedesco, Hal Blaine, Steve Douglas and Jay Migliori ensure the playing is up to scratch. Jack Nitzsche was also in '64 at the top of his game. The excellent album cover features detailed session information and notes from Bobby Darin and Joe Csida (President-Recording Industries Corp.).
Everything in place for a storming record you'd think and yet...Mick Patrick pointed out what was missing, the strings. If ever a record screamed out for Jack's rich tapestry of swirling strings it's this one. Nevertheless there are many high points; "To Her Terrace" (reviewed earlier), "Fool, Fool, Fool" written Rudy Clark and Darin's "Soul City" are among the highlights. But as the songs featured would suggest the frustrations involved in the recording were worth it!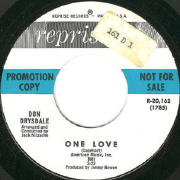 From 1963 'til '66 Reprise Records was Jack's 'day job'. He might have had more job-satisfaction working with Phil Spector and The Rolling Stones but working for Jimmy Bowen paid the bills.
Many of these tracks, not the least Jack's solo recordings, are amongst my favourites. He worked in so many different ways with as diverse an array of artists as could be imagined. Jimmy had enough confidence in Jack to allow him a relatively free hand in the studio. All the records benefited from Jack's professionalism, invention and involvement. But it is not hard to discern which Jack really enjoyed recording and wihch paid the rent.
I'd guess Don Drysdale fits in the latter category. It has a good string intro and once Don starts singing, the female chorus and strings supplement his vocal rather than supplant it! Written by Jerry Capehart who has reasonable pedigree, this song is a fairly average country-tinged ballad. And as for Don, he's not a bad singer, a velvety voiced crooner but there is no spark or feeling in his delivery. This is, not surprisingly, the only 45 I've found by him.
More than likely his agents/managers pushed him into the idea of a singing career. The record was pressed in a picture sleeve but even this showed Don looking more like the target audience's dad than a teen heartthrob.
New this week on the Record Reviews page a feature that covers Jack's work with "Celebrities On Record". Check it out.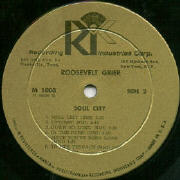 Roosevelt Grier, one of the most successful and well-known American football stars seemed to have the world at his feet, but was he content? I'd suggest a case of 'the other man's grass...' Rosey must have longed to be a pop star. A good summary of his recording career, written by Andrew Hamilton, can be read at the All Music Guide site.
This site is concerned with Roosevelt Grier's LP, "Soul City" which Jack Nitzsche arranged. The album spawned two 45s as with all his other singles they failed to make the Top 100. Kenny Young and Artie Resnick wrote the featured track, "To Her Terrace". This was not chosen as a 45. Firmly in the 'New York Latin Soul' style with, I'd suggest, the hope that Ben E King or The Drifters would record it. I'm a sucker for this type of record and, despite it being derivative, there is much to commend.
Don Drysdale, Soupy Sales, Roosevelt Grier and Gail Martin are all 'celebrated' next week with a feature on the Record Reviews page called 'Celebrities On Record'. The piece is based around an amusing and informative letter received from Denny Bruce. There will also be another track by Mr. Grier as a future ROTW.
Spectropopper Bob Celli runs the Bobby Vee Collectors Club. After only a little nagging he has written a great piece on Bobby Vee's, "Run Like The Devil" for the Fan's Reviews page. Hopefully you're aware of this super record, if not it is available on CD, so you won't be hearing it here but last year I received this email from Bob,
"I have an addition to your discography, Jack Nitzsche arranged a total of four tunes for Bobby Vee, "Run Like The Devil"/"Take a Look Around Me" and the unreleased "Like Someone In Love" and "See You Home". The first three are excellent with the last one a throwaway.
Even cooler was his next email,
"Find attached the mp3 of "Like Someone In Love" by Bobby Vee arranged by Jack. Certainly sounds like a "wall of sound" arrangement to me. See if you don't agree. It's a bit noisy but it's the best we have at the moment!"
So with Bob's permission have a listen to "Like Someone In Love" and see if you agree with his and my shared opinion.
Thanks Bob.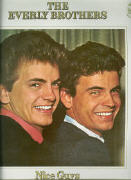 The Everly Brothers, "Mr. Soul" slipped out as a LP track on the specialist UK reissue label Magnum Force in 1984. The LP, "Nice Guys" looks for all the world like any of 100 reissues of the Everly's material but "Mr. Soul" is only available on this compilation. The scant sleeve notes bear no session information but the track, for collectors of Jack Nitzsche and Neil Young is rather important.
Recorded in about 66/67 when Jack was enthusing to all and sundry about this talented Canadian. Young was still uncomfortable with his vocals and was writing more material than the Springfield's were willing or able to record. "There Goes My Baby" was written for Sonny And Cher, even according to Denny Bruce, "Expecting To Fly" when first played by Young to Nitzsche was intended for The Everly Brothers. Jack loved the song too much to let the Everly Bros. have it but he did produce and arrange "Mr. Soul". Written by and a favourite of Young who feels the Buffalo's best recording of this track remains unreleased.
This period is documented in Jimmy McDonough's excellent biography of Neil Young, "Shakey".
Beset by falling record sales and personal and health problems the Brothers recorded with a variety of producers and styles. None captured the chart success of their earlier releases but Jack's production deserved an airing. A slower take than the Springfield's it features Ry Cooder on guitar and a sadness that is palpable.